Whether you're looking for an inspirational saying or a few short lyrics… these Jhene Aiko quotes will give you the inspiration you need in your life! Once you find a few that you like, you can save the image to your Pinterest board for later. Let me know what you think!
Here are the quotes I love: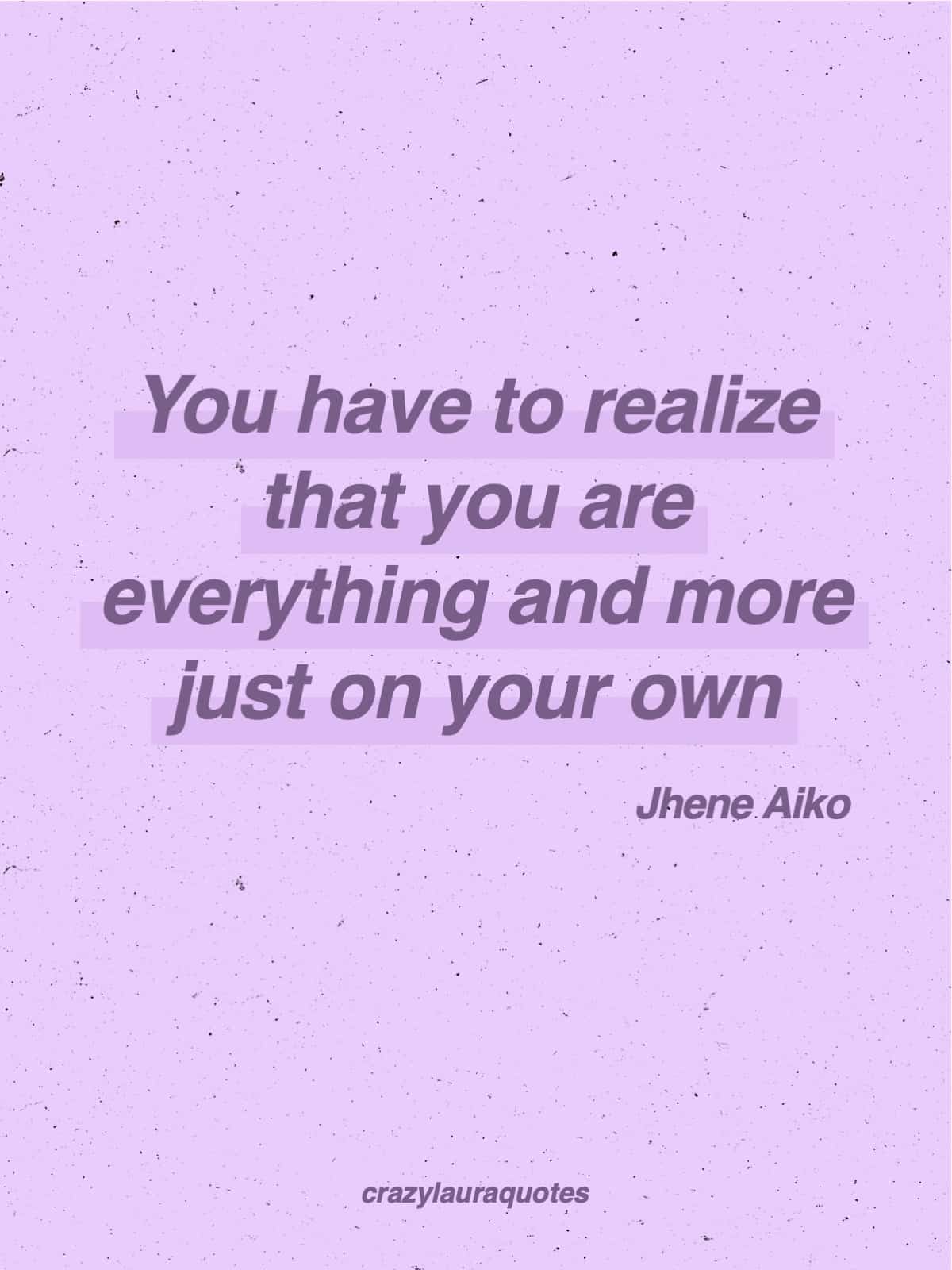 1. "You have to realize that you are everything and more just on your own." – Jhene Aiko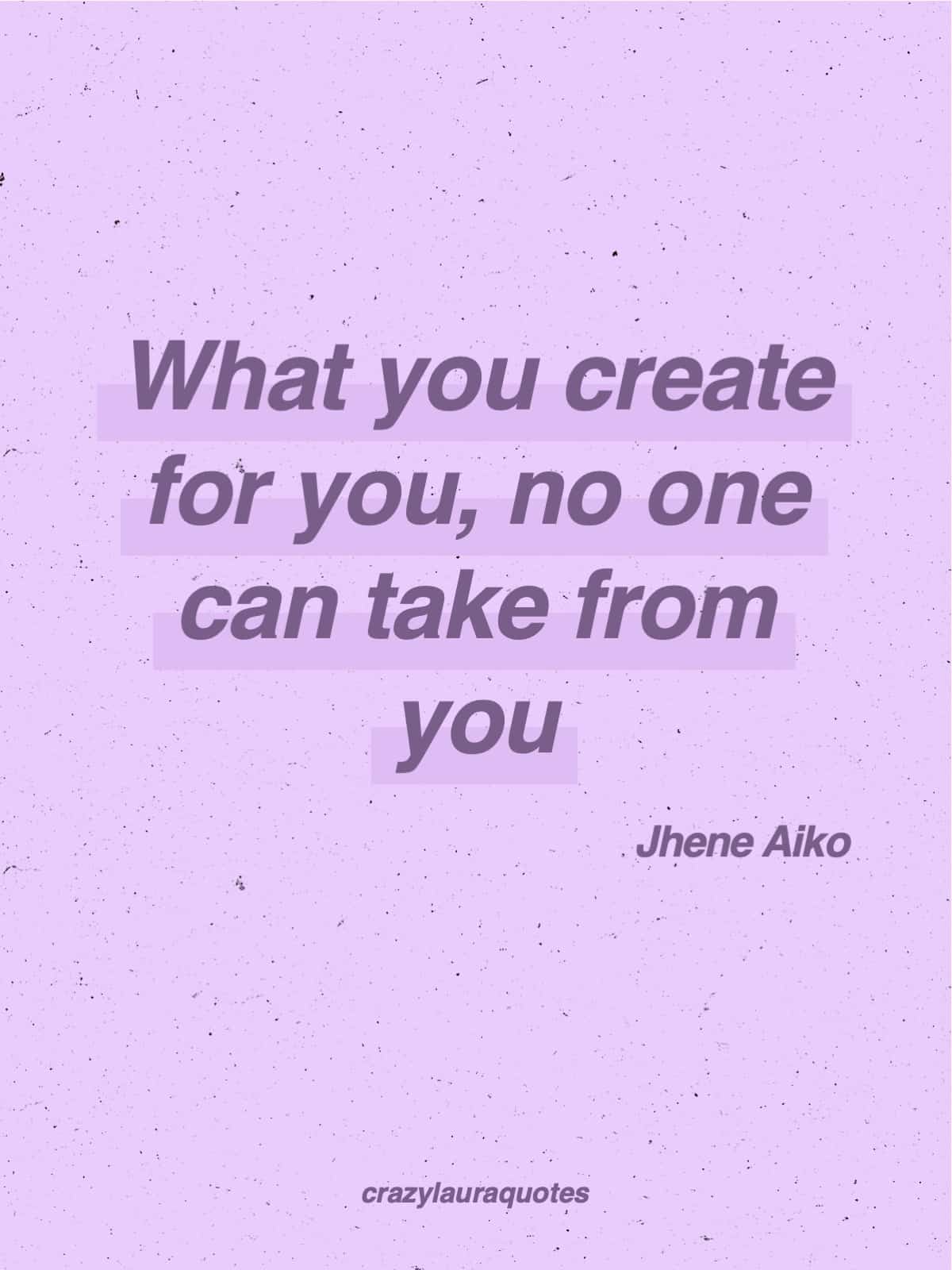 2. "What you create for you, no one can take from you." – Jhene Aiko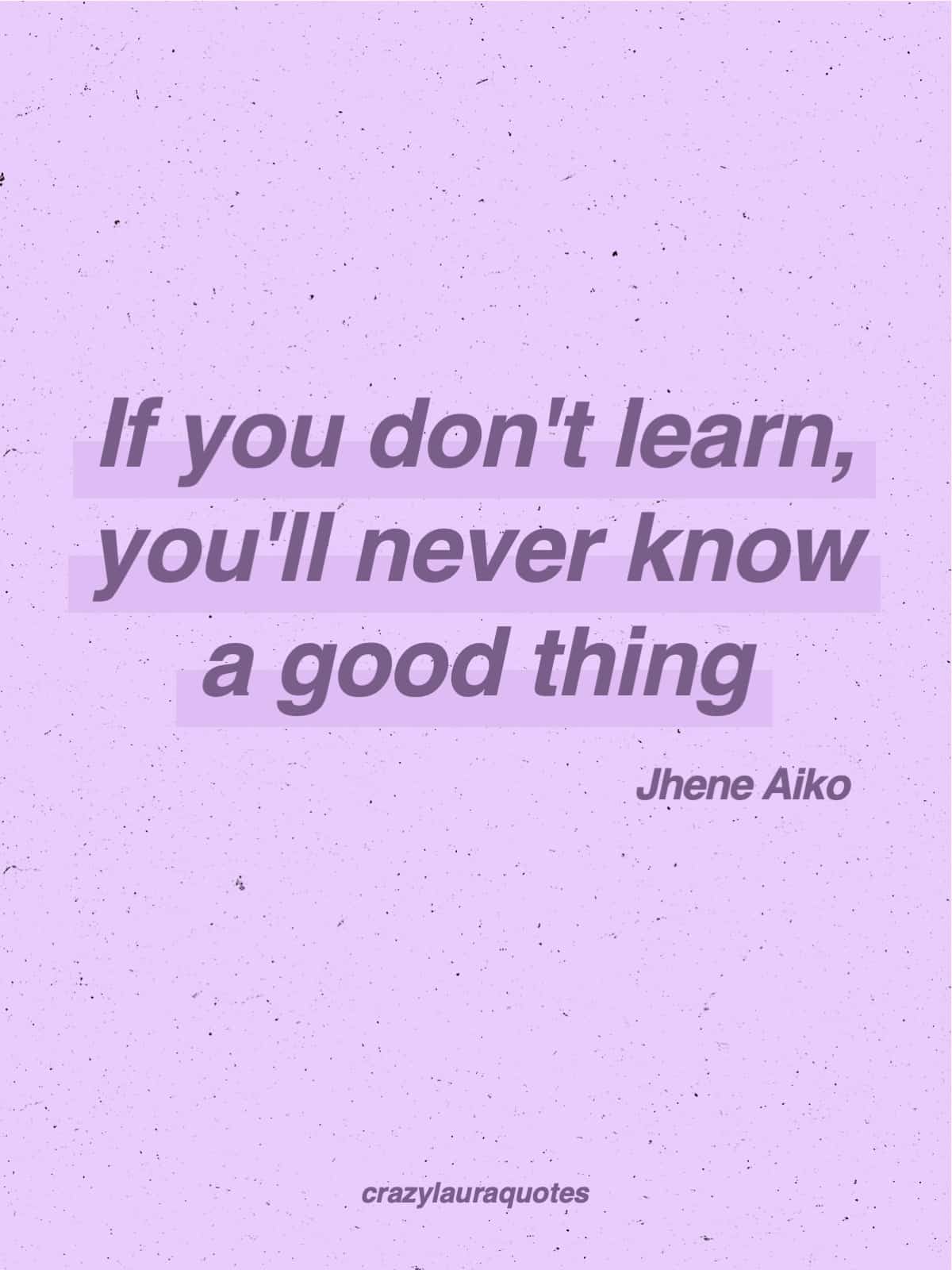 3. "If you don't learn, you'll never know a good thing." – Jhene Aiko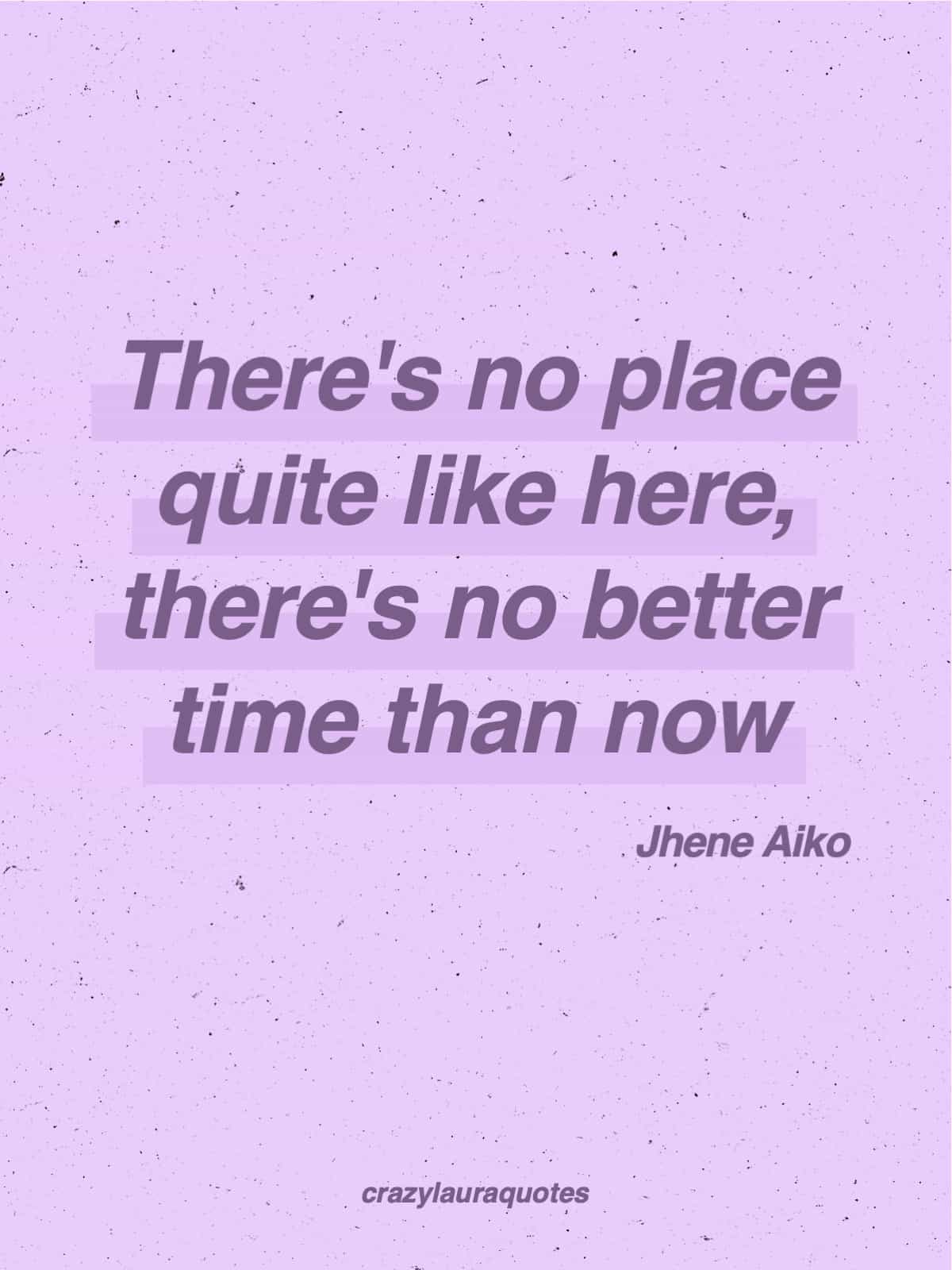 4. "There's no place quite like here, there's no better time than now." – Jhene Aiko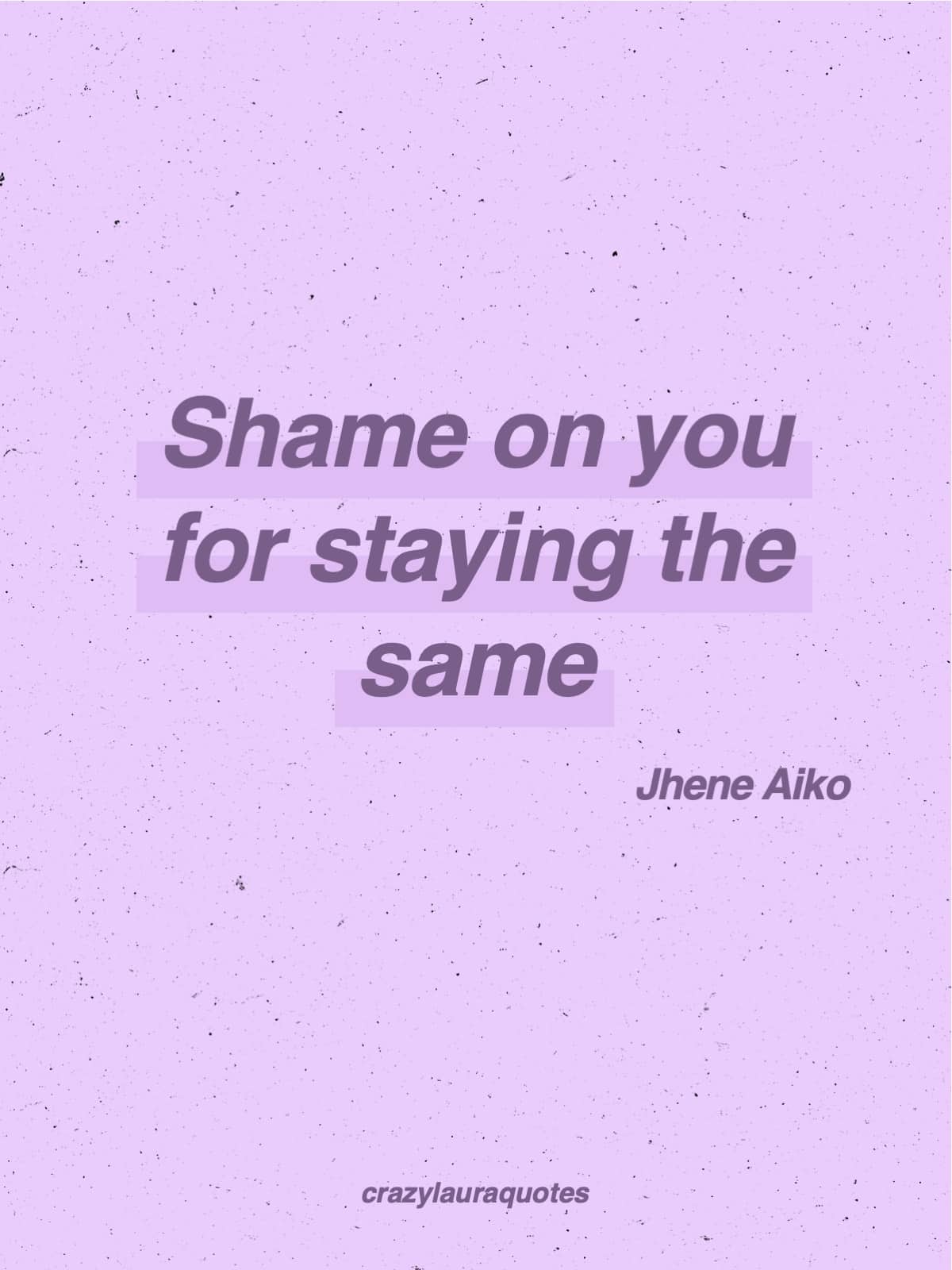 5. "Shame on you for staying the same." – Jhene Aiko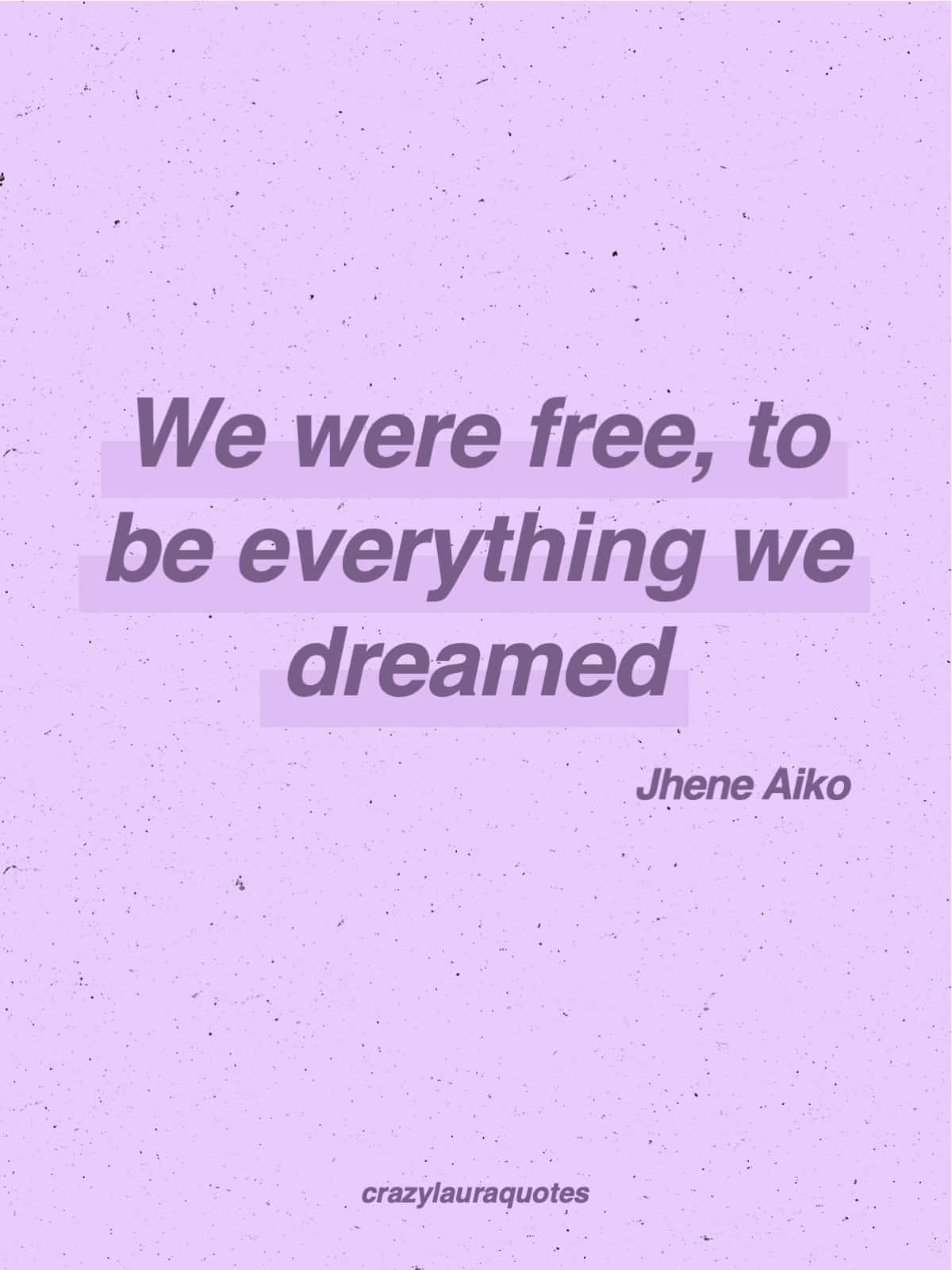 6. "We were free, to be everything we dreamed." – Jhene Aiko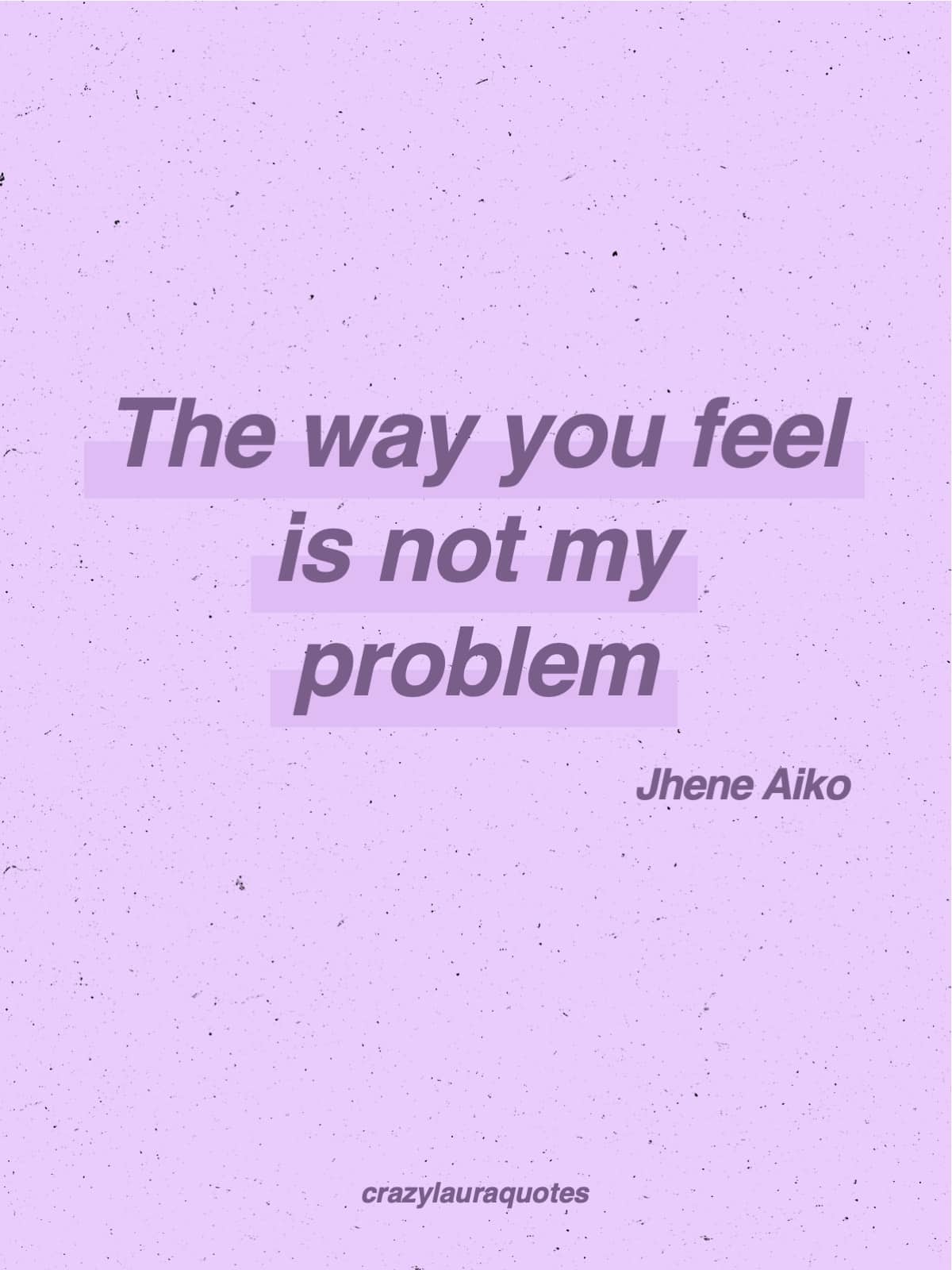 7. "The way you feel is not my problem." – Jhene Aiko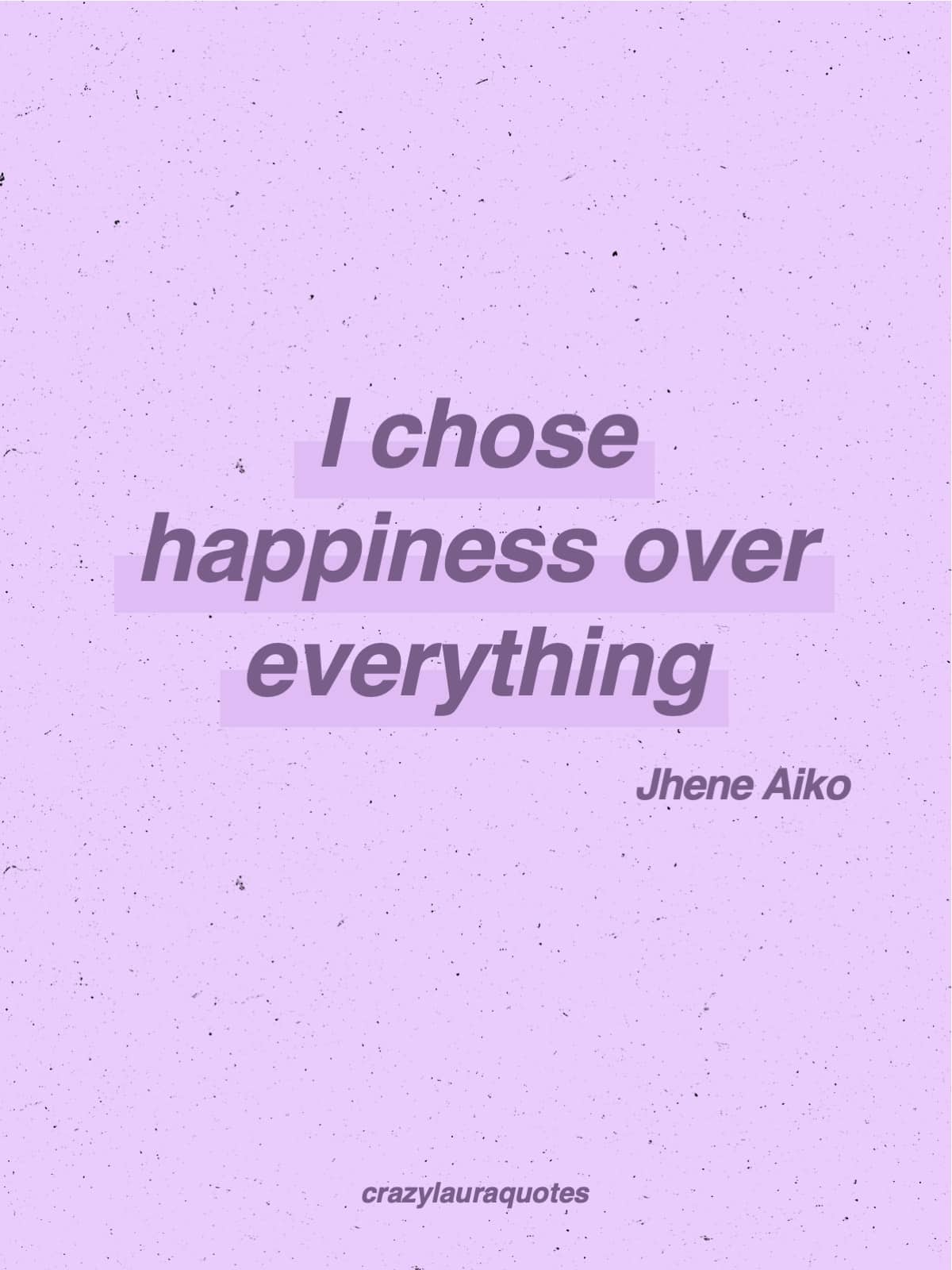 8. "I chose happiness over everything." – Jhene Aiko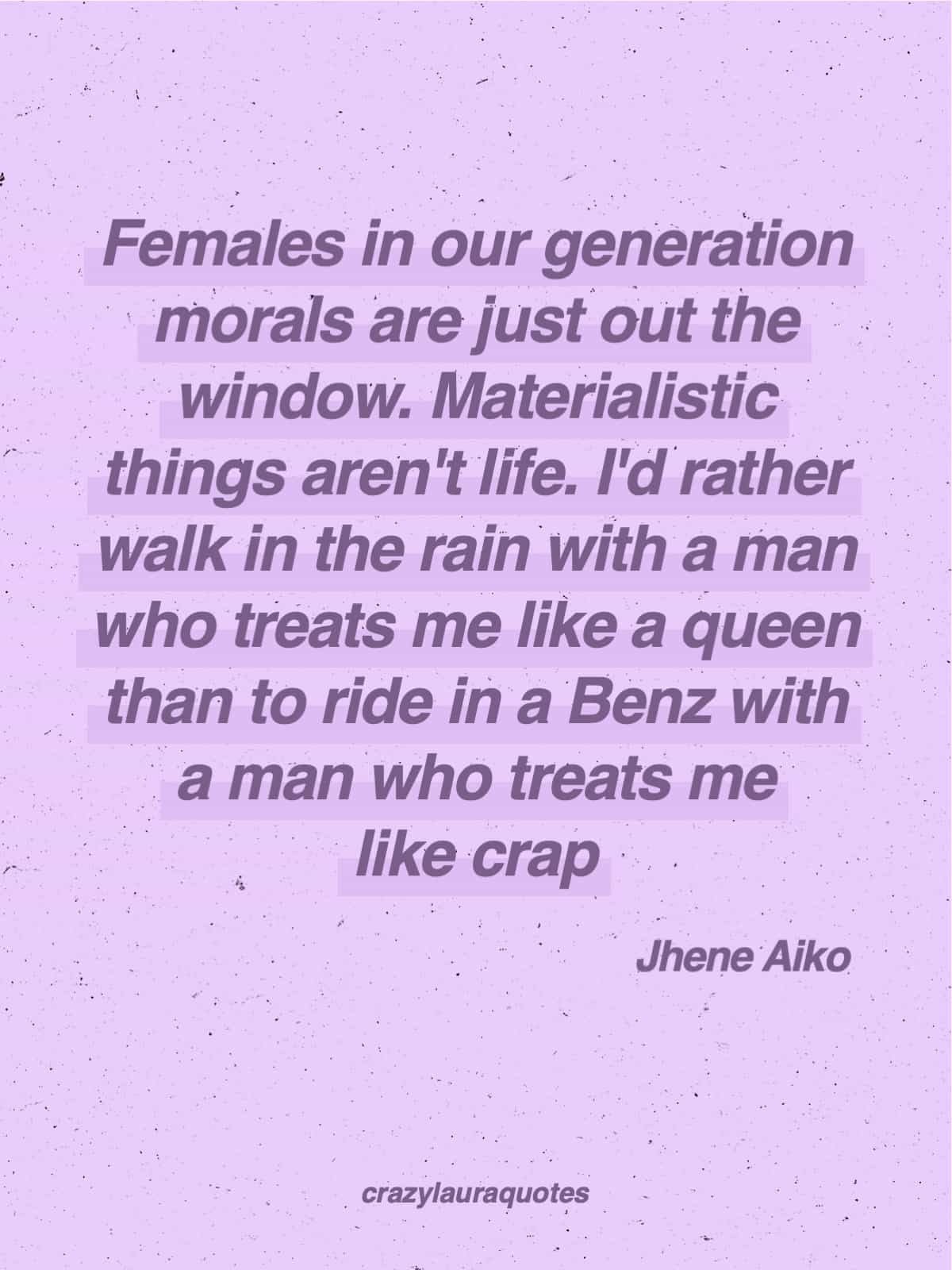 9. "Females in our generation morals are just out the window. Materialistic things aren't life. I'd rather walk in the rain with a man who treats me like a queen than to ride in a Benz with a man who treats me like crap." – Jhene Aiko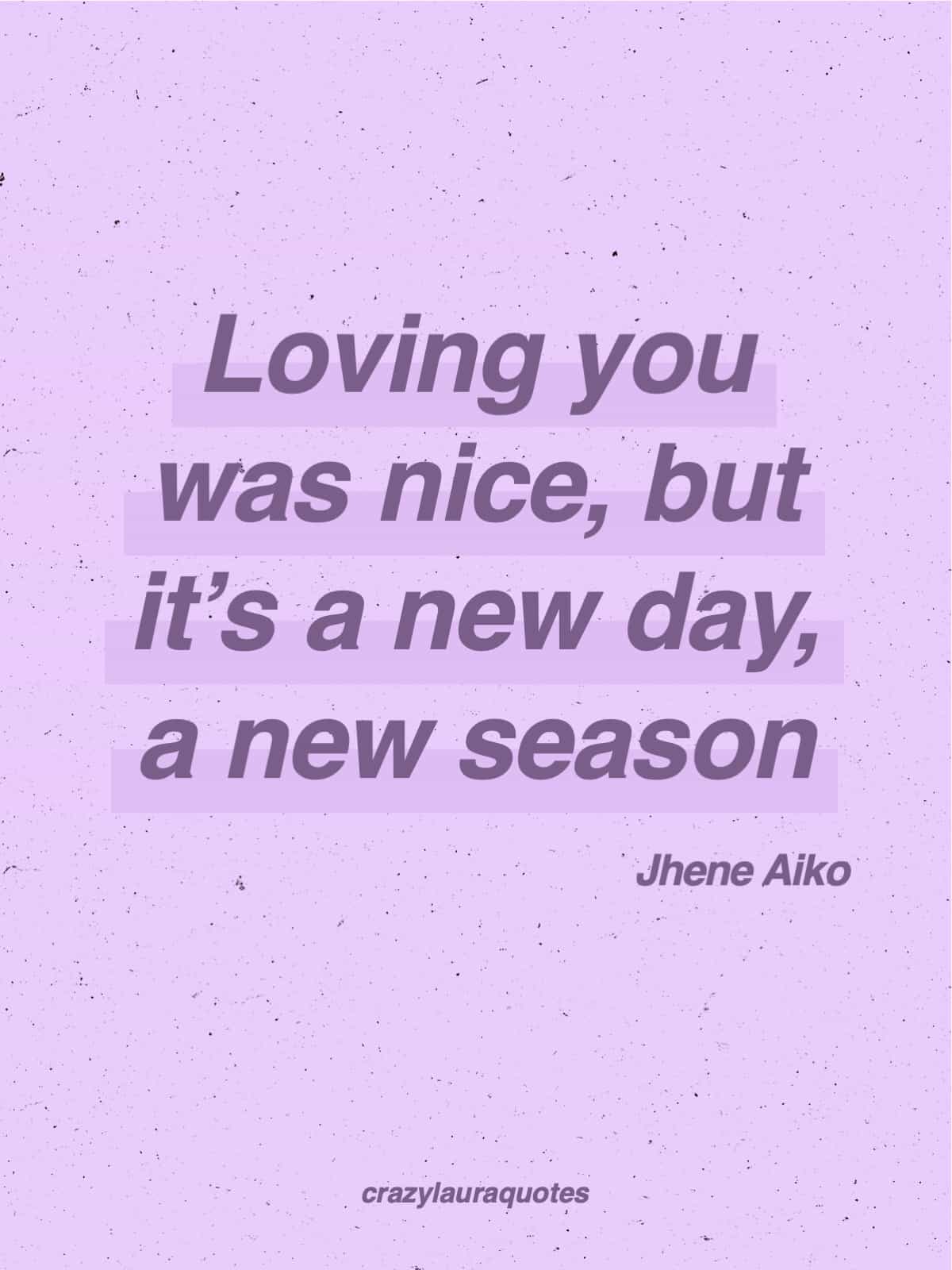 10. "Loving you was nice, but it's a new day, a new season." – Jhene Aiko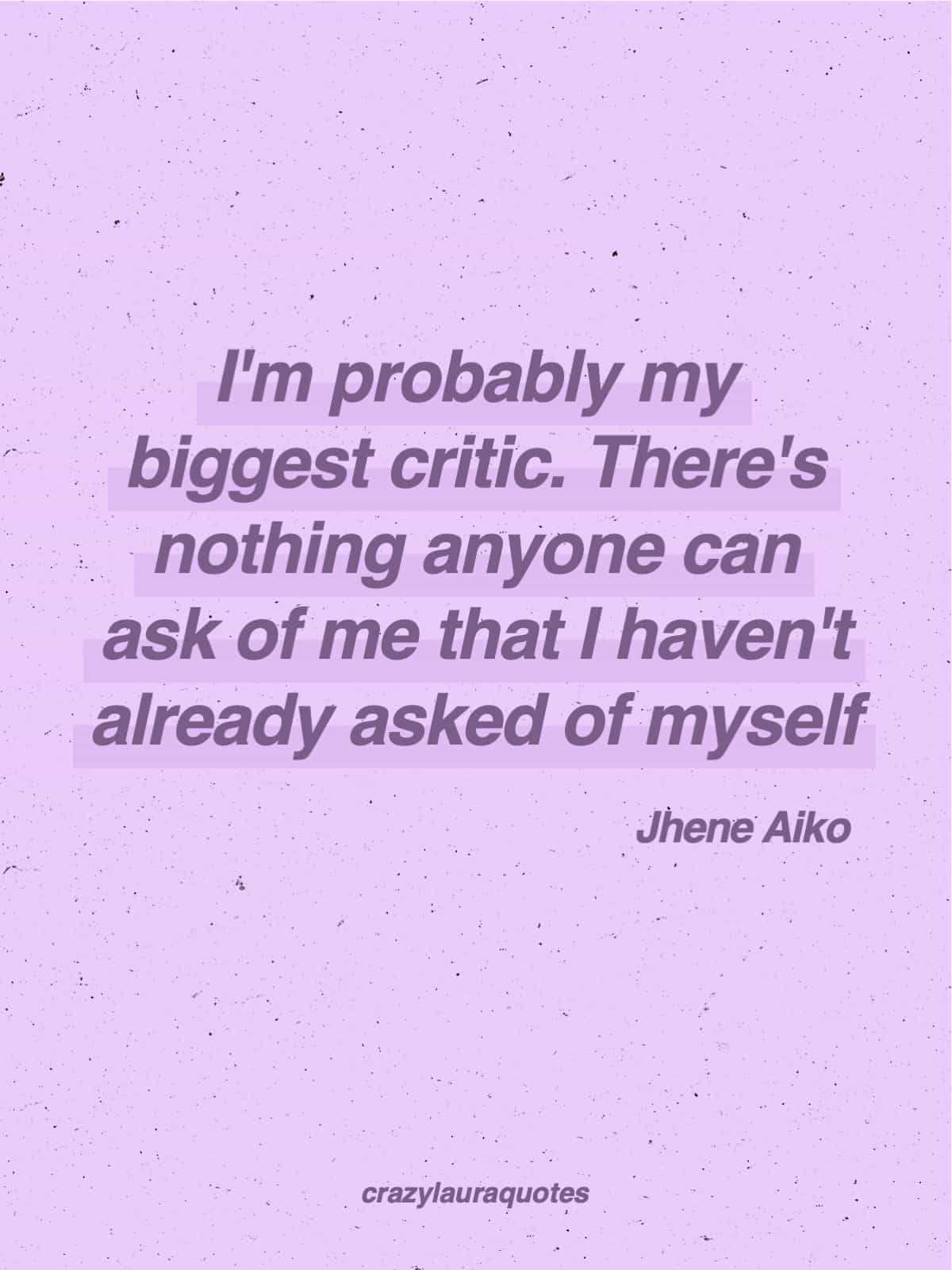 11. "I'm probably my biggest critic. There's nothing anyone can ask of me that I haven't already asked of myself." – Jhene Aiko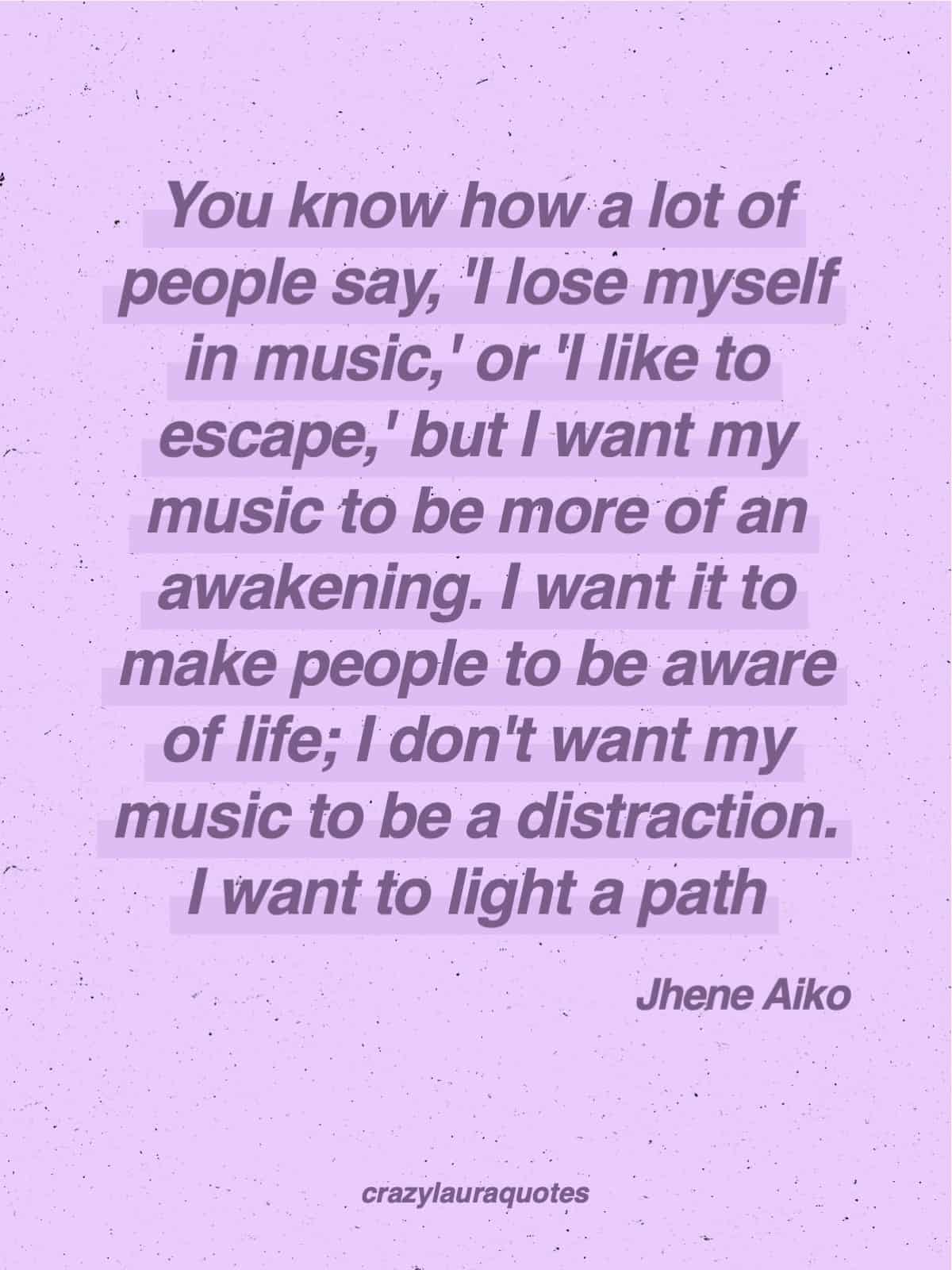 12. "You know how a lot of people say, 'I lose myself in music,' or 'I like to escape,' but I want my music to be more of an awakening. I want it to make people to be aware of life; I don't want my music to be a distraction. I want to light a path." – Jhene Aiko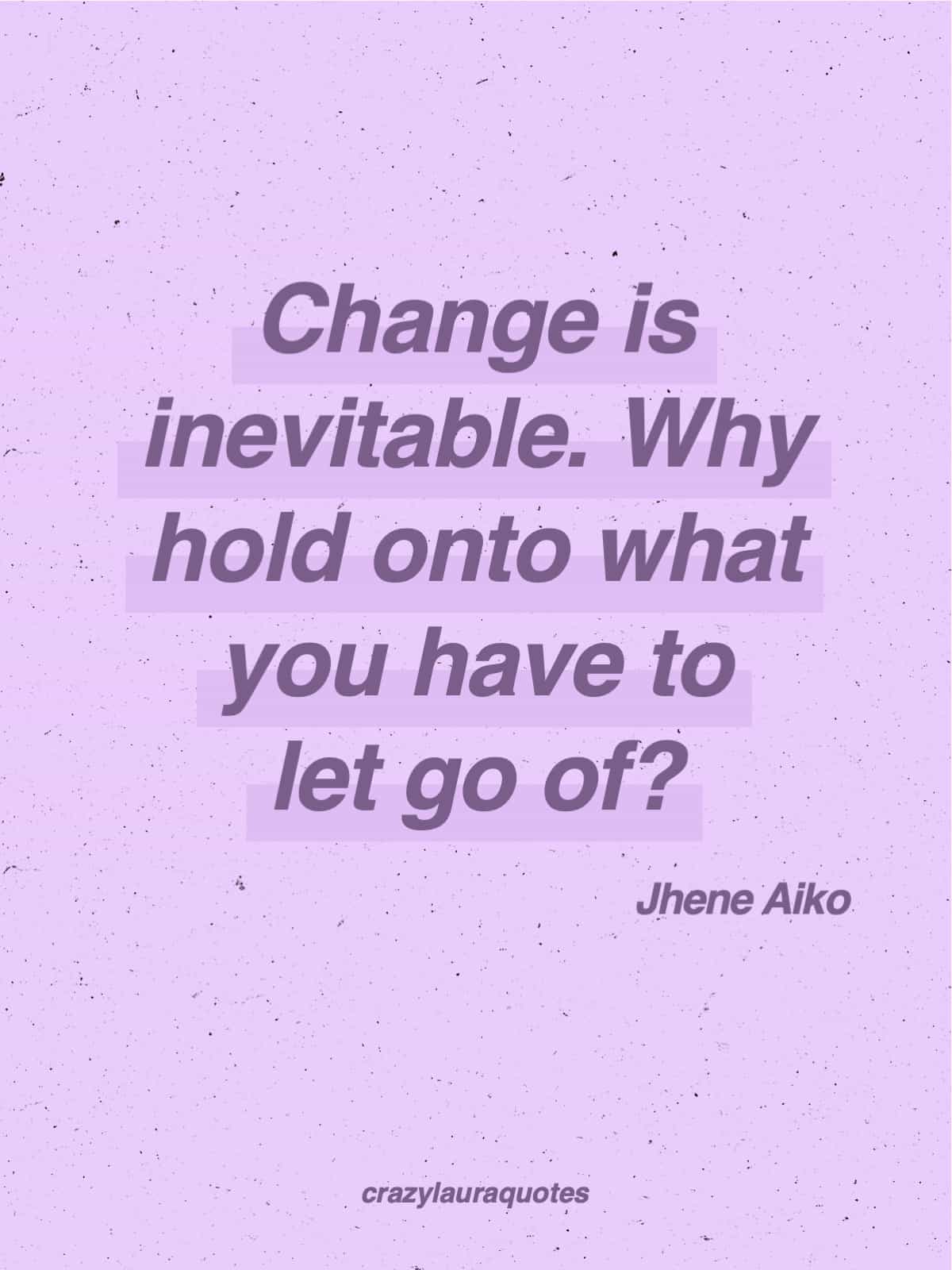 13. "Change is inevitable. Why hold onto what you have to let go of?" – Jhene Aiko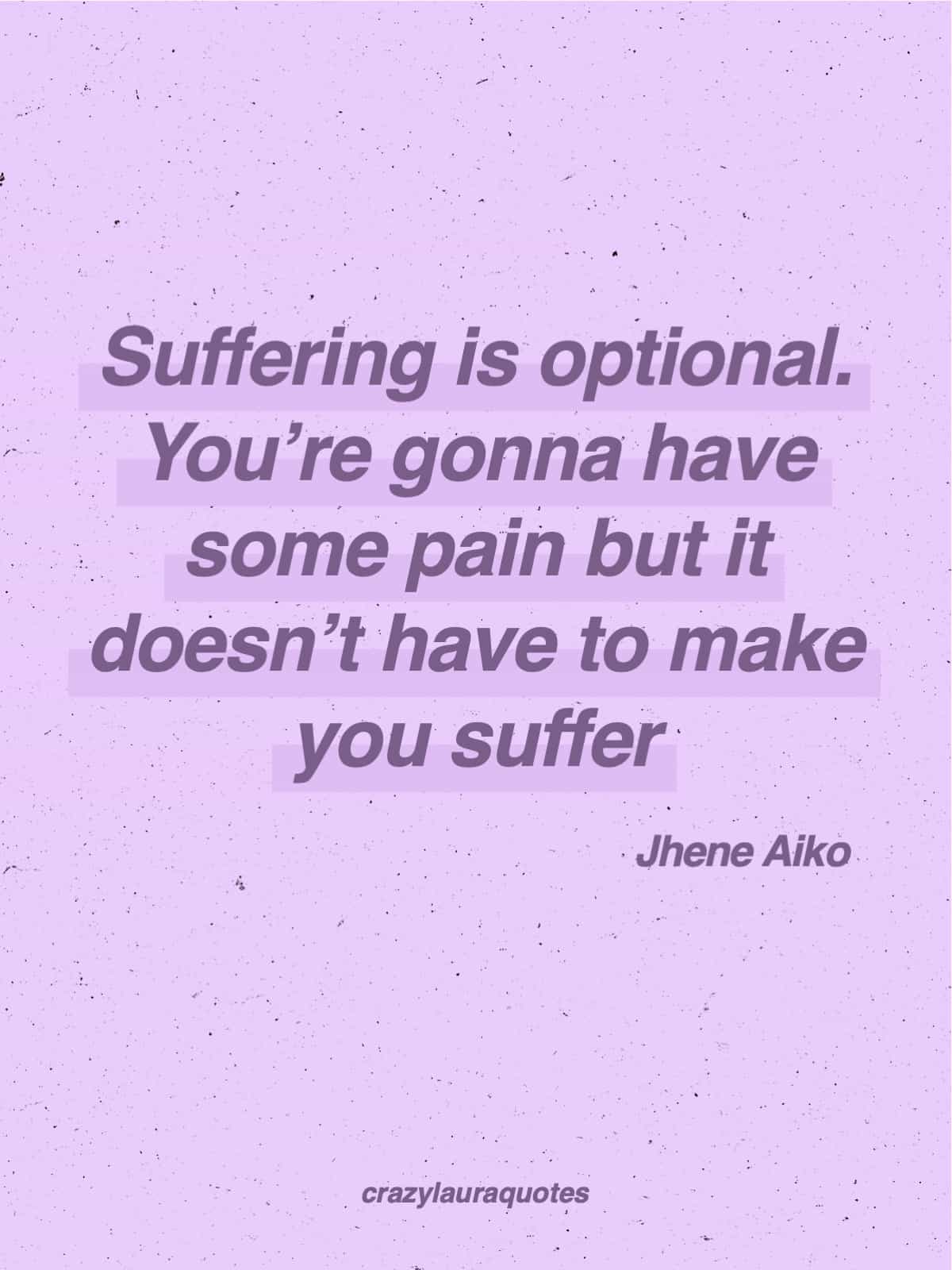 14. "Suffering is optional. You're gonna have some pain but it doesn't have to make you suffer." – Jhene Aiko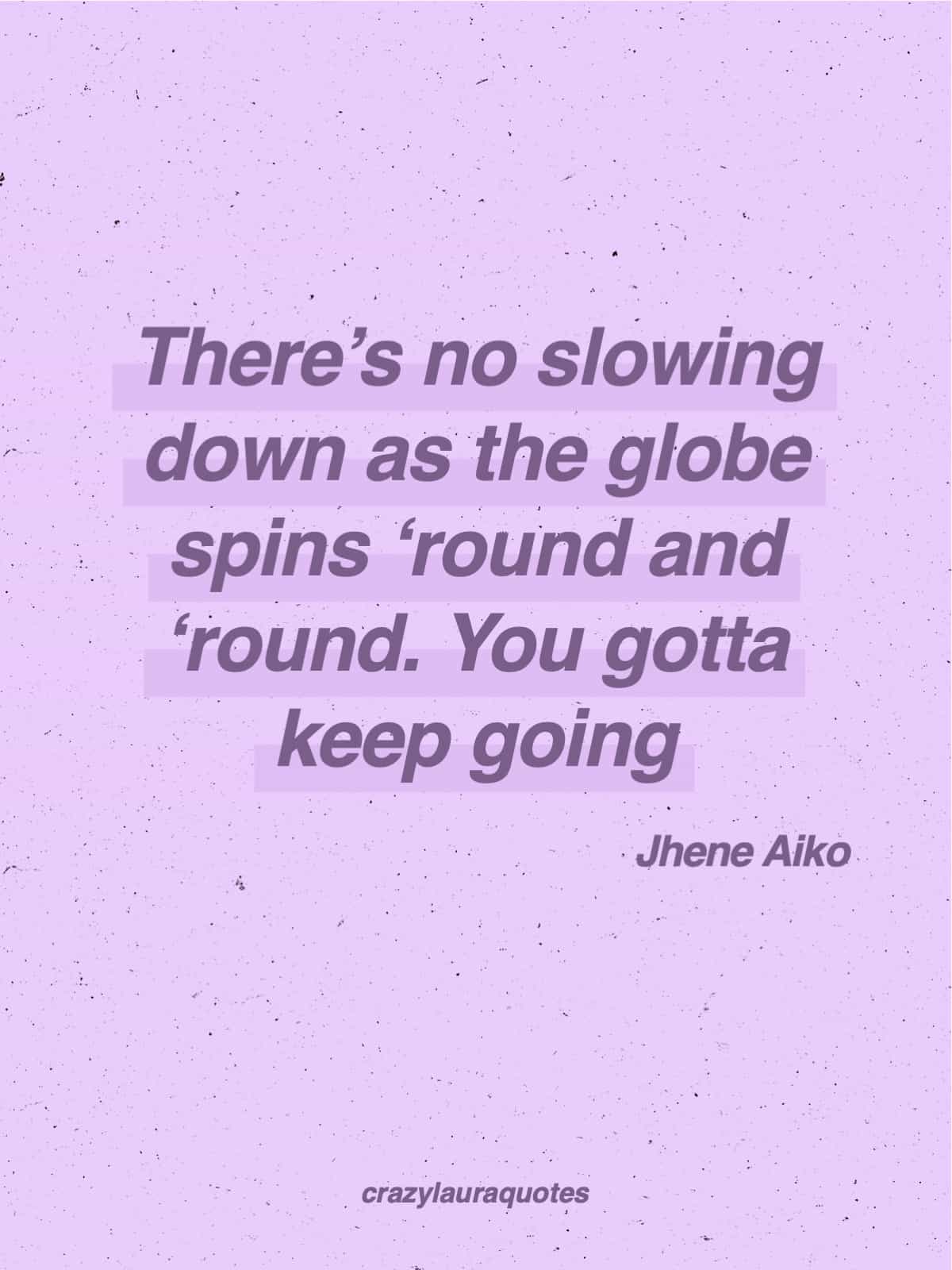 15. "There's no slowing down as the globe spins 'round and 'round. You gotta keep going." – Jhene Aiko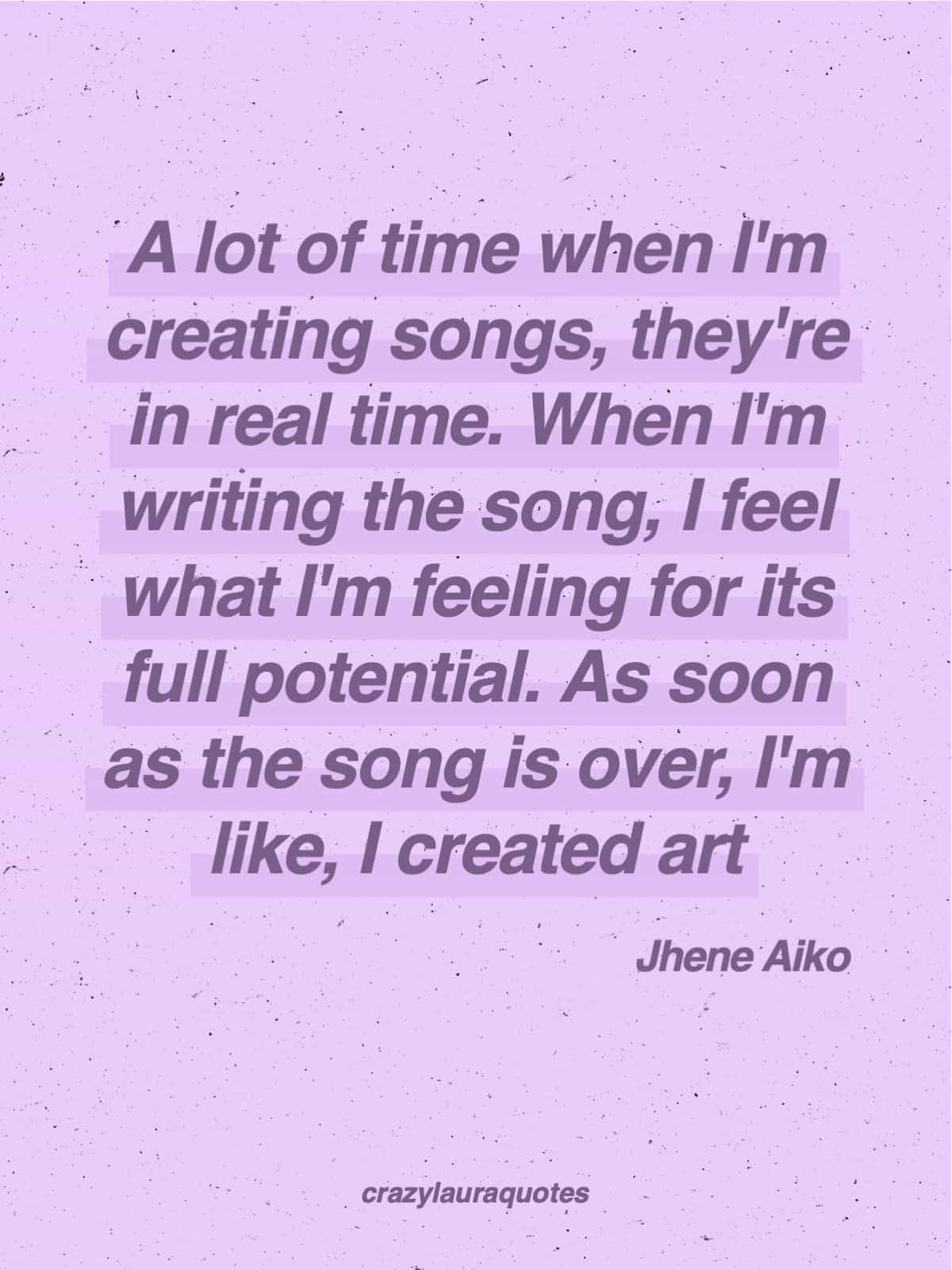 16. "A lot of time when I'm creating songs, they're in real time. When I'm writing the song, I feel what I'm feeling for its full potential. As soon as the song is over, I'm like, I created art." – Jhene Aiko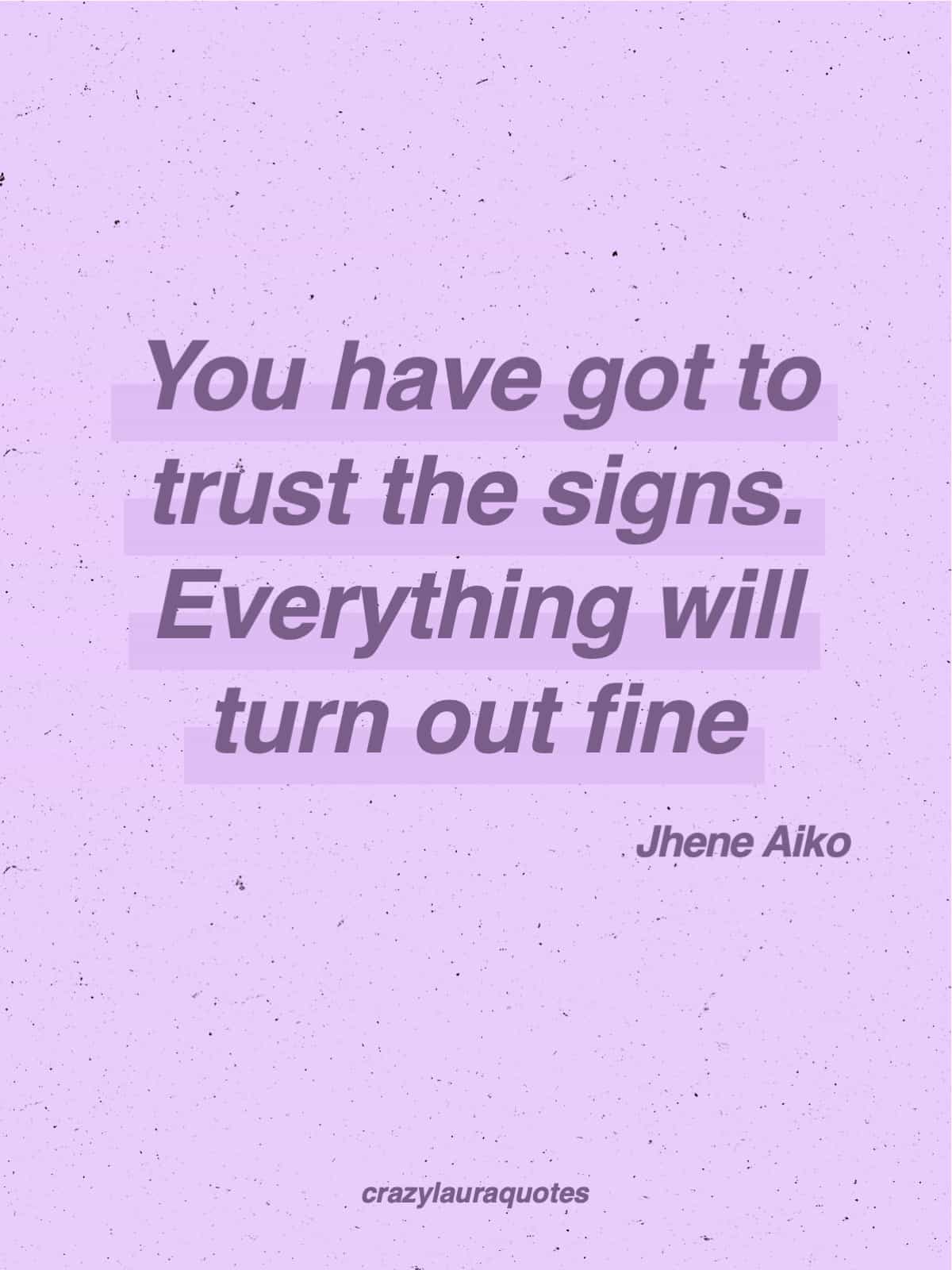 17. "You have got to trust the signs. Everything will turn out fine." – Jhene Aiko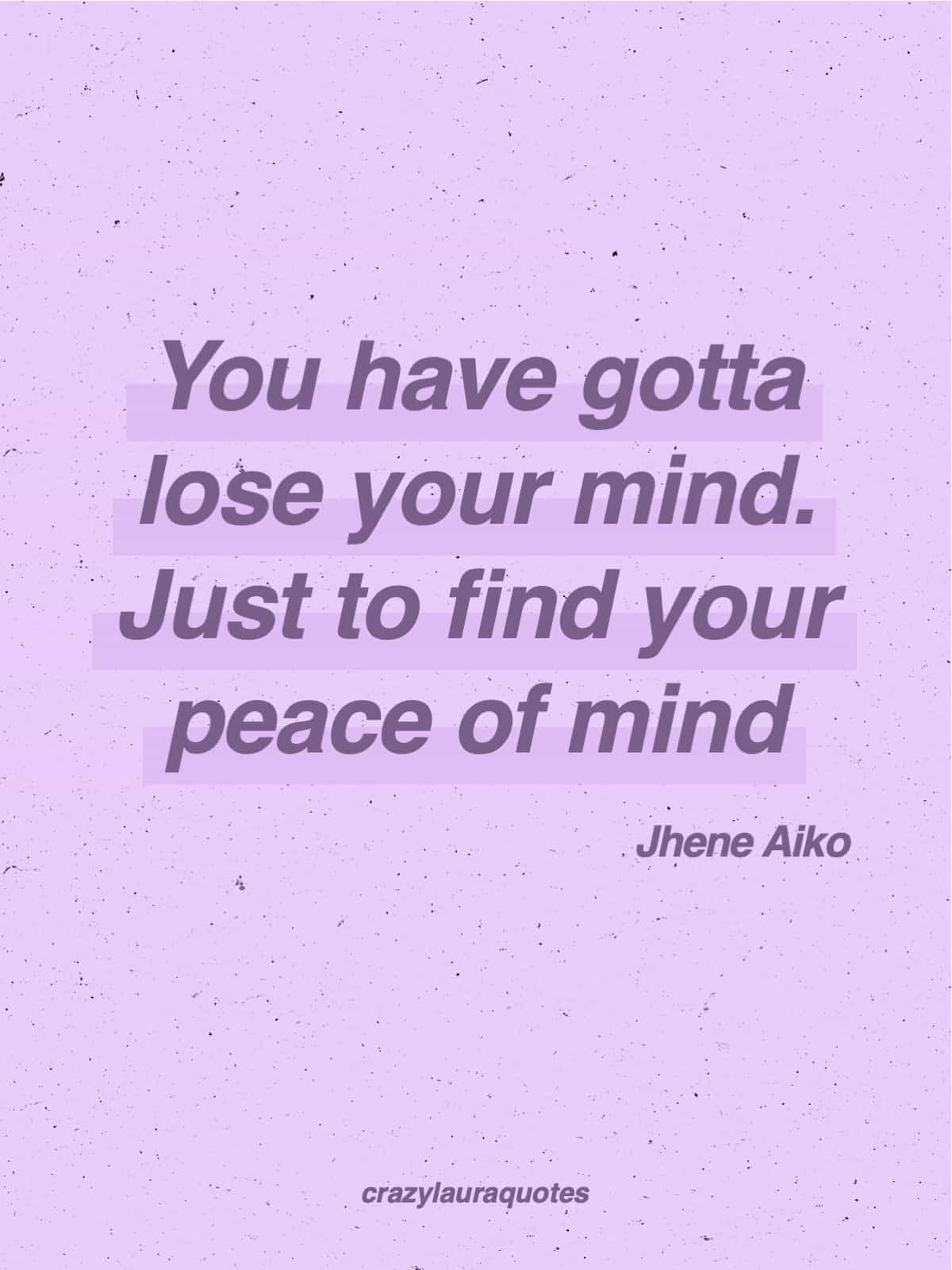 18. "You have gotta lose your mind. Just to find your peace of mind." – Jhene Aiko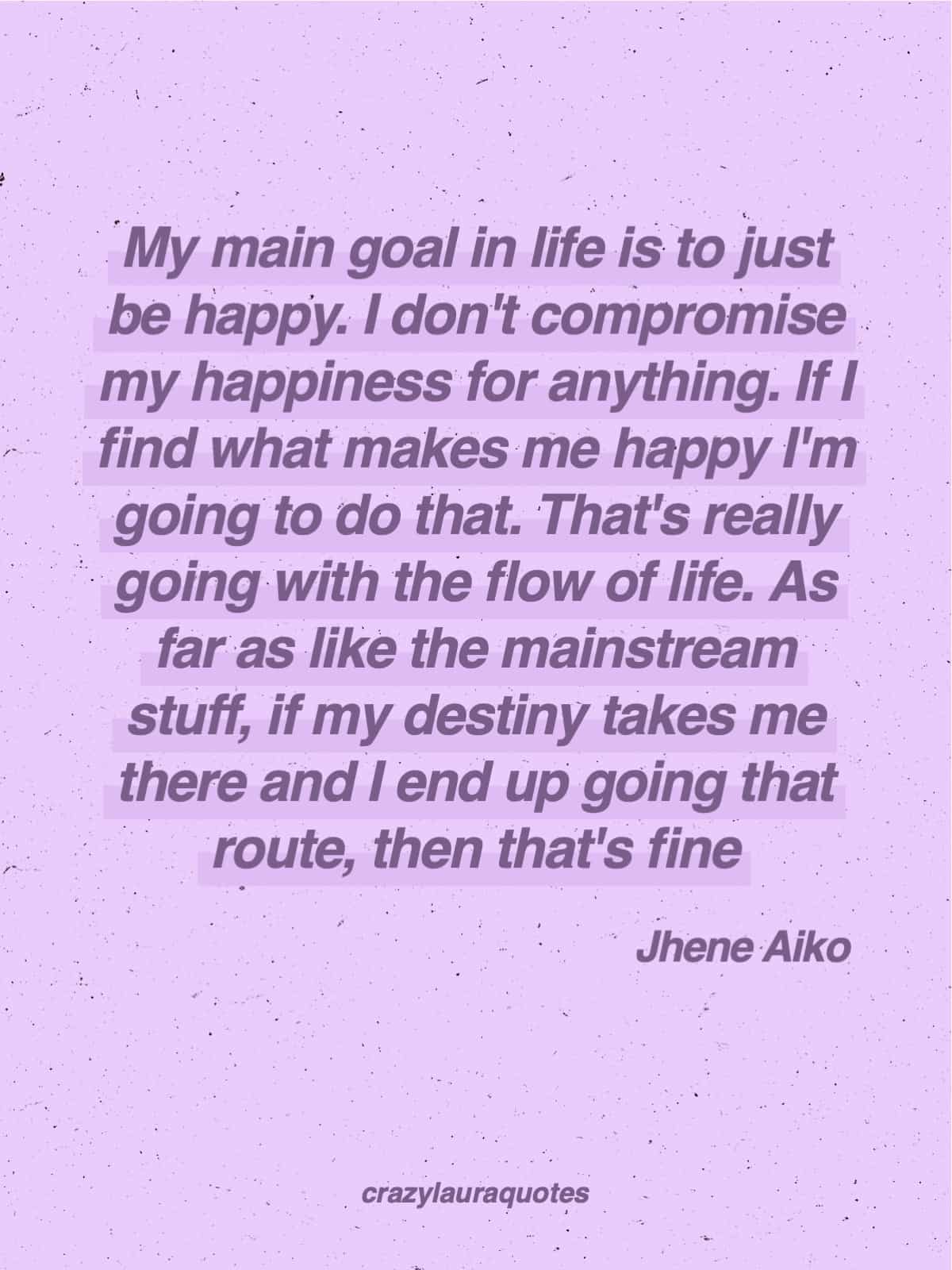 19. "My main goal in life is to just be happy. I don't compromise my happiness for anything. If I find what makes me happy I'm going to do that. That's really going with the flow of life. As far as like the mainstream stuff, if my destiny takes me there and I end up going that route, then that's fine." – Jhene Aiko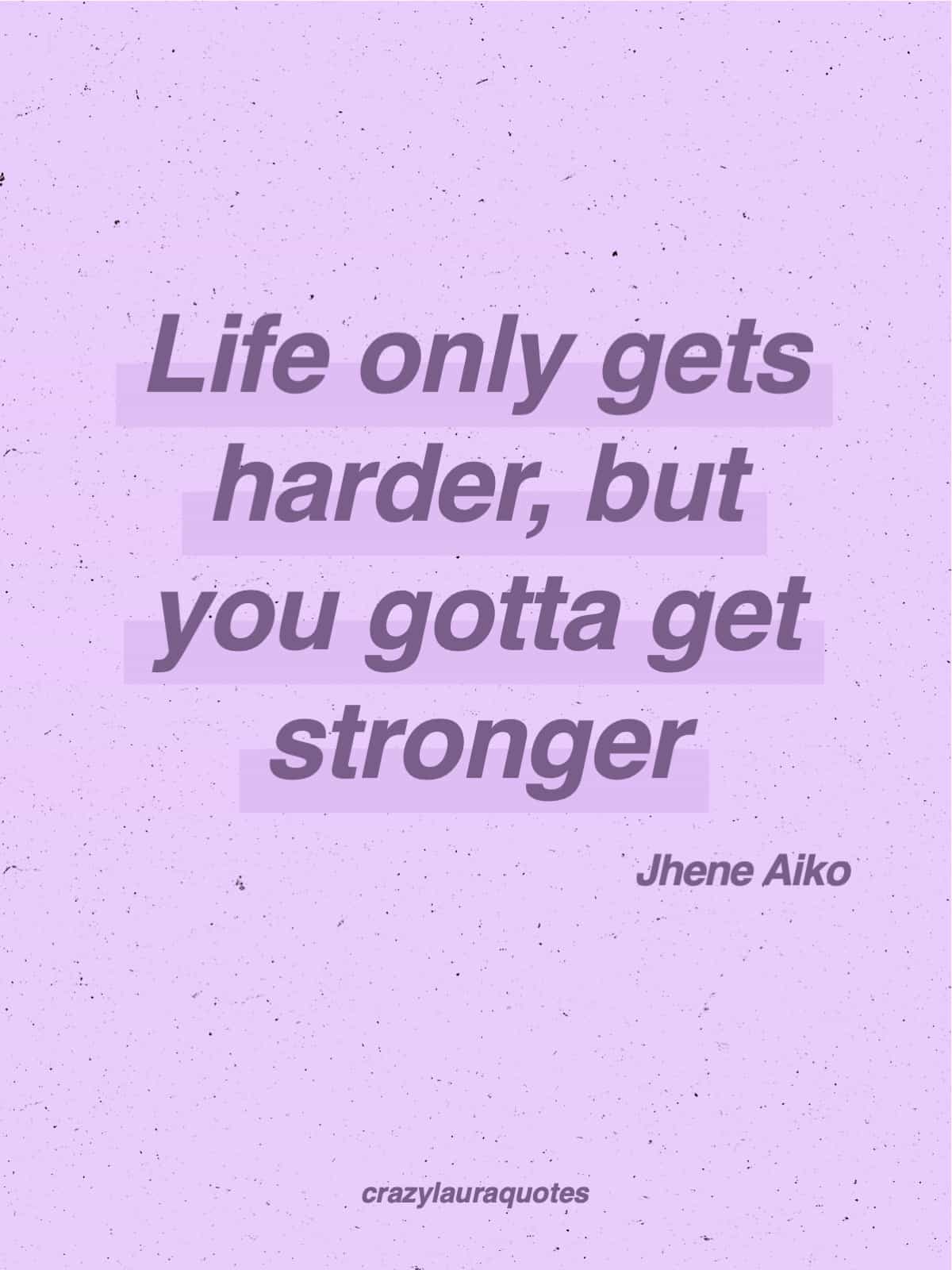 20. "Life only gets harder, but you gotta get stronger." – Jhene Aiko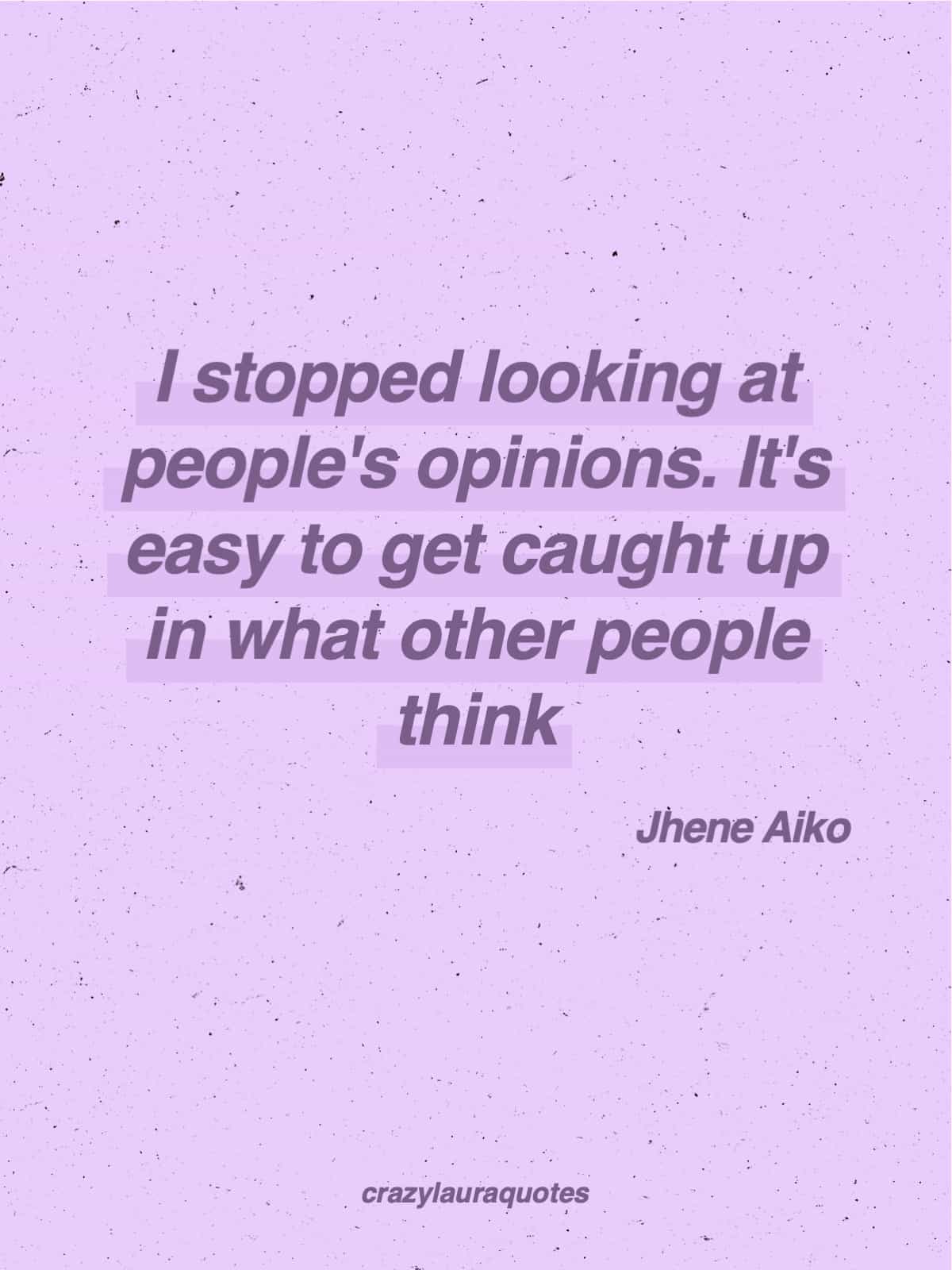 21. "I stopped looking at people's opinions. It's easy to get caught up in what other people think." – Jhene Aiko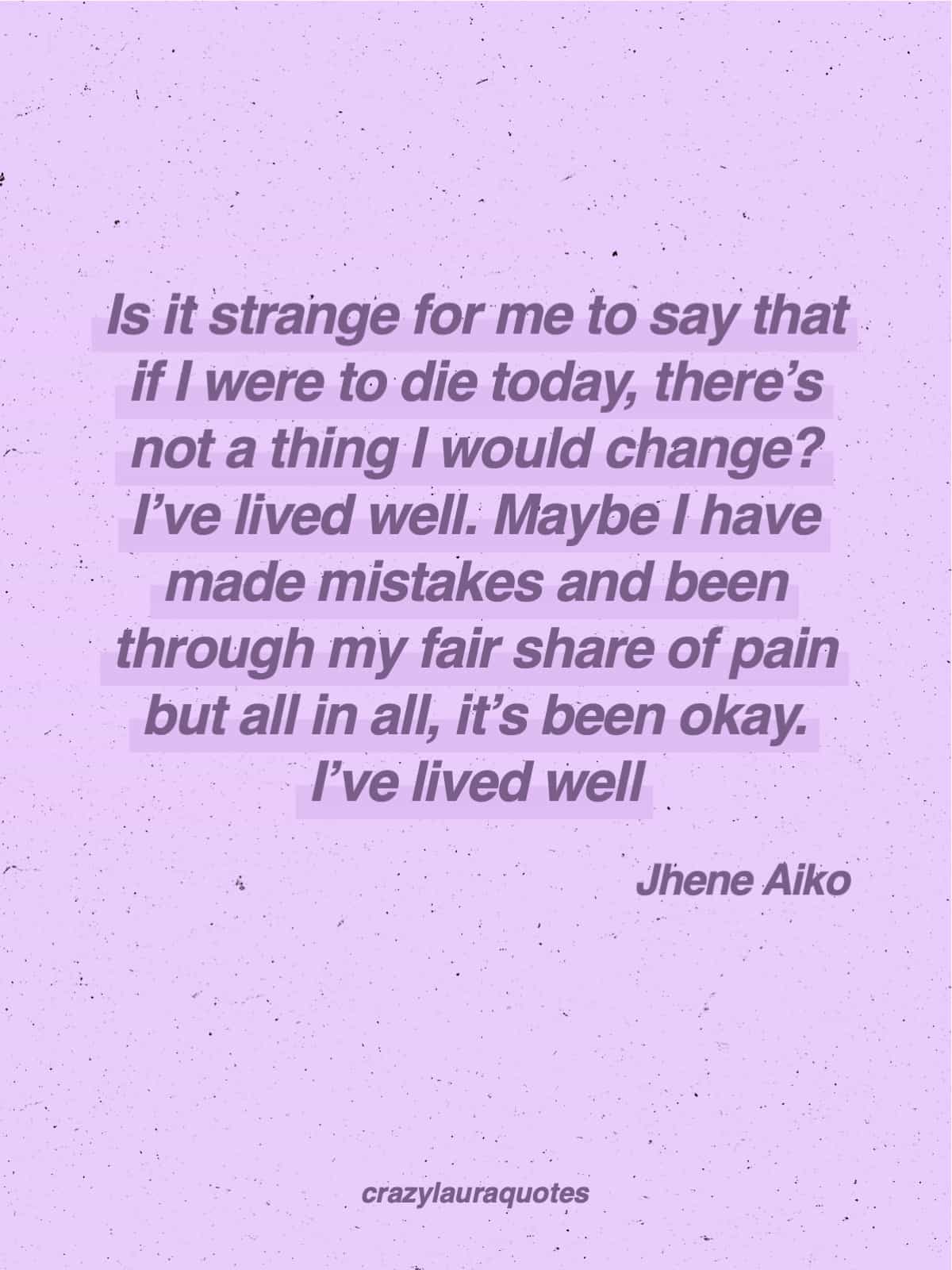 22. "Is it strange for me to say that if I were to die today, there's not a thing I would change? I've lived well. Maybe I have made mistakes and been through my fair share of pain but all in all, it's been okay. I've lived well." – Jhene Aiko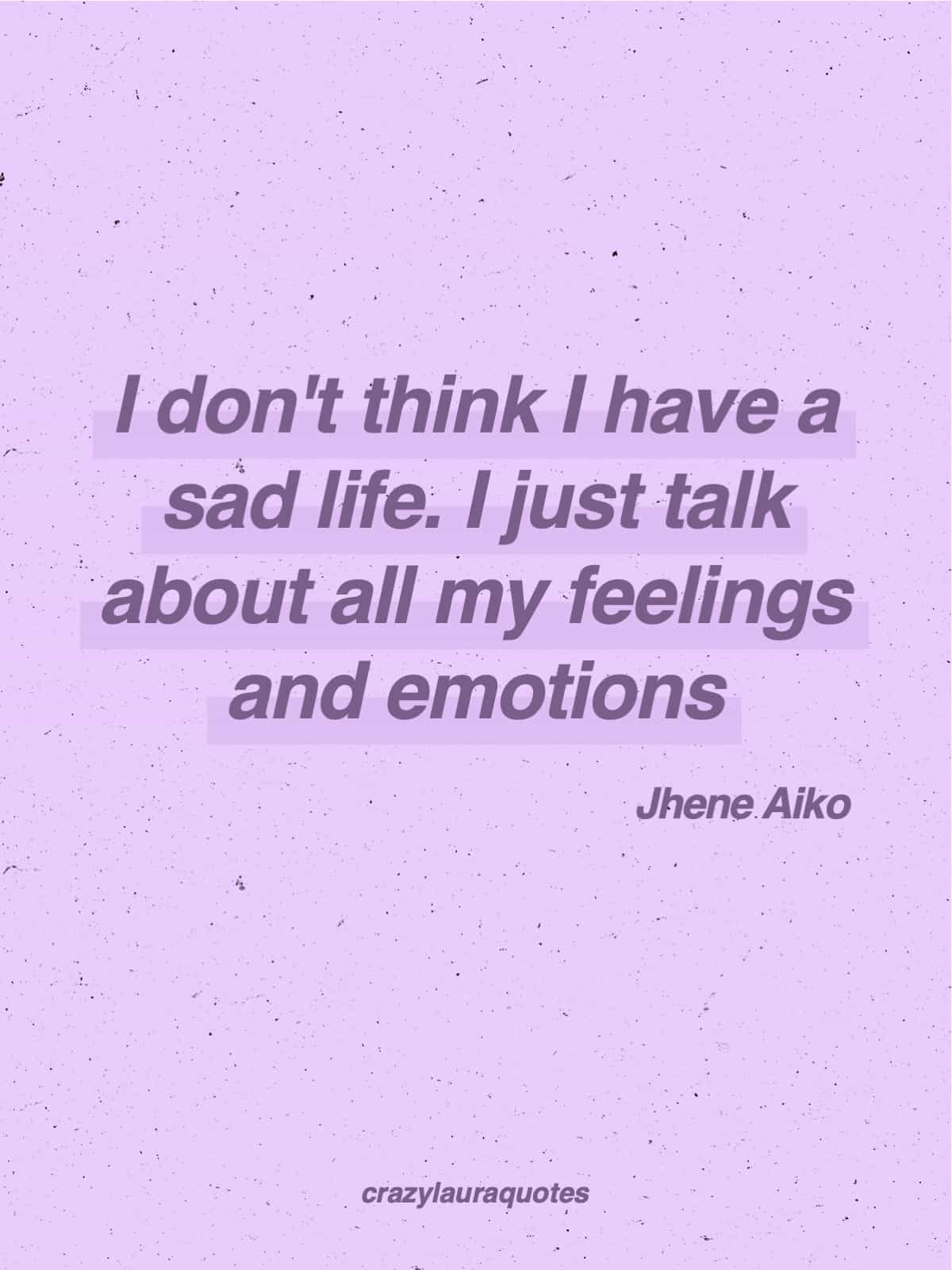 23. "I don't think I have a sad life. I just talk about all my feelings and emotions." – Jhene Aiko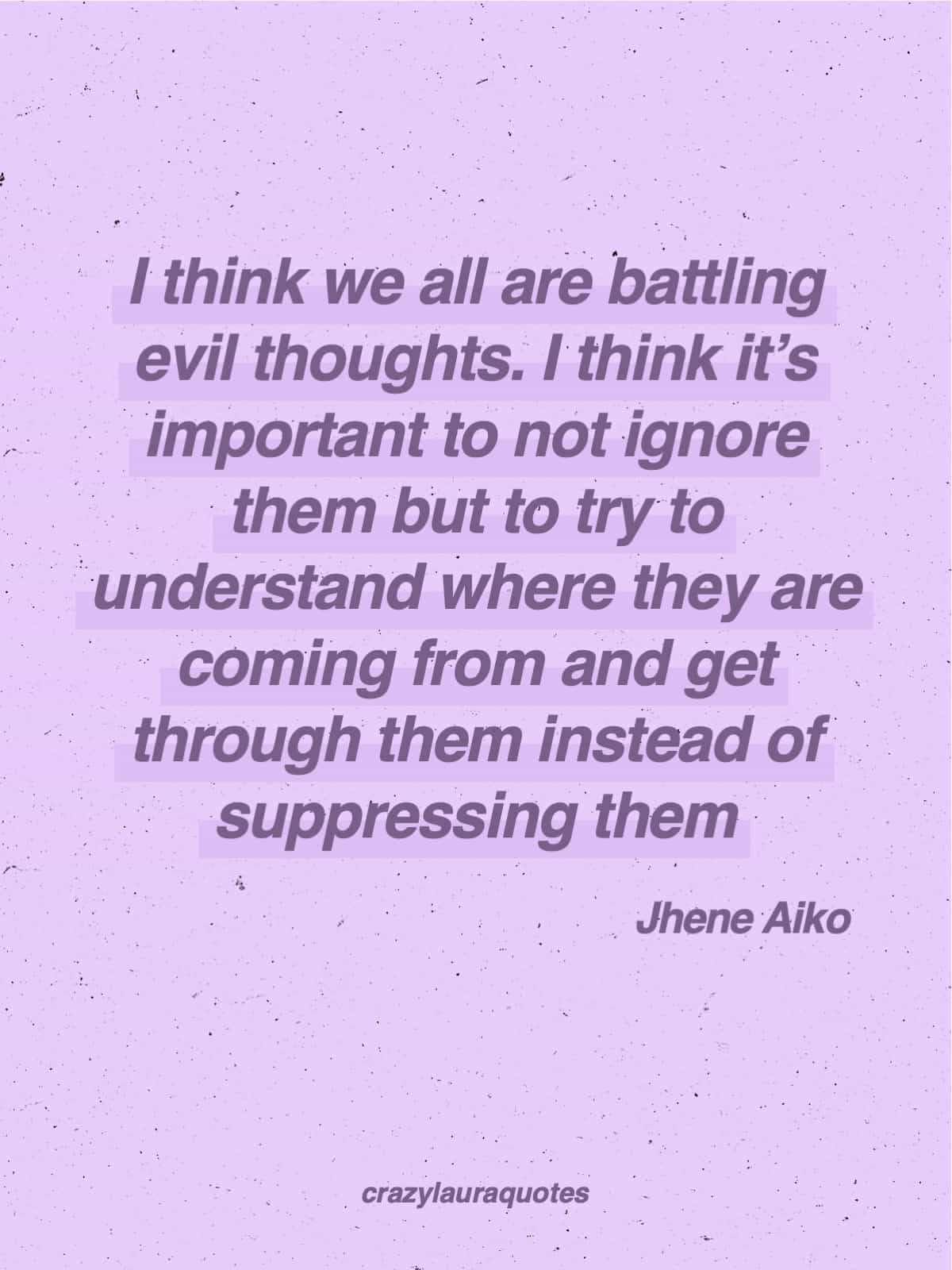 24. "I think we all are battling evil thoughts. I think it's important to not ignore them but to try to understand where they are coming from and get through them instead of suppressing them." – Jhene Aiko

25. "I have a crazy sense of humor so if someone is just trying to be rude to me, or if you can tell that someone is angry for no reason, I like to entertain them." – Jhene Aiko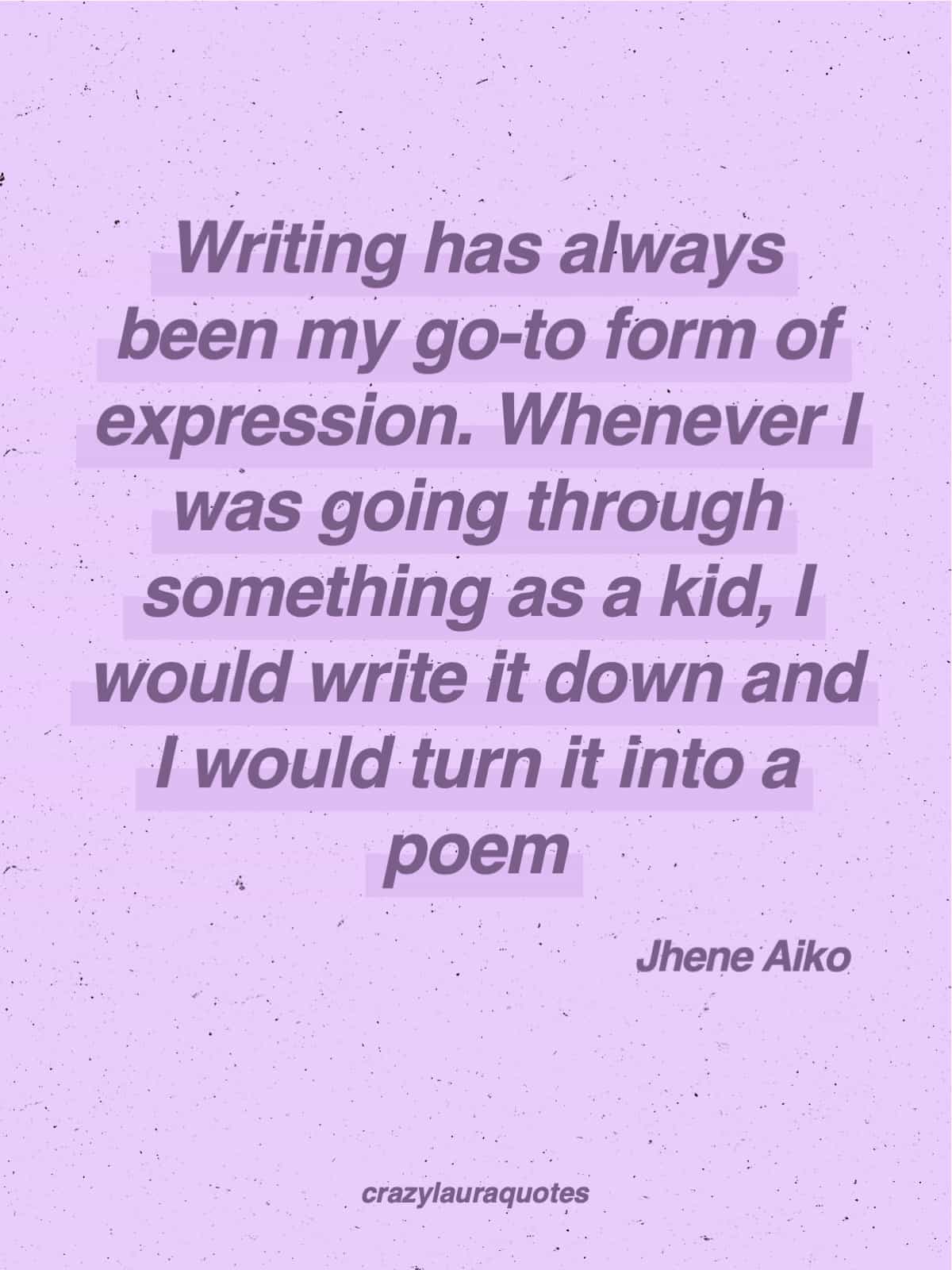 26. "Writing has always been my go-to form of expression. Whenever I was going through something as a kid, I would write it down and I would turn it into a poem." – Jhene Aiko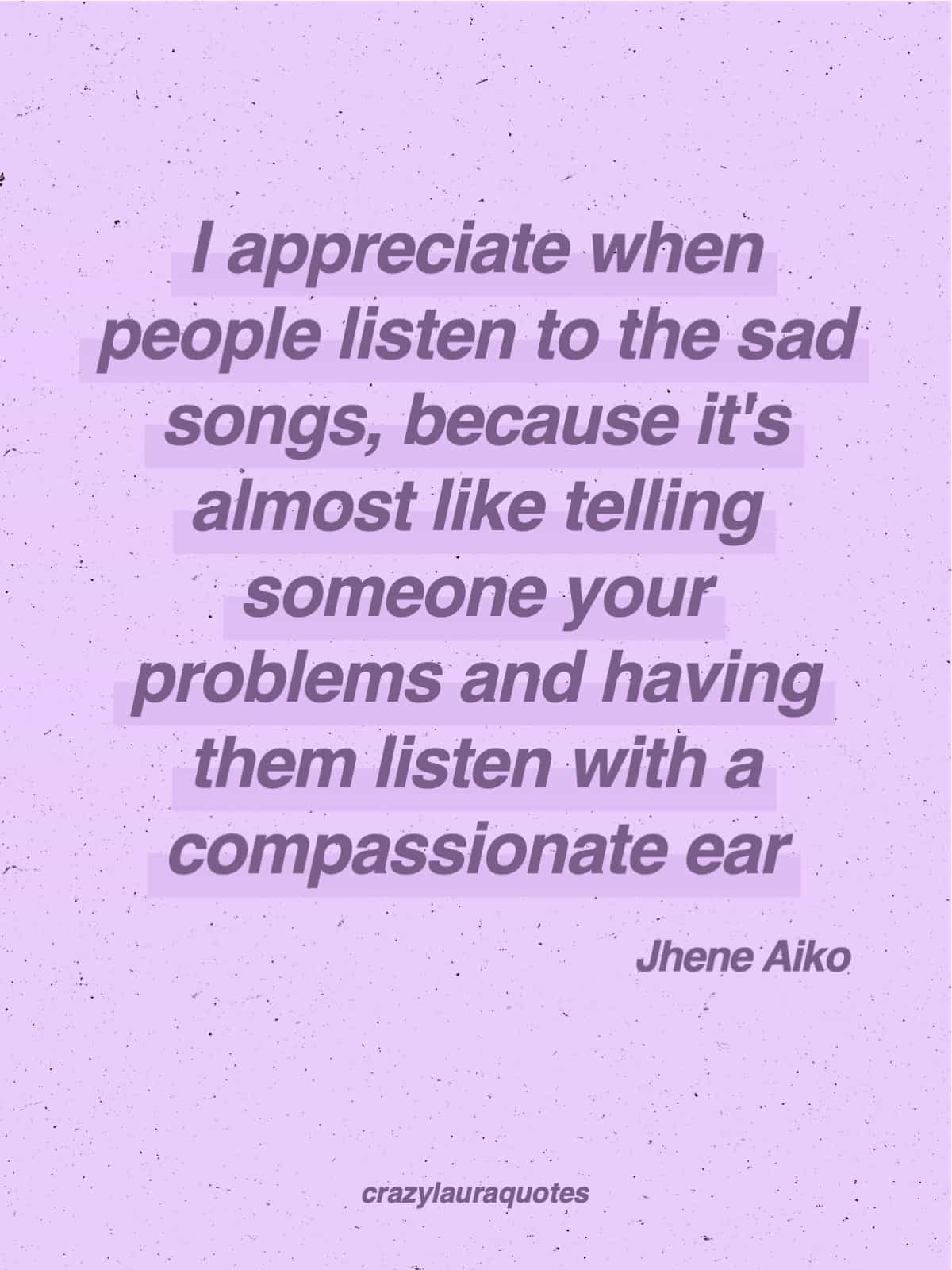 27. "I appreciate when people listen to the sad songs, because it's almost like telling someone your problems and having them listen with a compassionate ear." – Jhene Aiko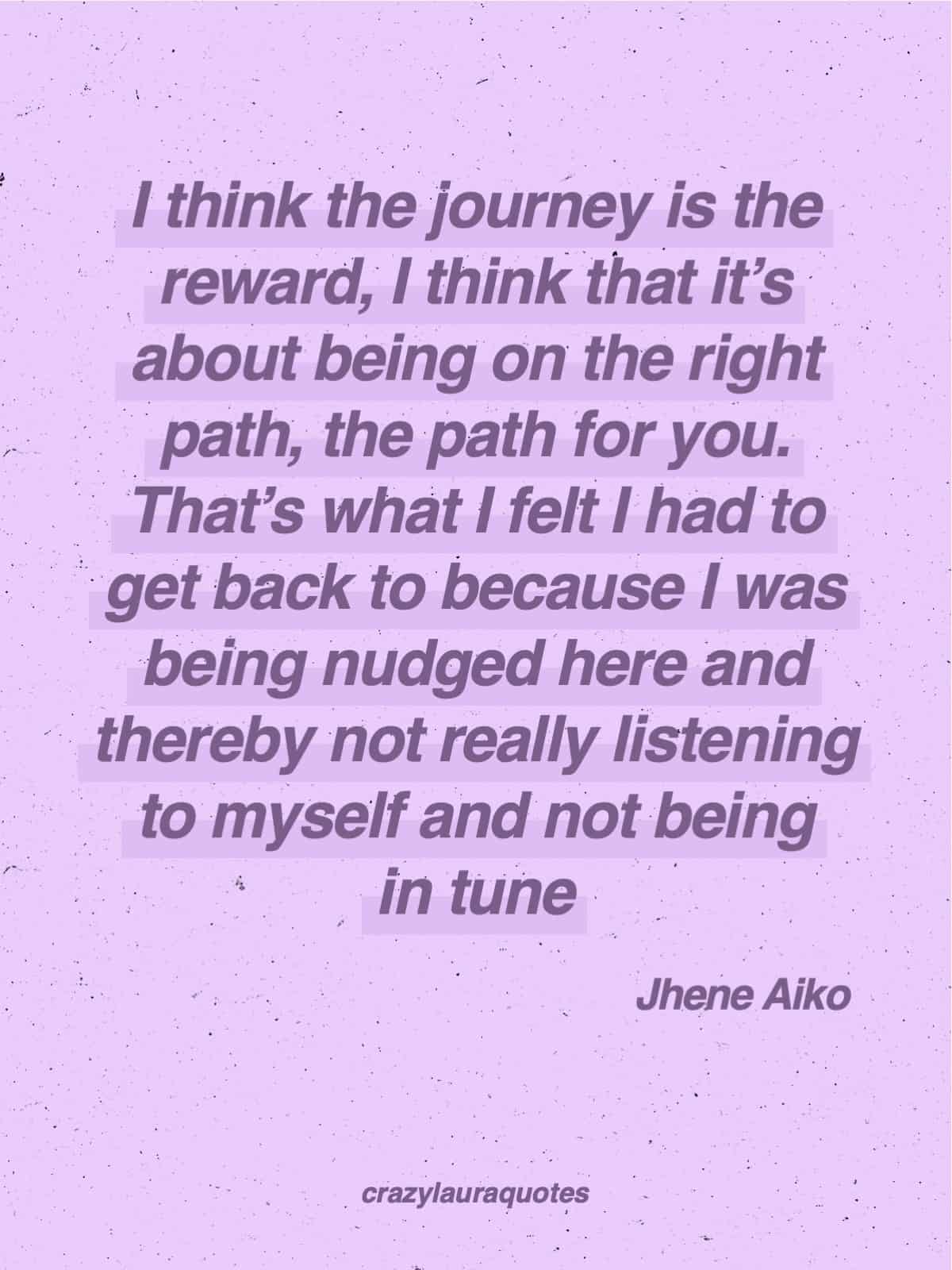 28. "I think the journey is the reward, I think that it's about being on the right path, the path for you. That's what I felt I had to get back to because I was being nudged here and thereby not really listening to myself and not being in tune." – Jhene Aiko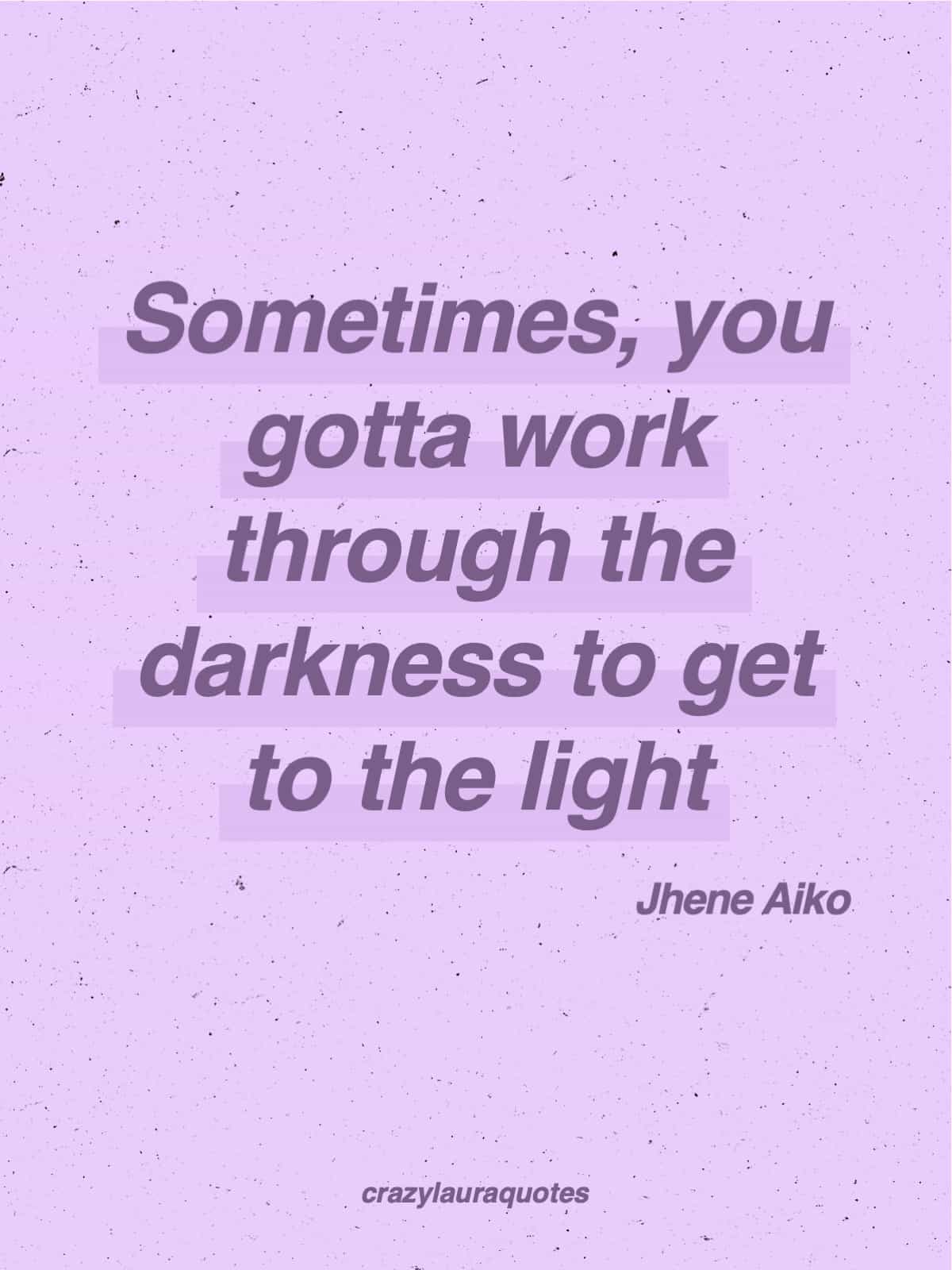 29. "Sometimes, you gotta work through the darkness to get to the light." – Jhene Aiko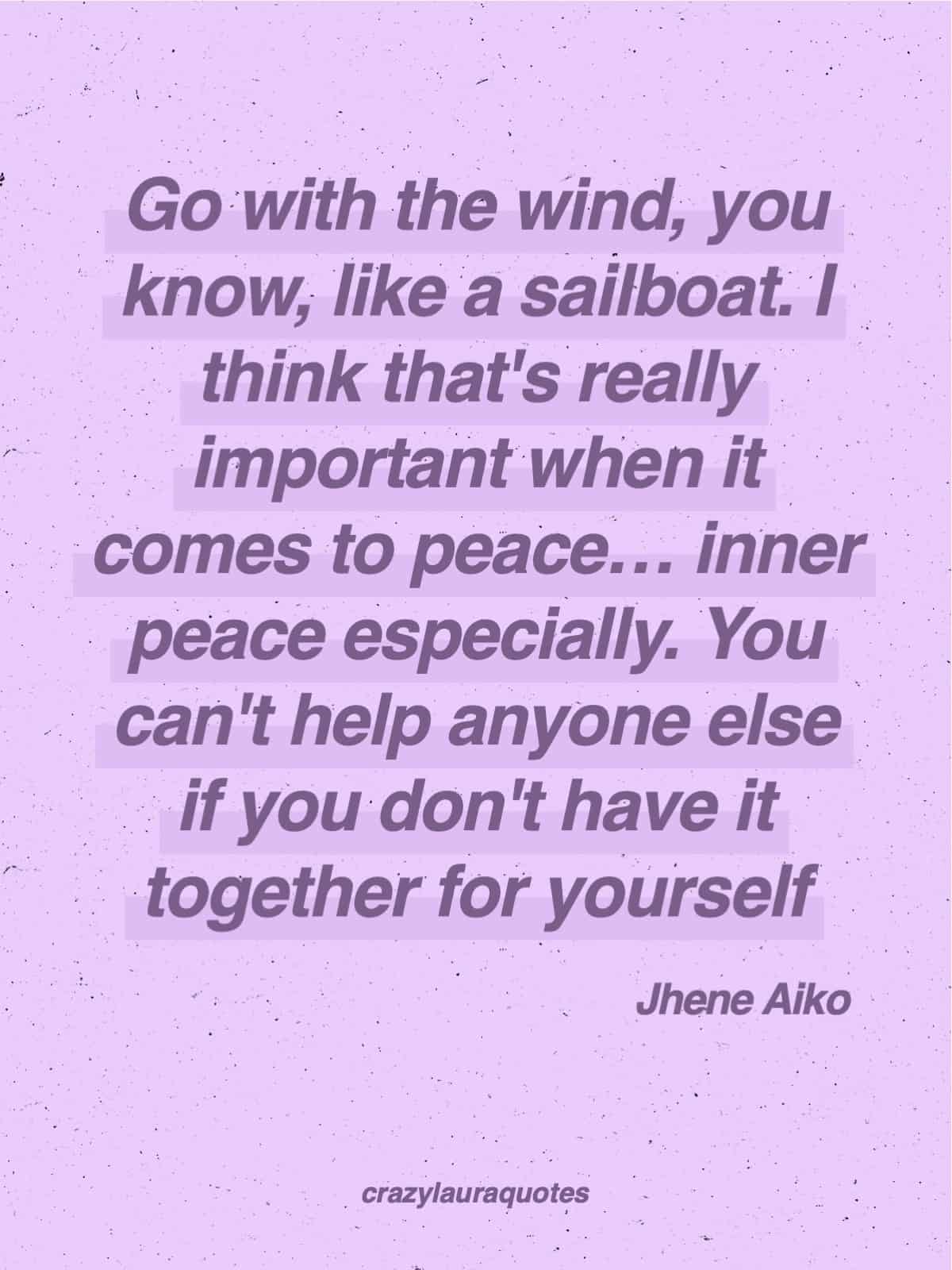 30. "Go with the wind, you know, like a sailboat. I think that's really important when it comes to peace… inner peace especially. You can't help anyone else if you don't have it together for yourself." – Jhene Aiko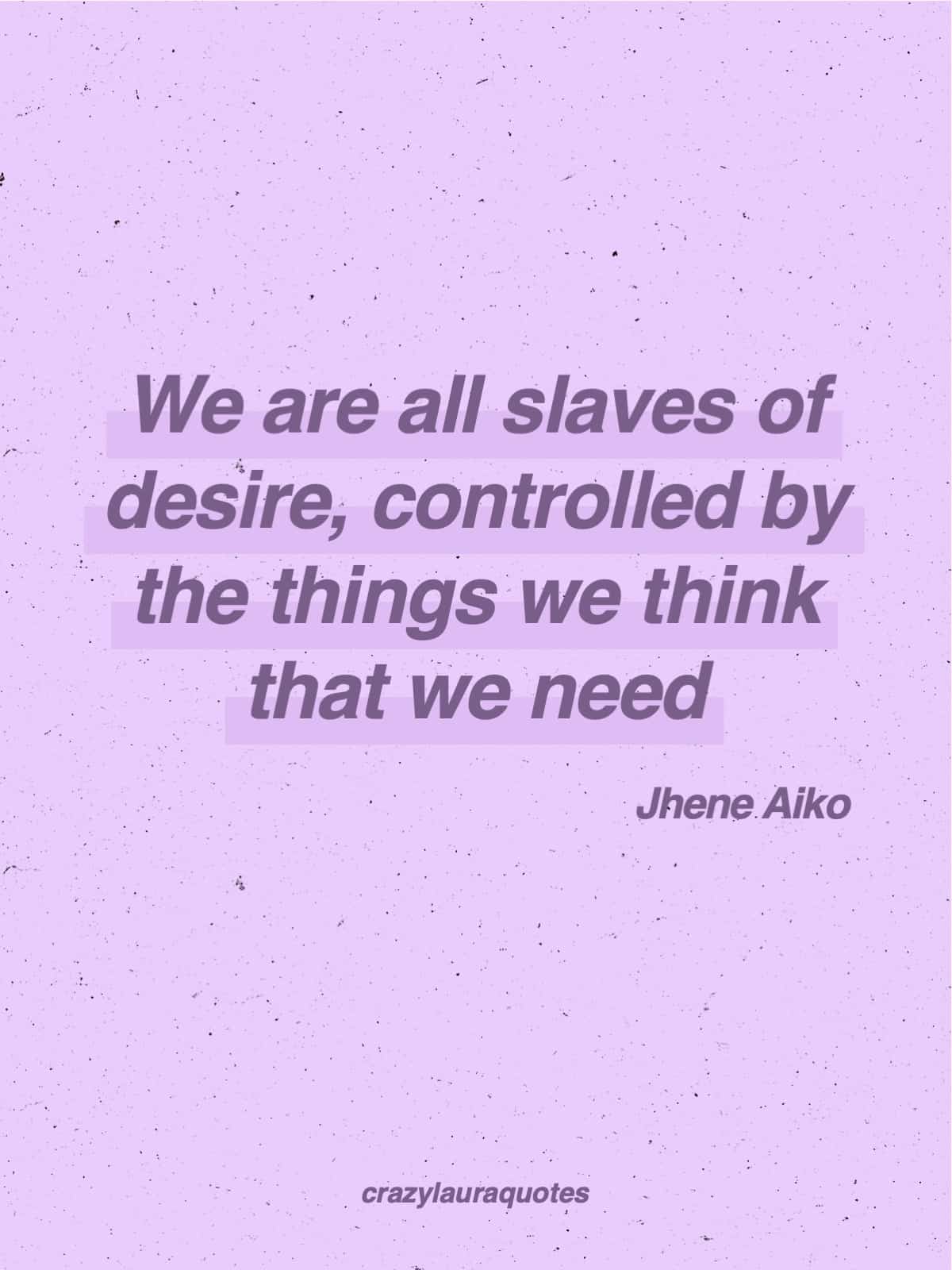 31. "We are all slaves of desire, controlled by the things we think that we need." – Jhene Aiko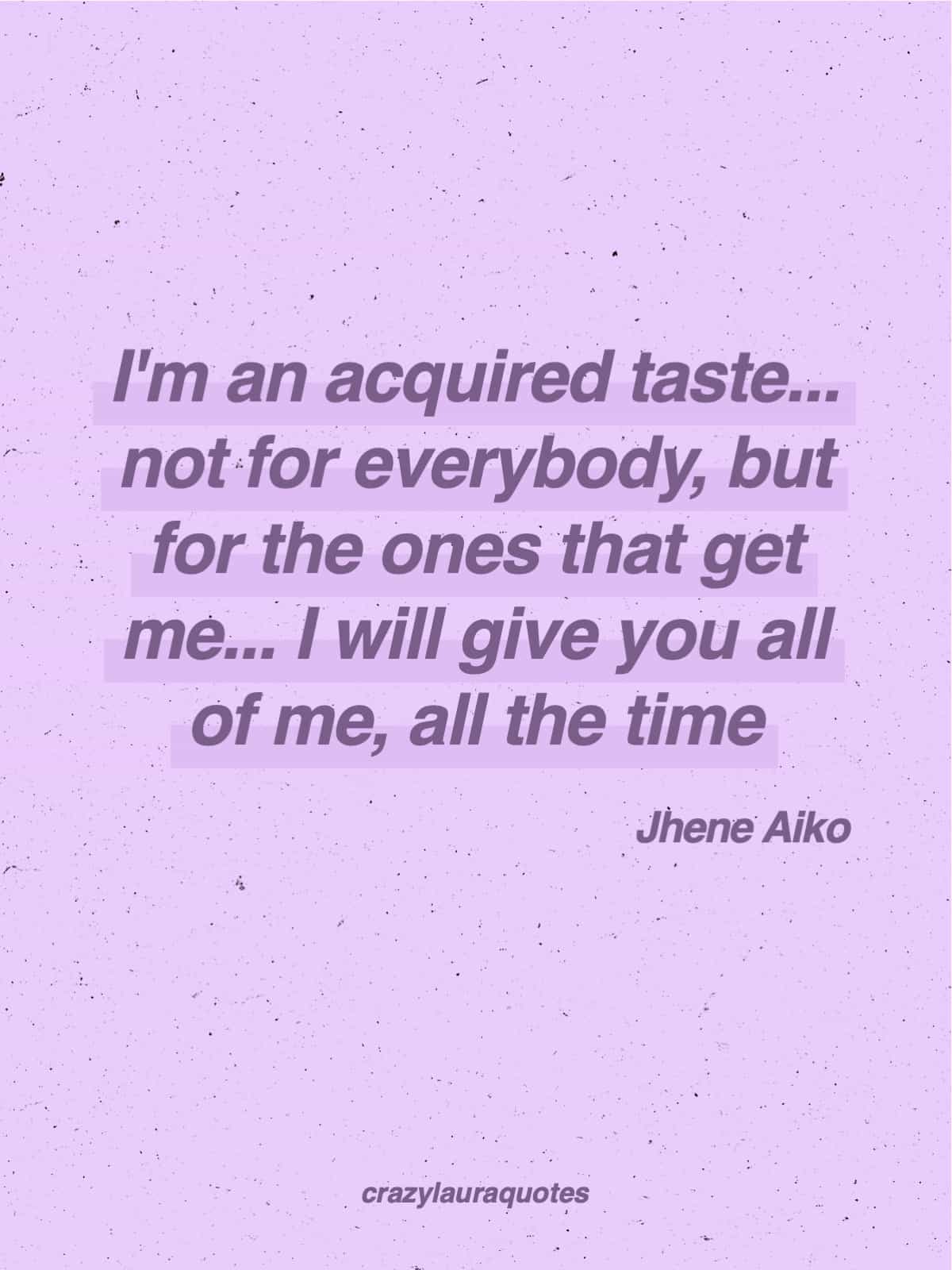 32. "I'm an acquired taste… not for everybody, but for the ones that get me… I will give you all of me, all the time." – Jhene Aiko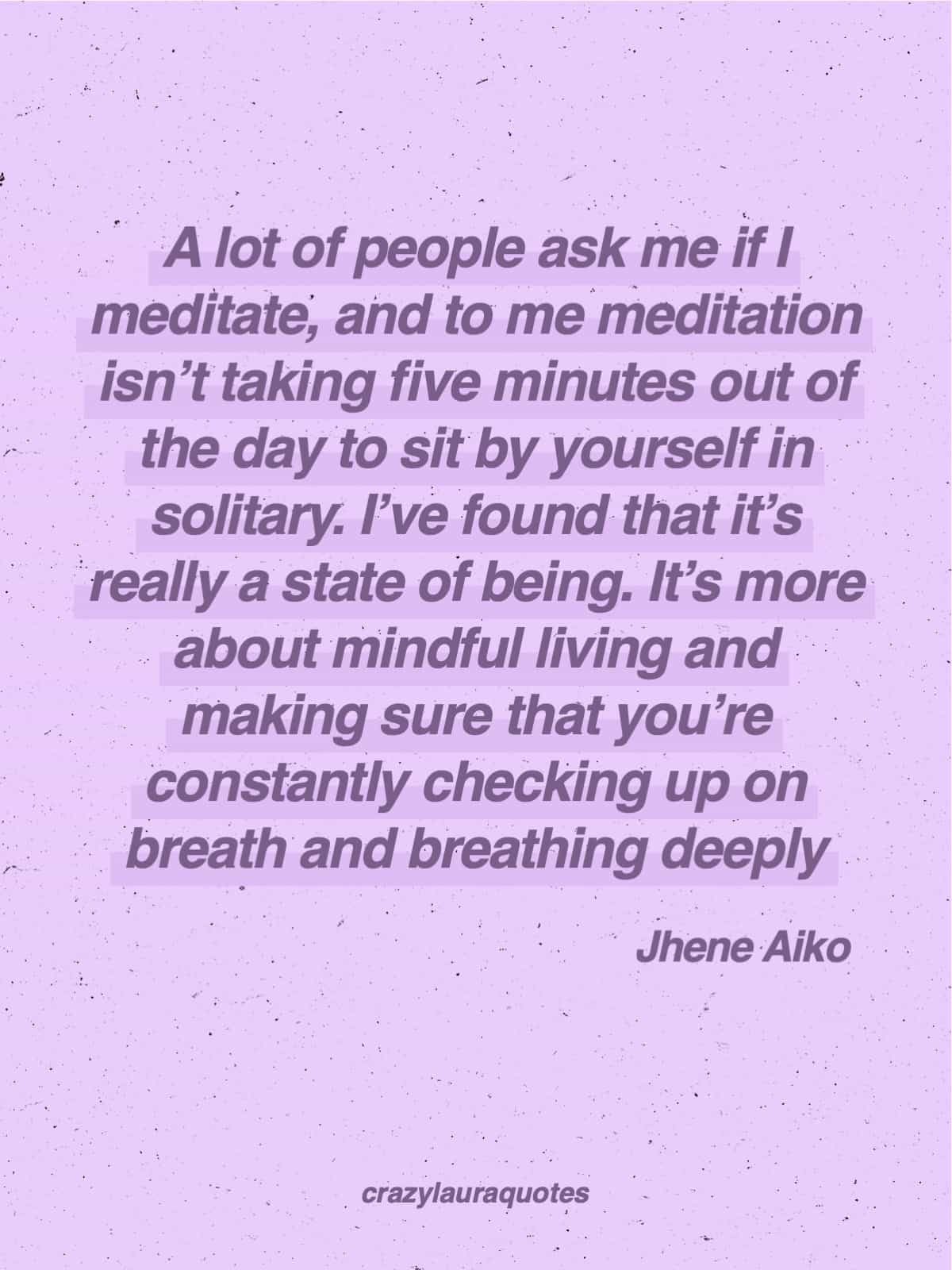 33. "A lot of people ask me if I meditate, and to me meditation isn't taking five minutes out of the day to sit by yourself in solitary. I've found that it's really a state of being. It's more about mindful living and making sure that you're constantly checking up on breath and breathing deeply." – Jhene Aiko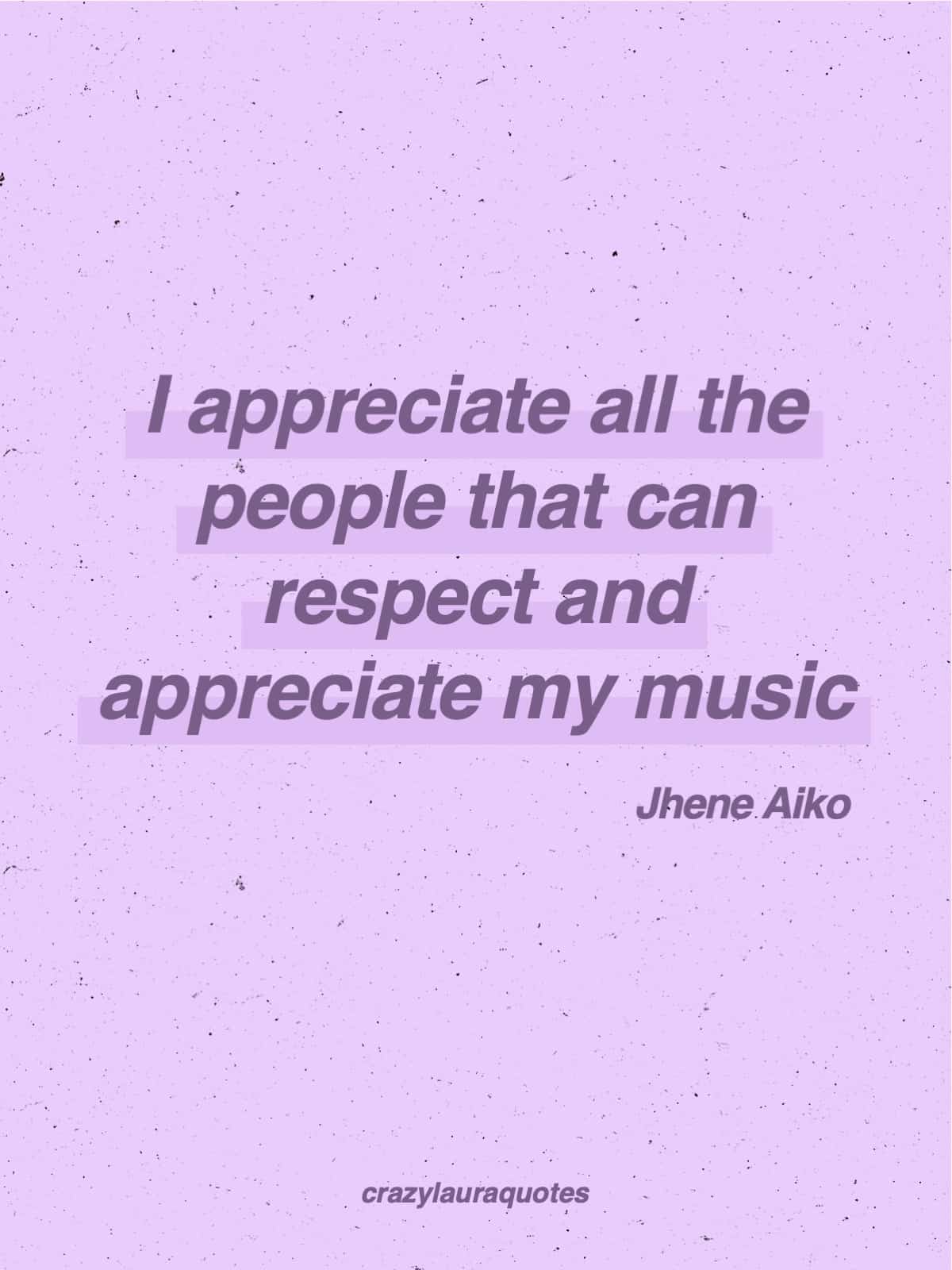 34. "I appreciate all the people that can respect and appreciate my music." – Jhene Aiko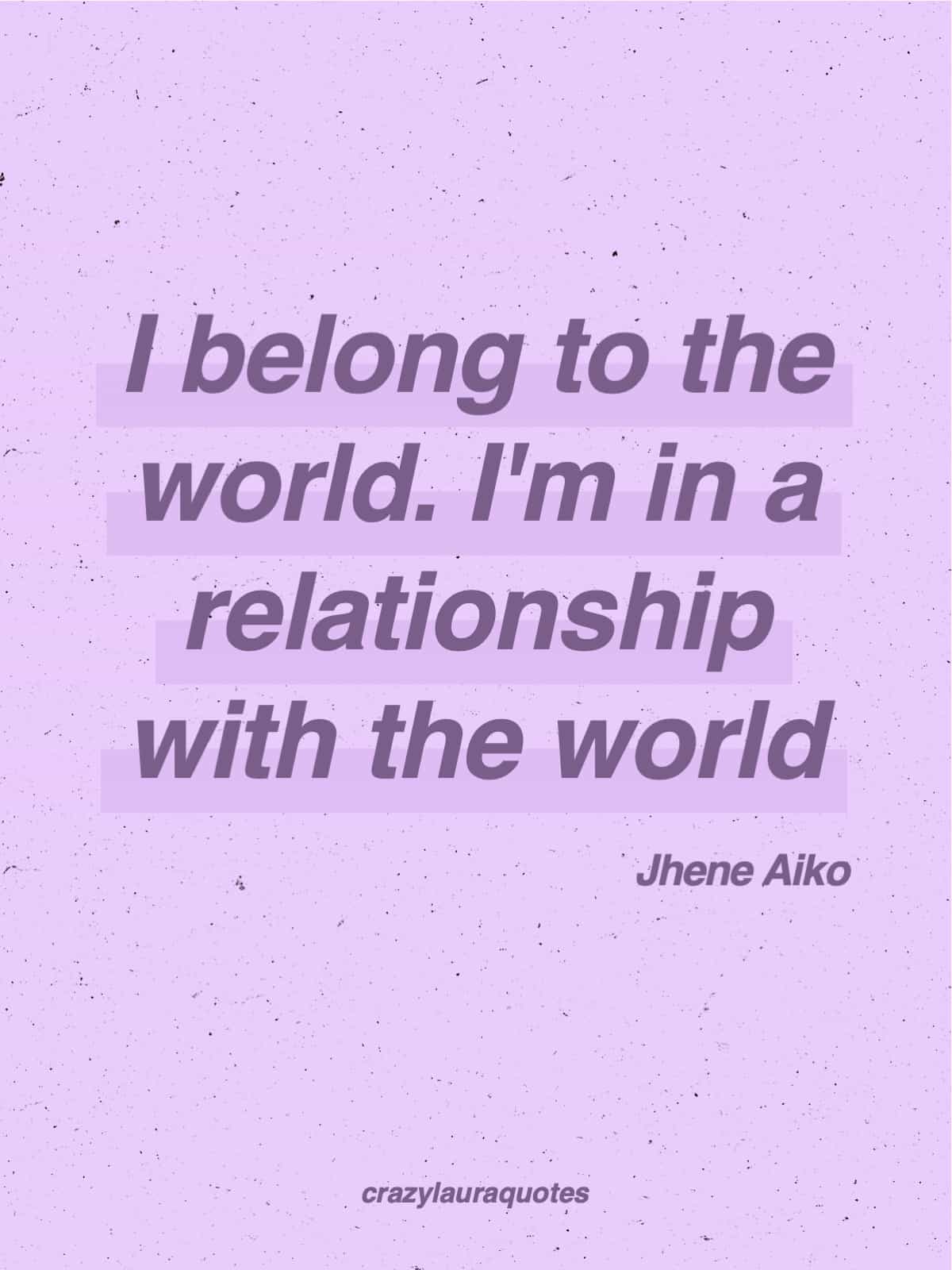 35. "I belong to the world. I'm in a relationship with the world." – Jhene Aiko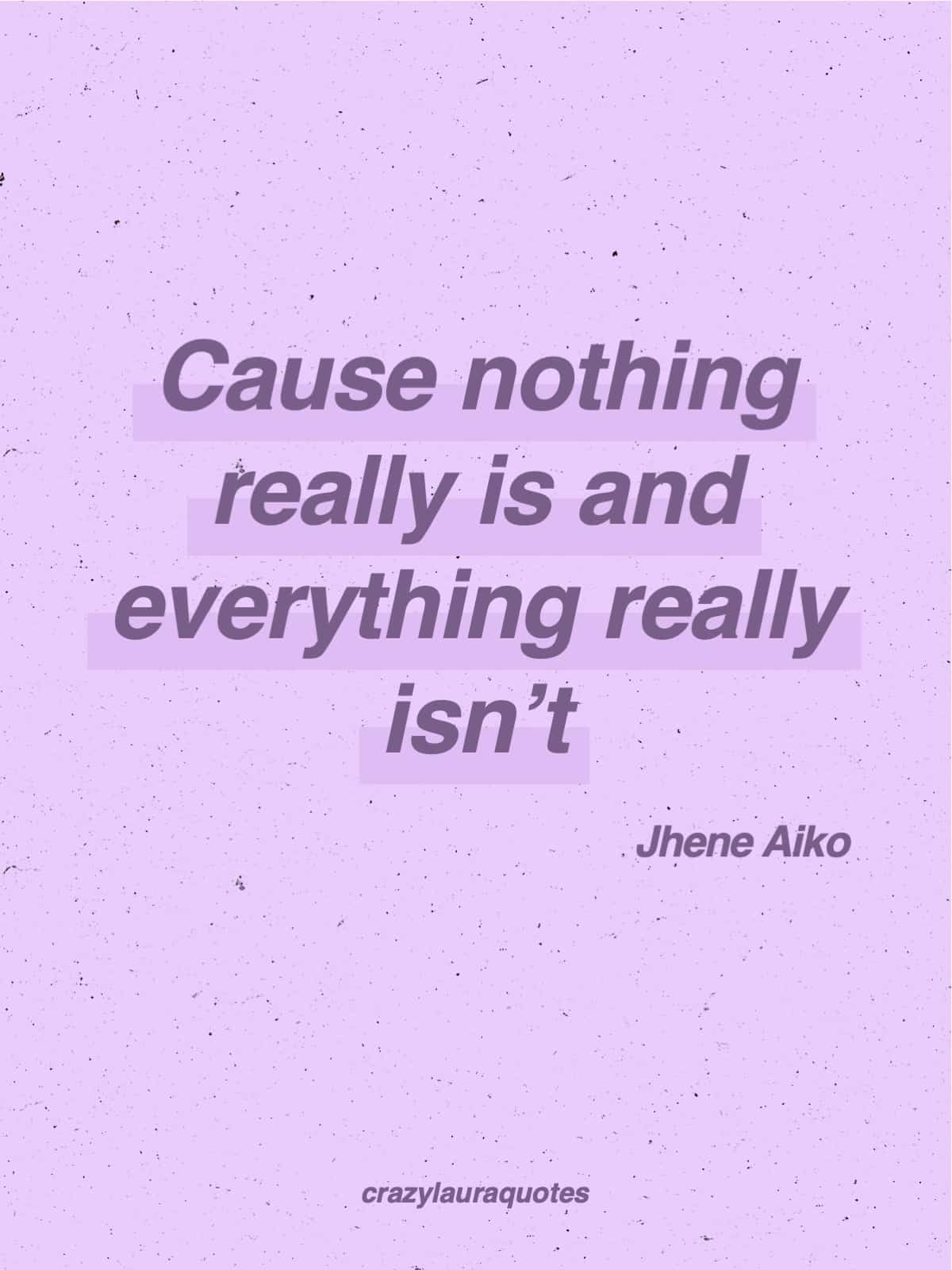 36. "Cause nothing really is and everything really isn't." – Jhene Aiko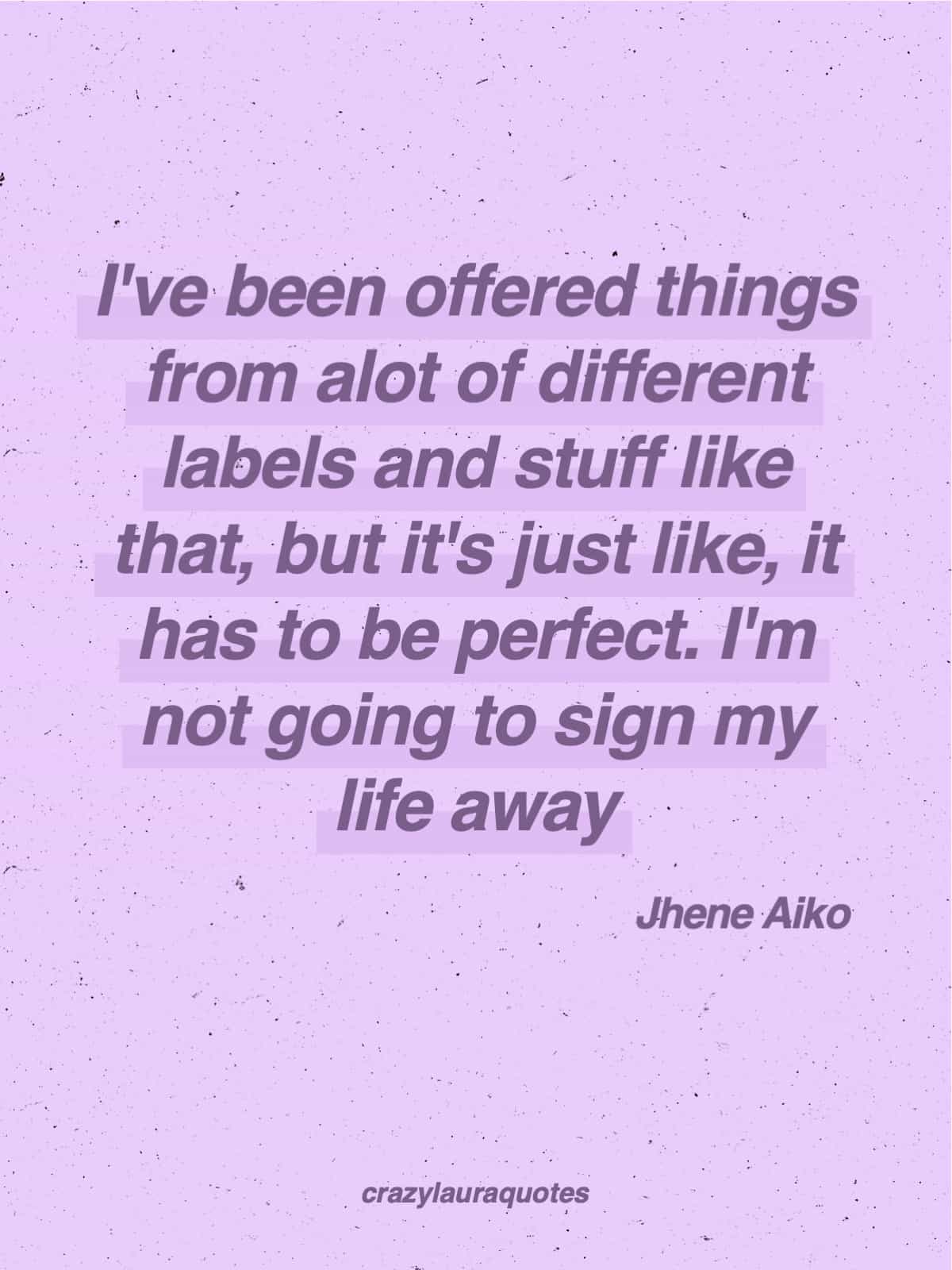 37. "I've been offered things from alot of different labels and stuff like that, but it's just like, it has to be perfect. I'm not going to sign my life away." – Jhene Aiko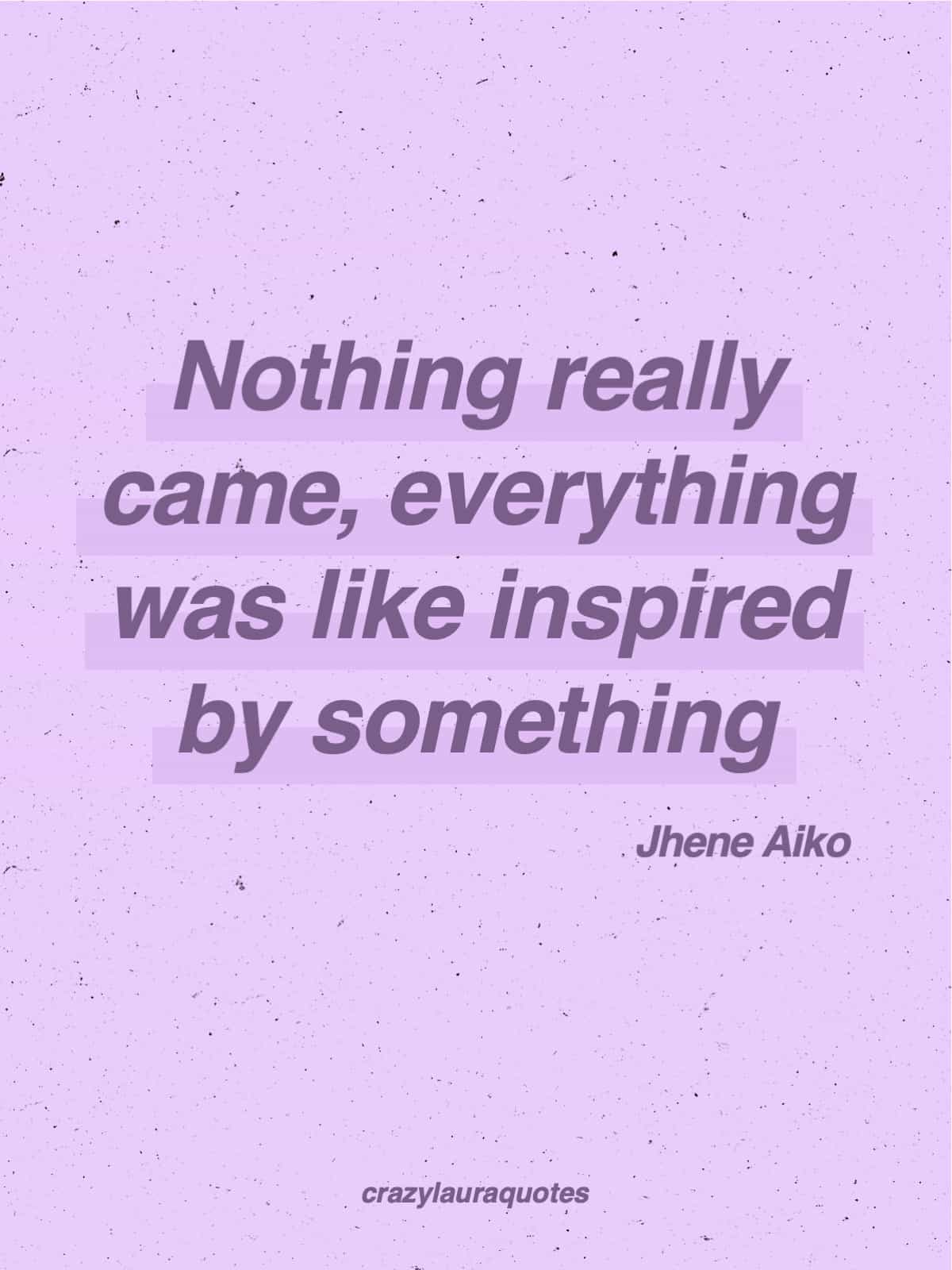 38. "Nothing really came, everything was like inspired by something." – Jhene Aiko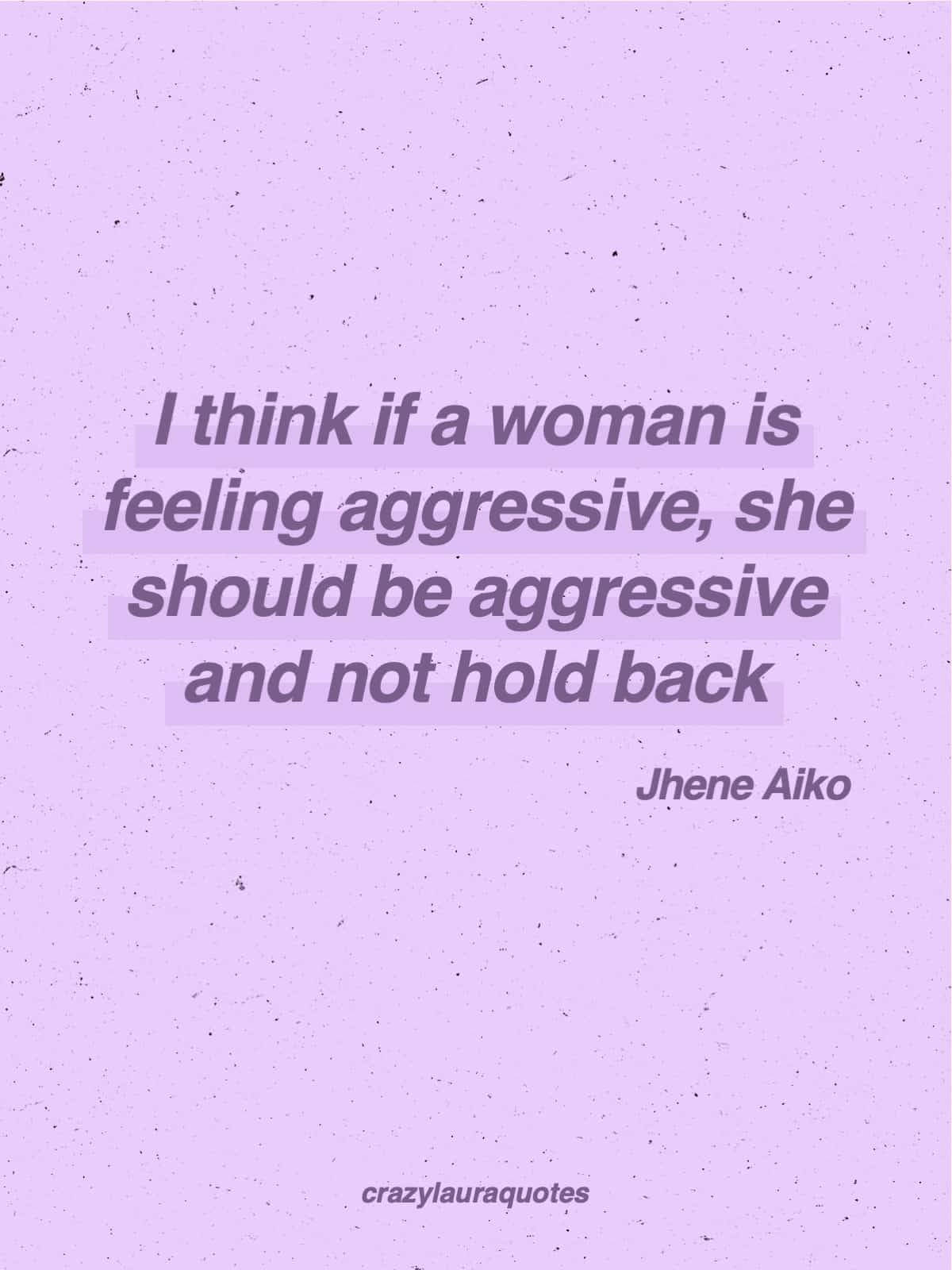 39. "I think if a woman is feeling aggressive, she should be aggressive and not hold back." – Jhene Aiko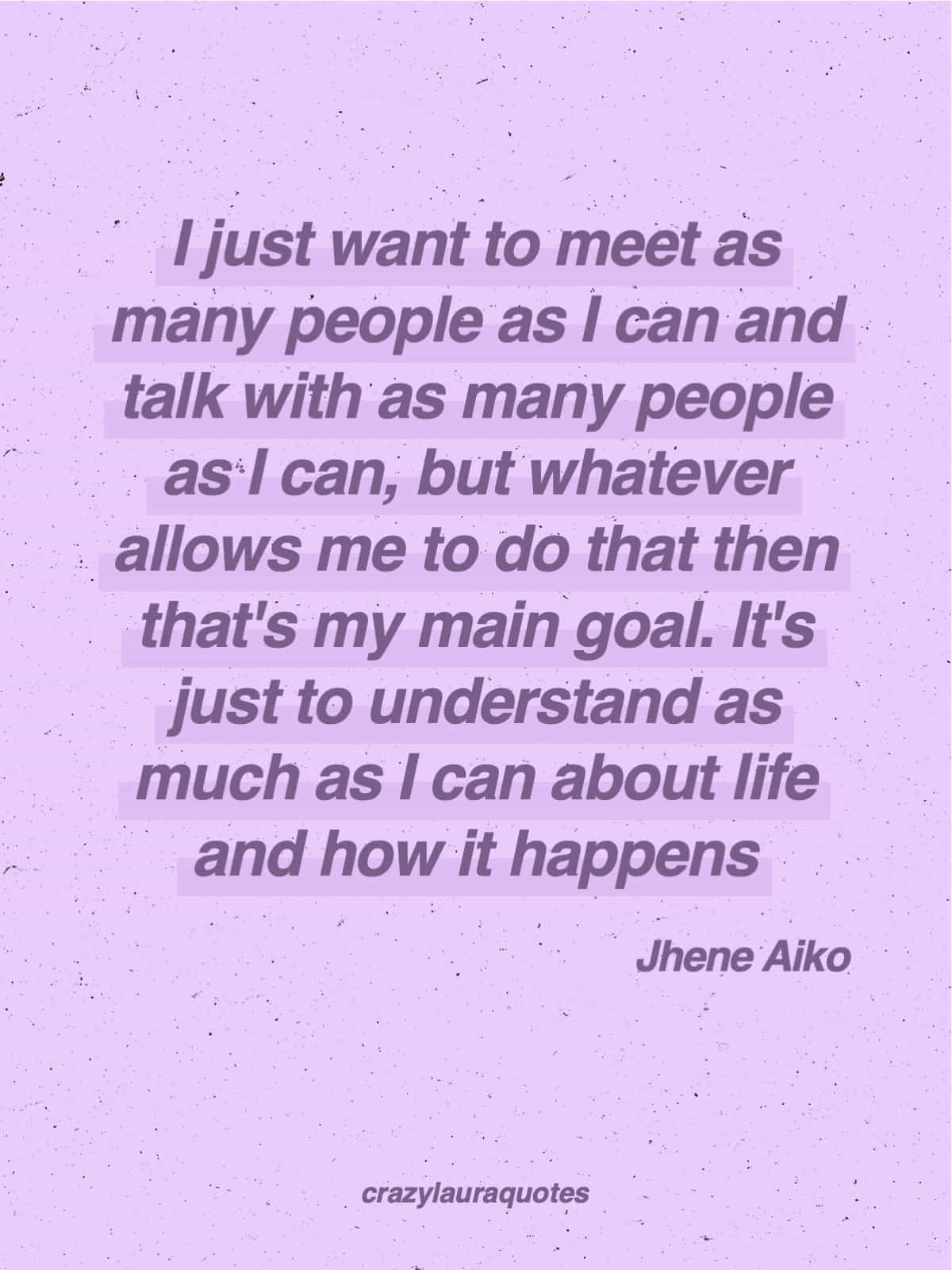 40. "I just want to meet as many people as I can and talk with as many people as I can, but whatever allows me to do that then that's my main goal. It's just to understand as much as I can about life and how it happens." – Jhene Aiko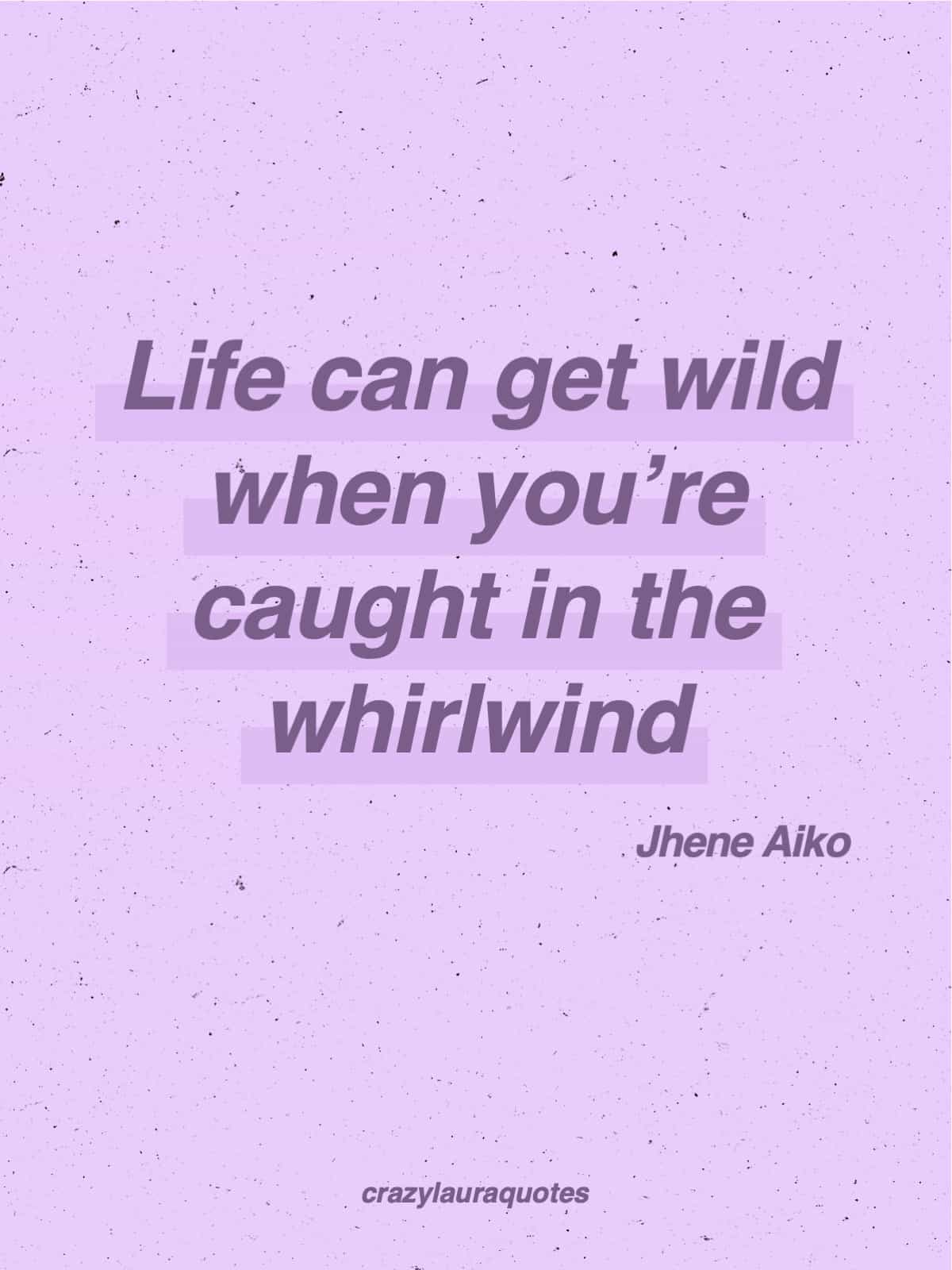 41. "Life can get wild when you're caught in the whirlwind." – Jhene Aiko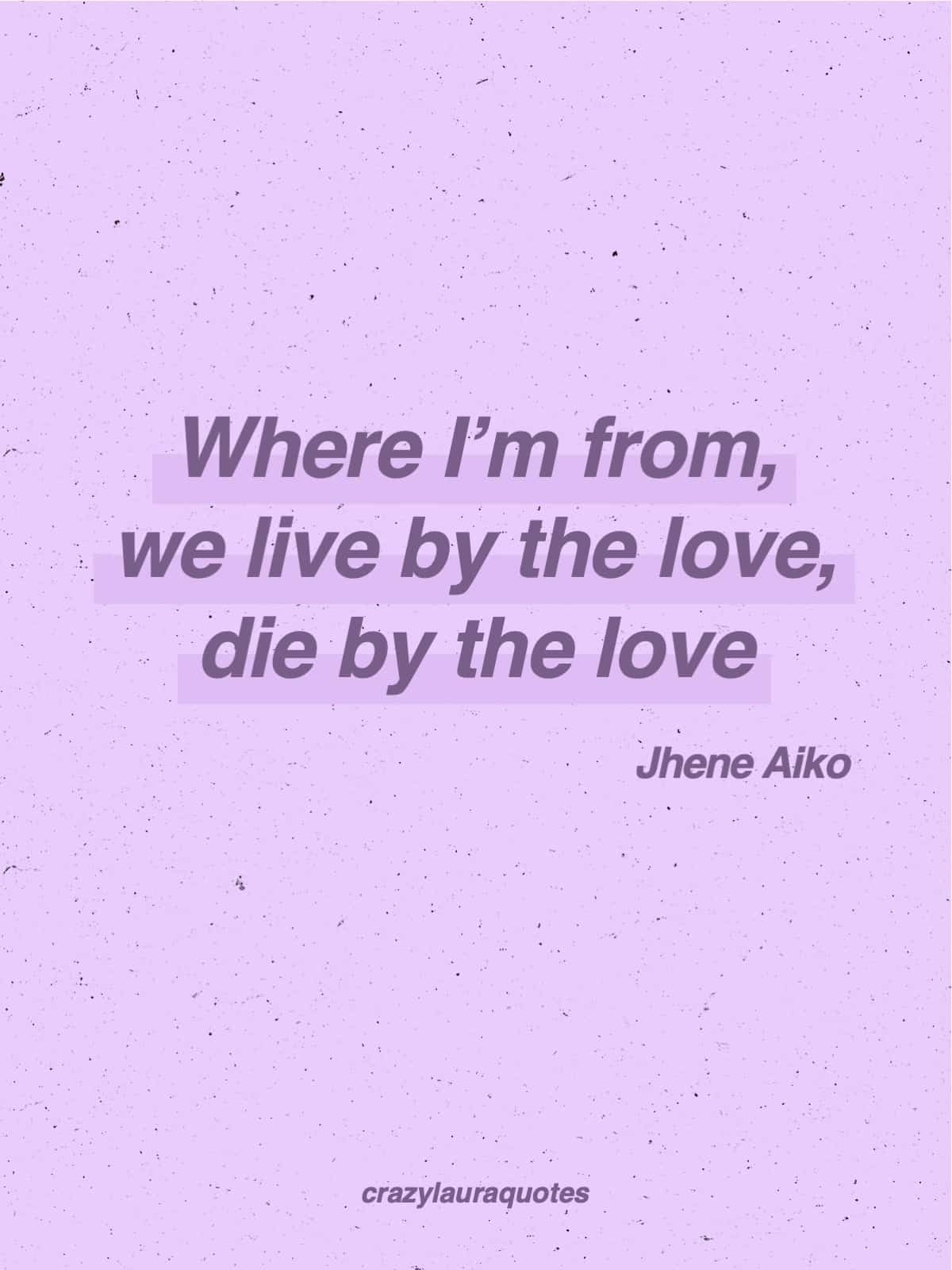 42. "Where I'm from, we live by the love, die by the love." – Jhene Aiko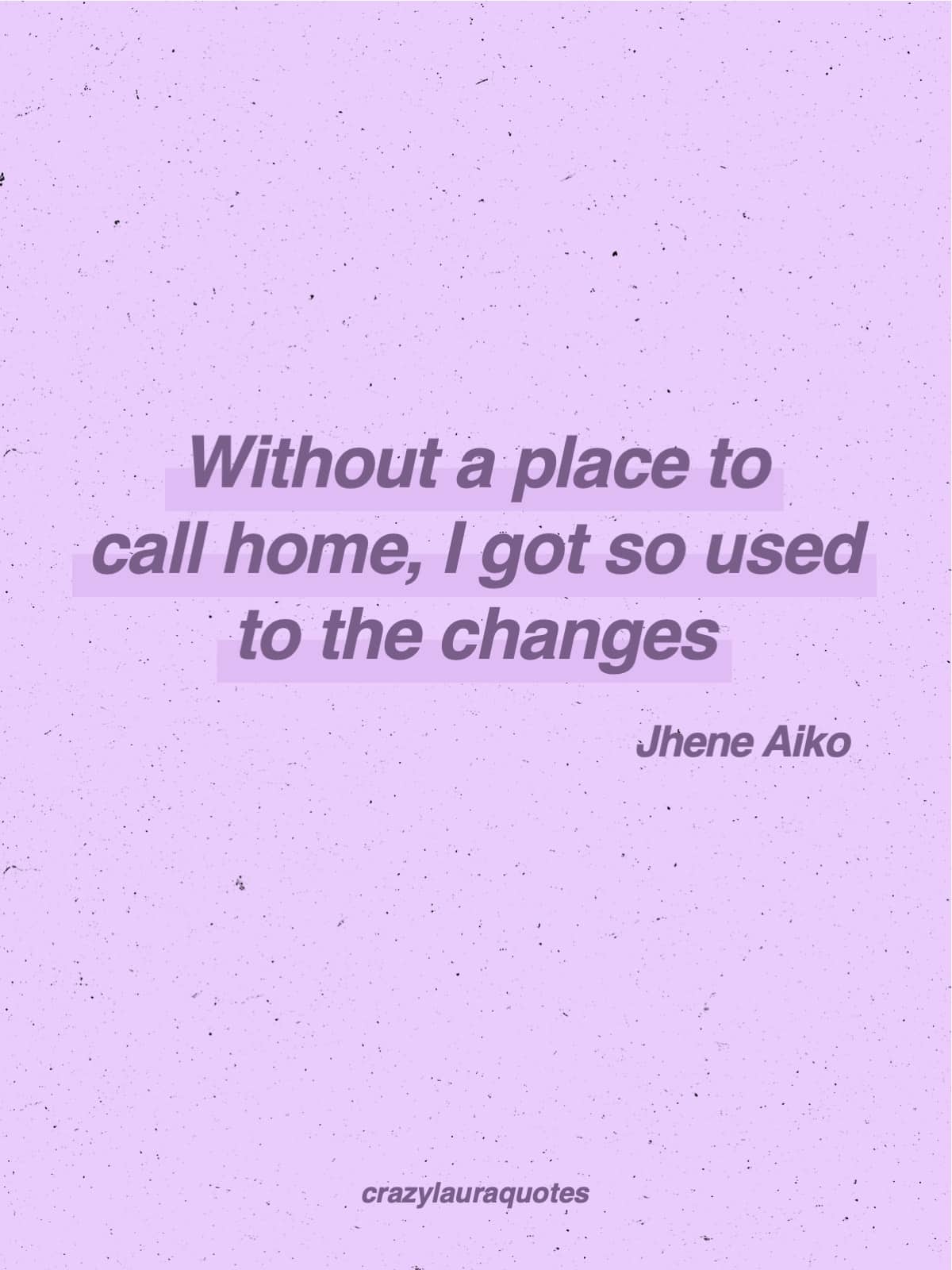 43. "Without a place to call home, I got so used to the changes." – Jhene Aiko
I've been working on new printable quotes in my Etsy shop lately… so, I'd love to hear any suggestions on what quotes you'd like to see as wall art! Drop me a comment a let me know!
Related Posts: