If you're looking for some inspirational words on spreading love, this collection of quotes will definitely inspire you to give more love to those around you! If you find one that you like, you can pin the image I made to your Pinterest board or save your favorites for later… check them out and let me know which ones you like the most!
Here are the quotes I love: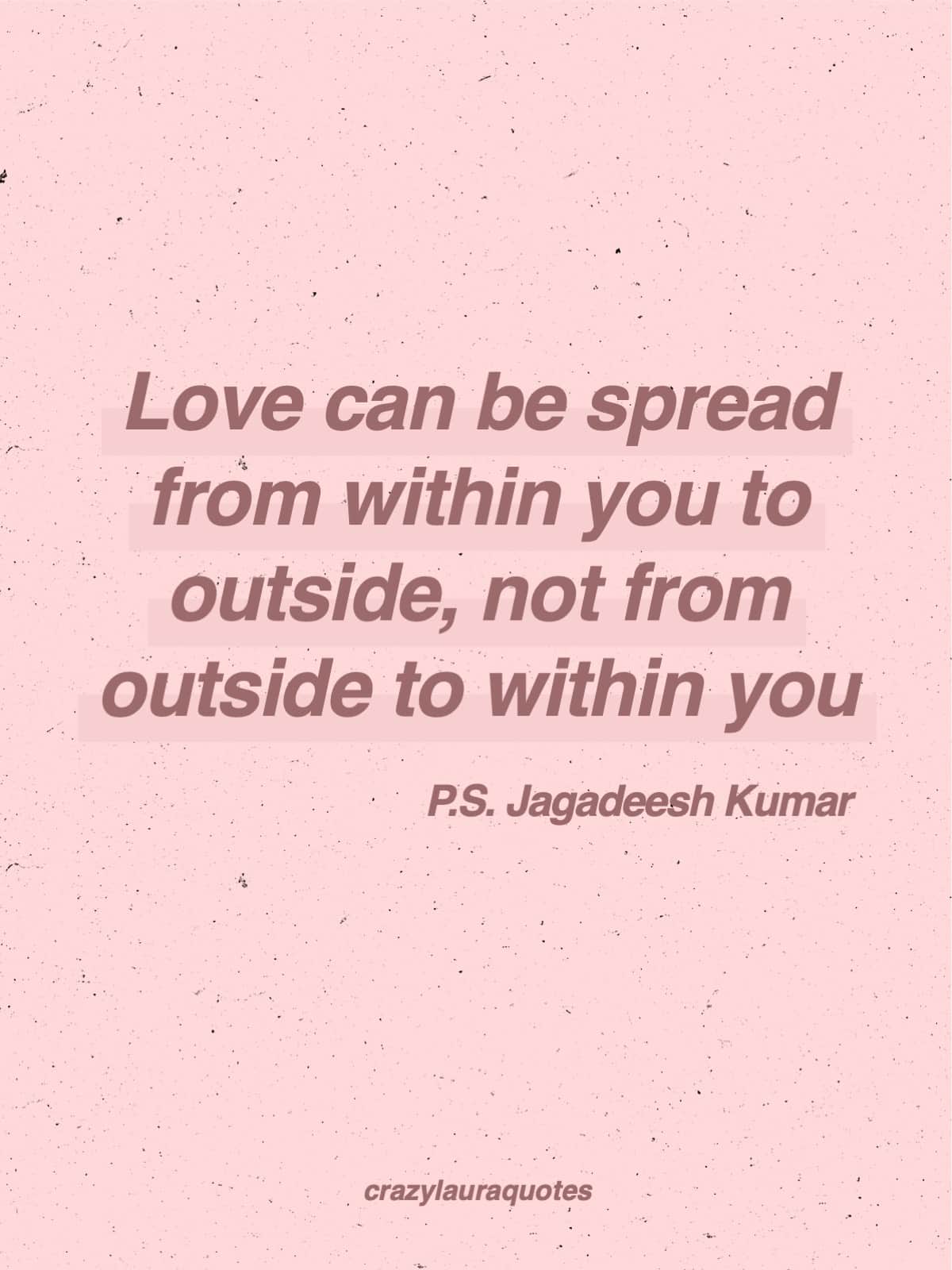 1. "Love can be spread from within you to outside, not from outside to within you." – P.S. Jagadeesh Kumar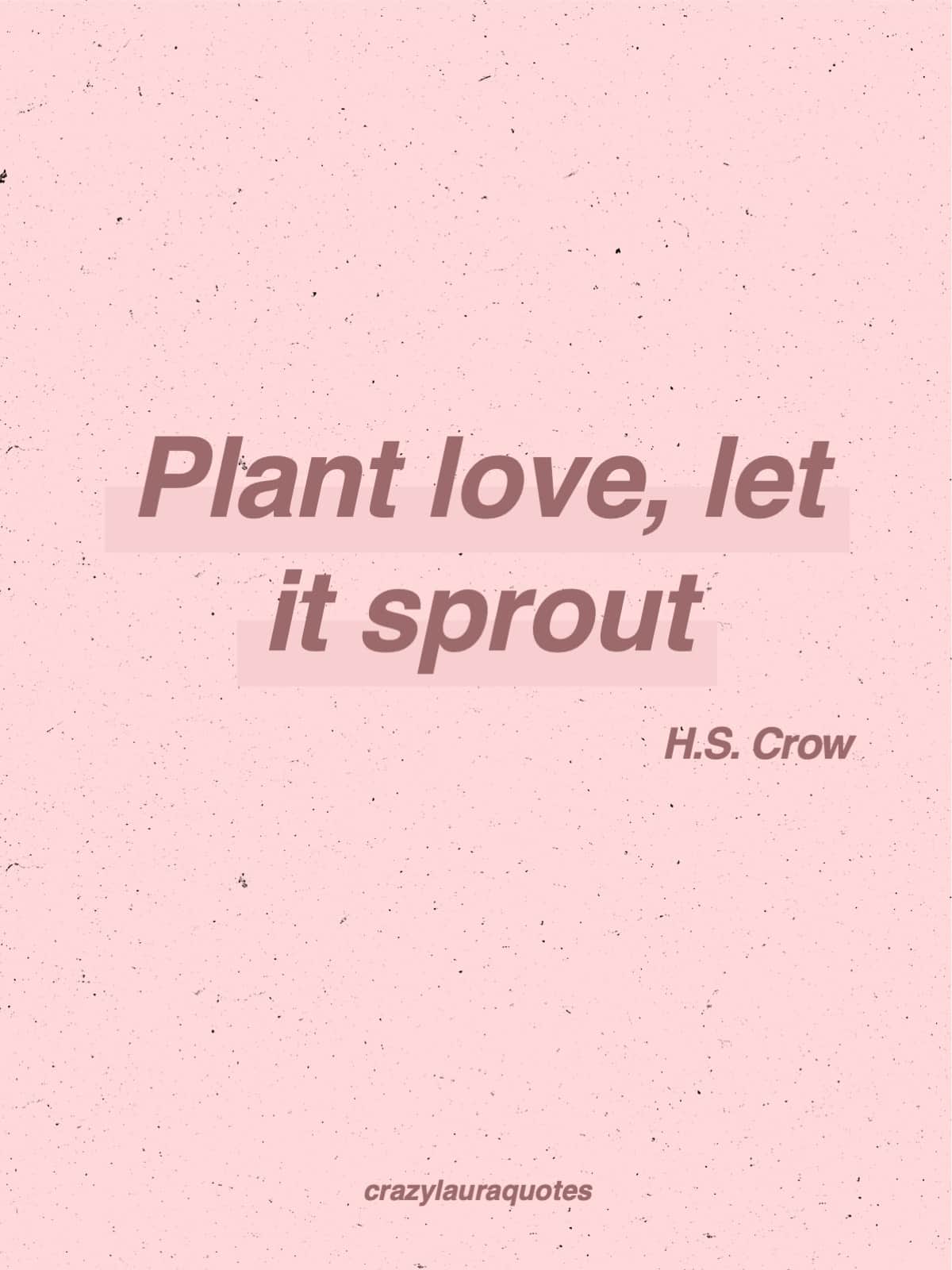 2. "Plant love, let it sprout." – H.S. Crow

3. "I will use my voice to change the world, spreading hope, spreading love, and spreading life, 'cause the world needs that. That's enough for me." – Victoria Arlen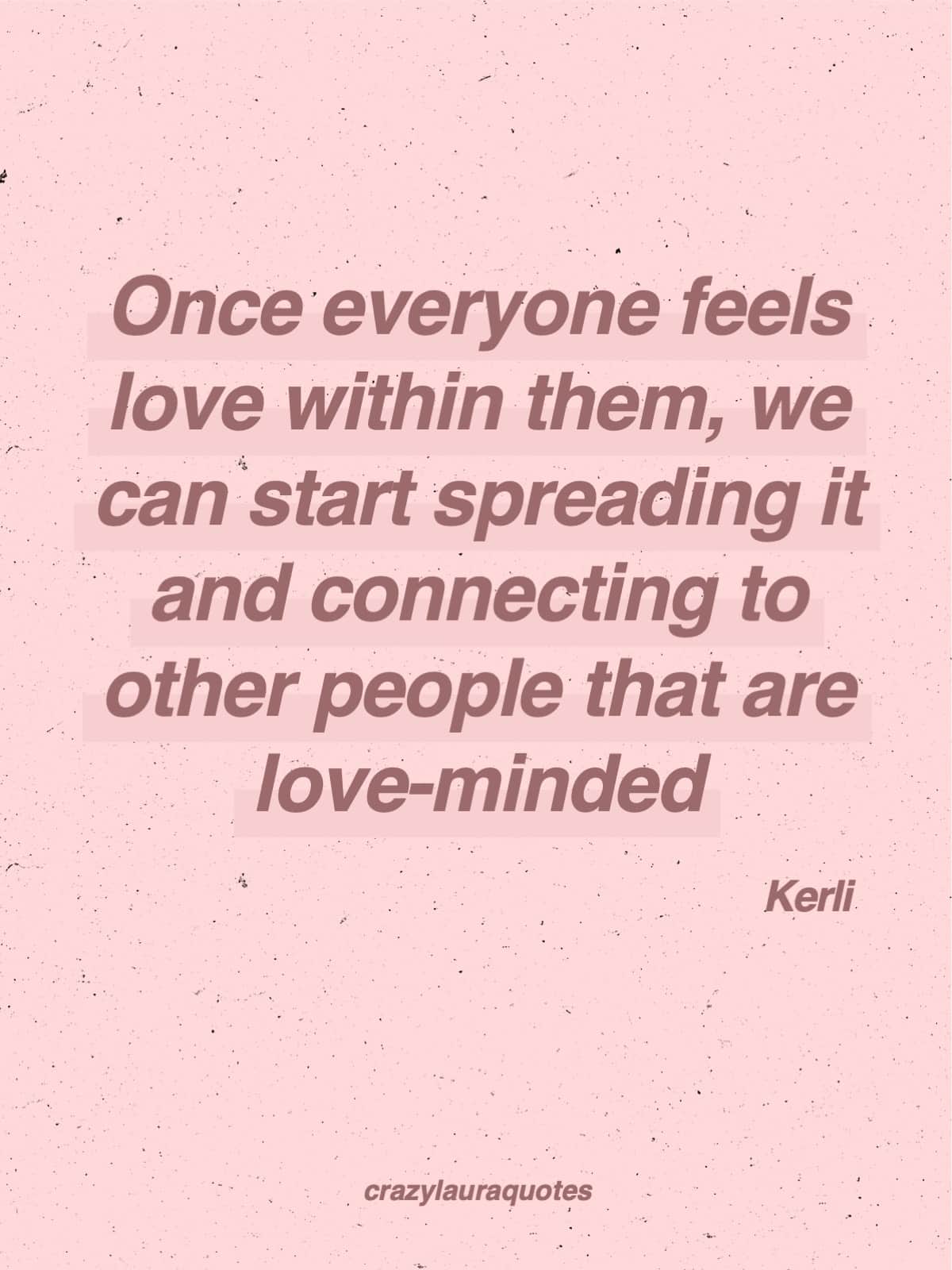 4. "Once everyone feels love within them, we can start spreading it and connecting to other people that are love-minded." – Kerli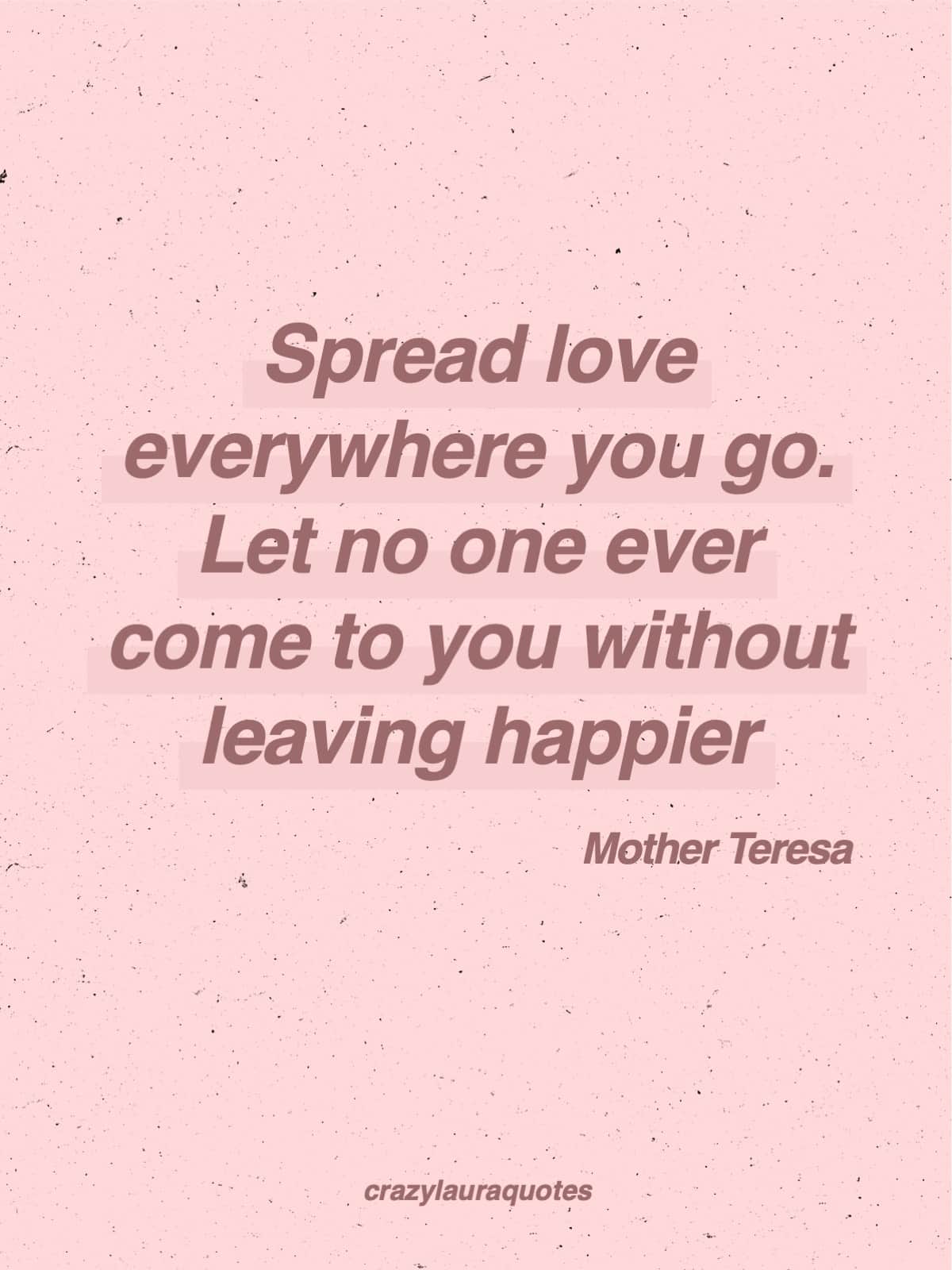 5. "Spread love everywhere you go. Let no one ever come to you without leaving happier." – Mother Teresa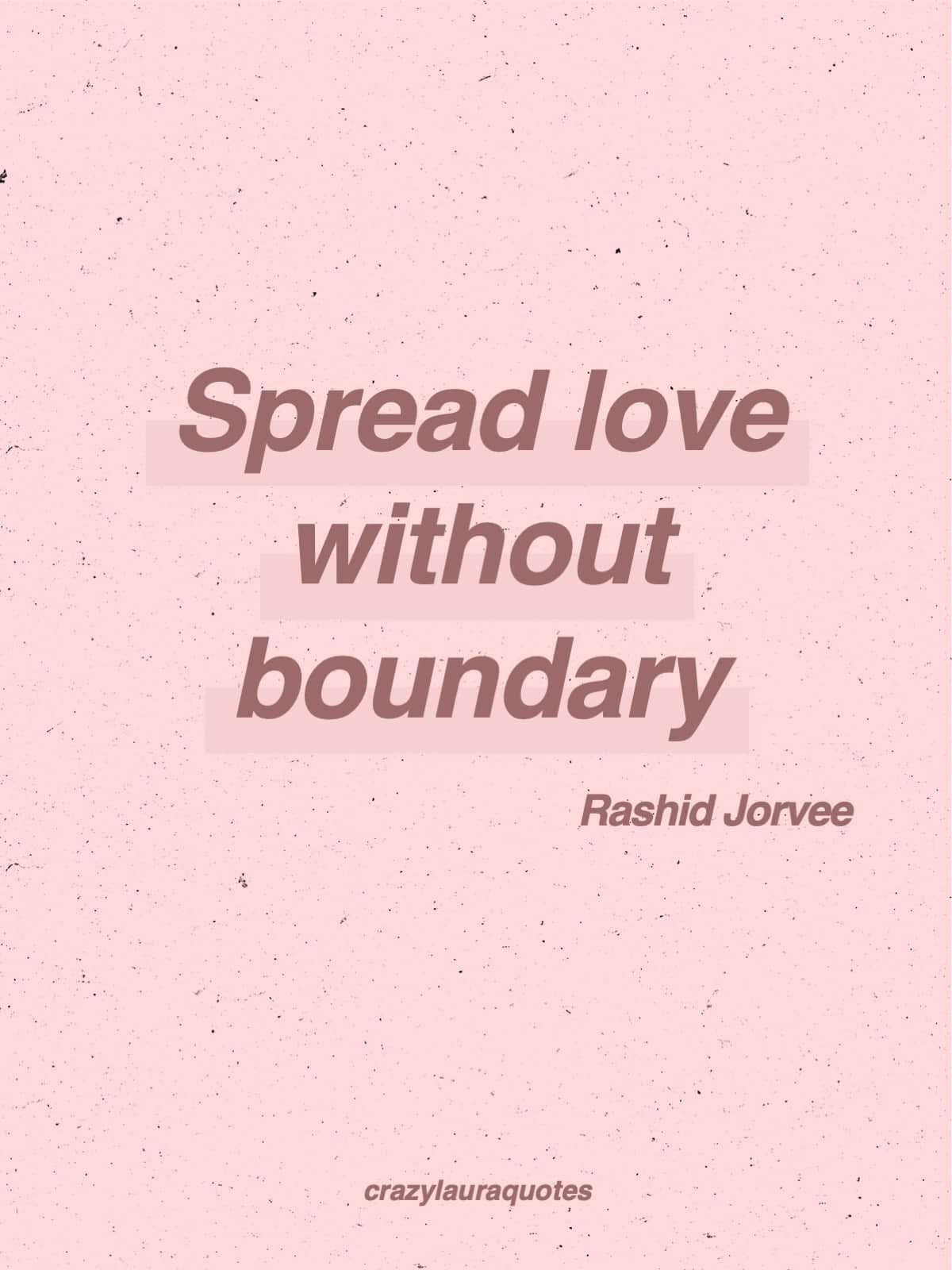 6. "Spread love without boundary." – Rashid Jorvee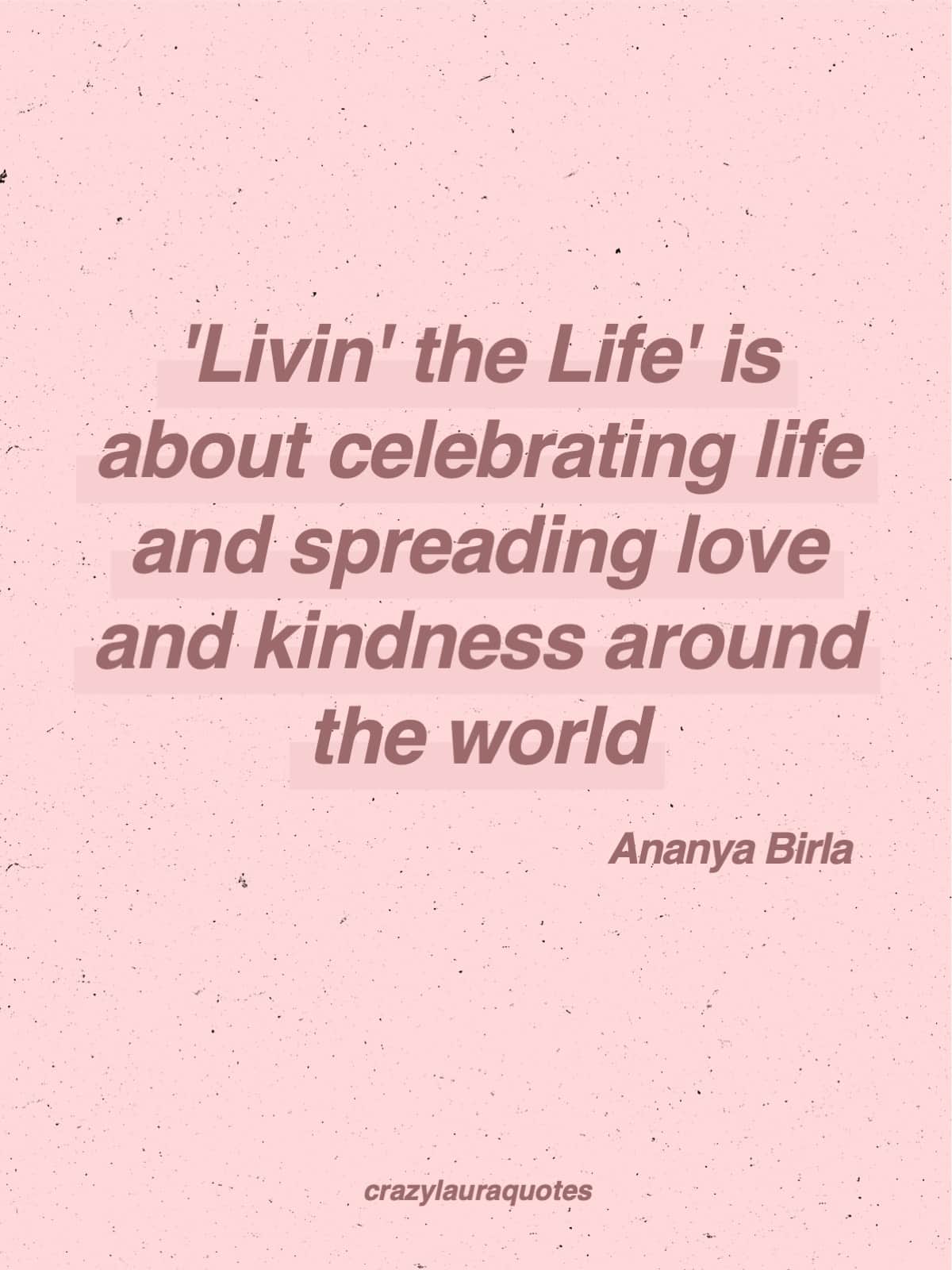 7. "'Livin' the Life' is about celebrating life and spreading love and kindness around the world." – Ananya Birla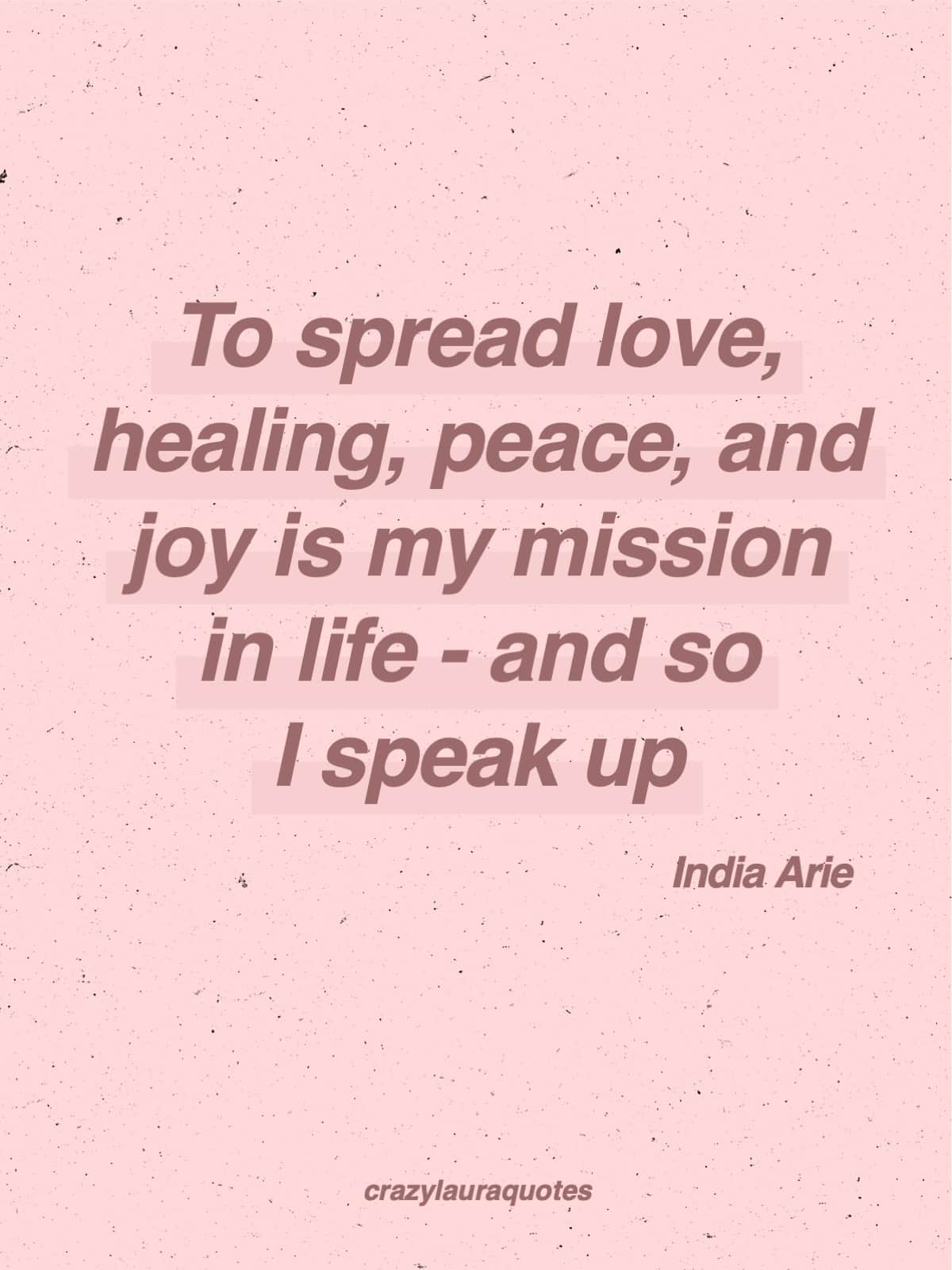 8. "To spread love, healing, peace, and joy is my mission in life – and so I speak up." – India Arie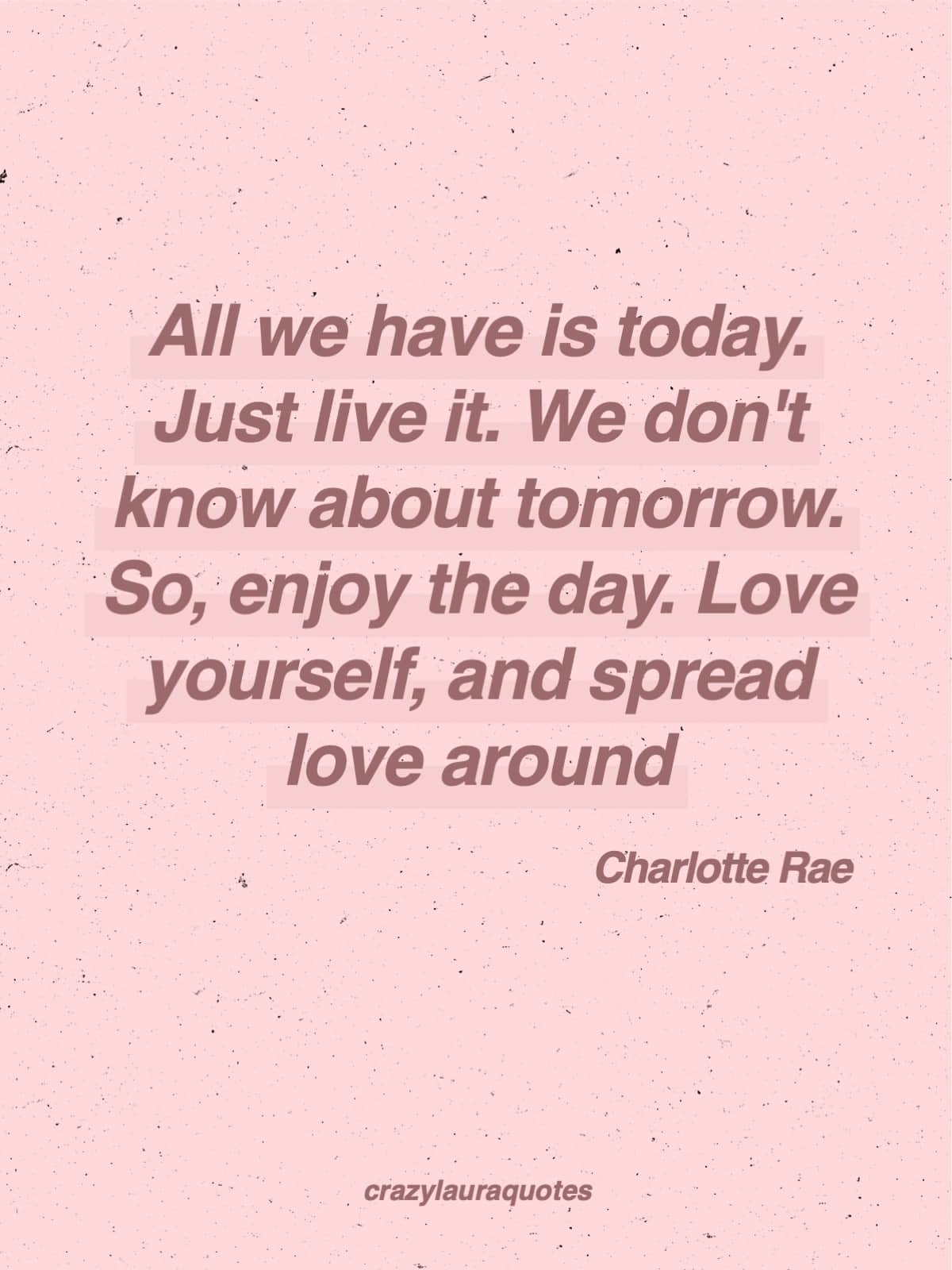 9. "All we have is today. Just live it. We don't know about tomorrow. So, enjoy the day. Love yourself, and spread love around." – Charlotte Rae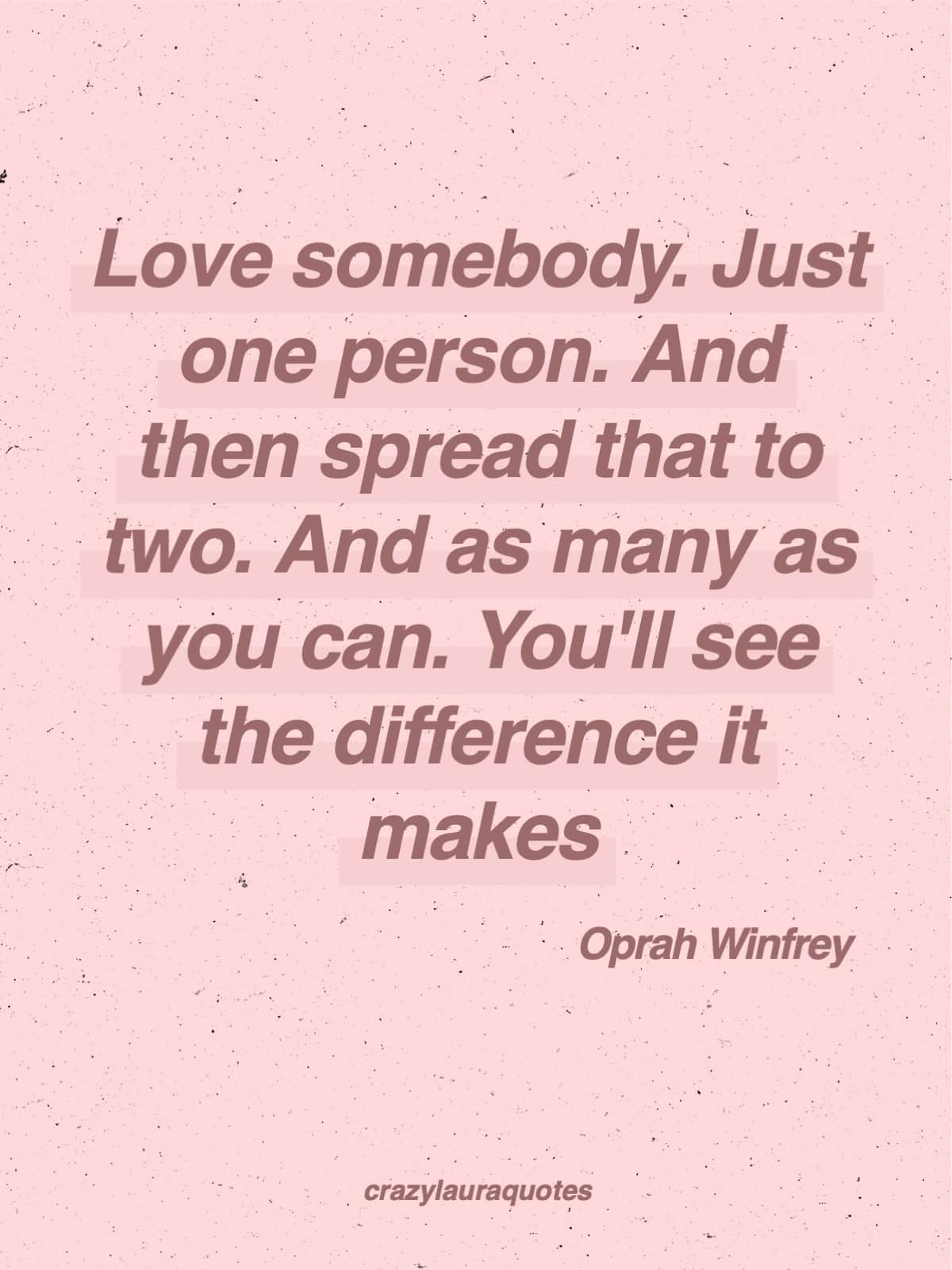 10. "Love somebody. Just one person. And then spread that to two. And as many as you can. You'll see the difference it makes." – Oprah Winfrey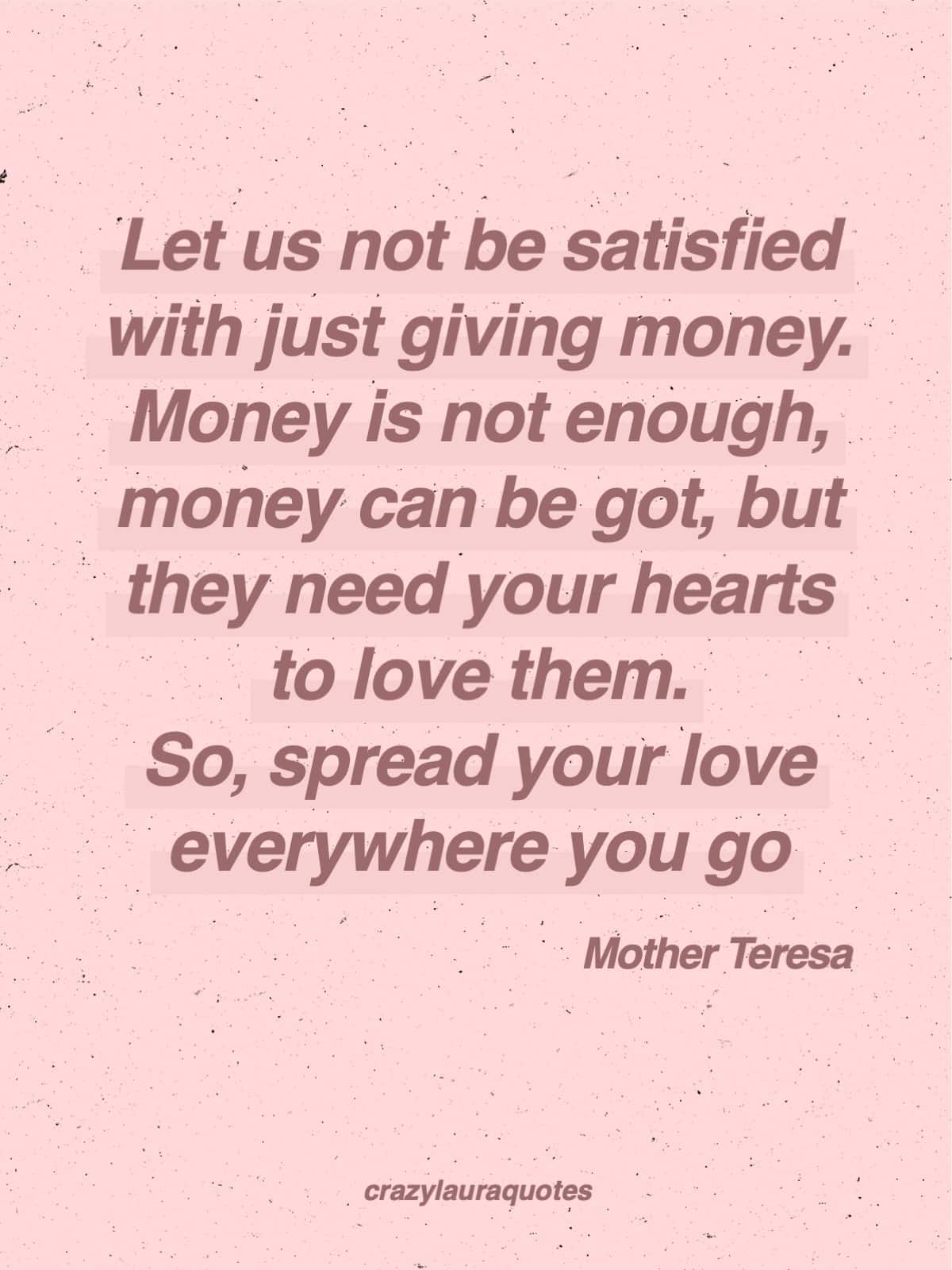 11. "Let us not be satisfied with just giving money. Money is not enough, money can be got, but they need your hearts to love them. So, spread your love everywhere you go." – Mother Teresa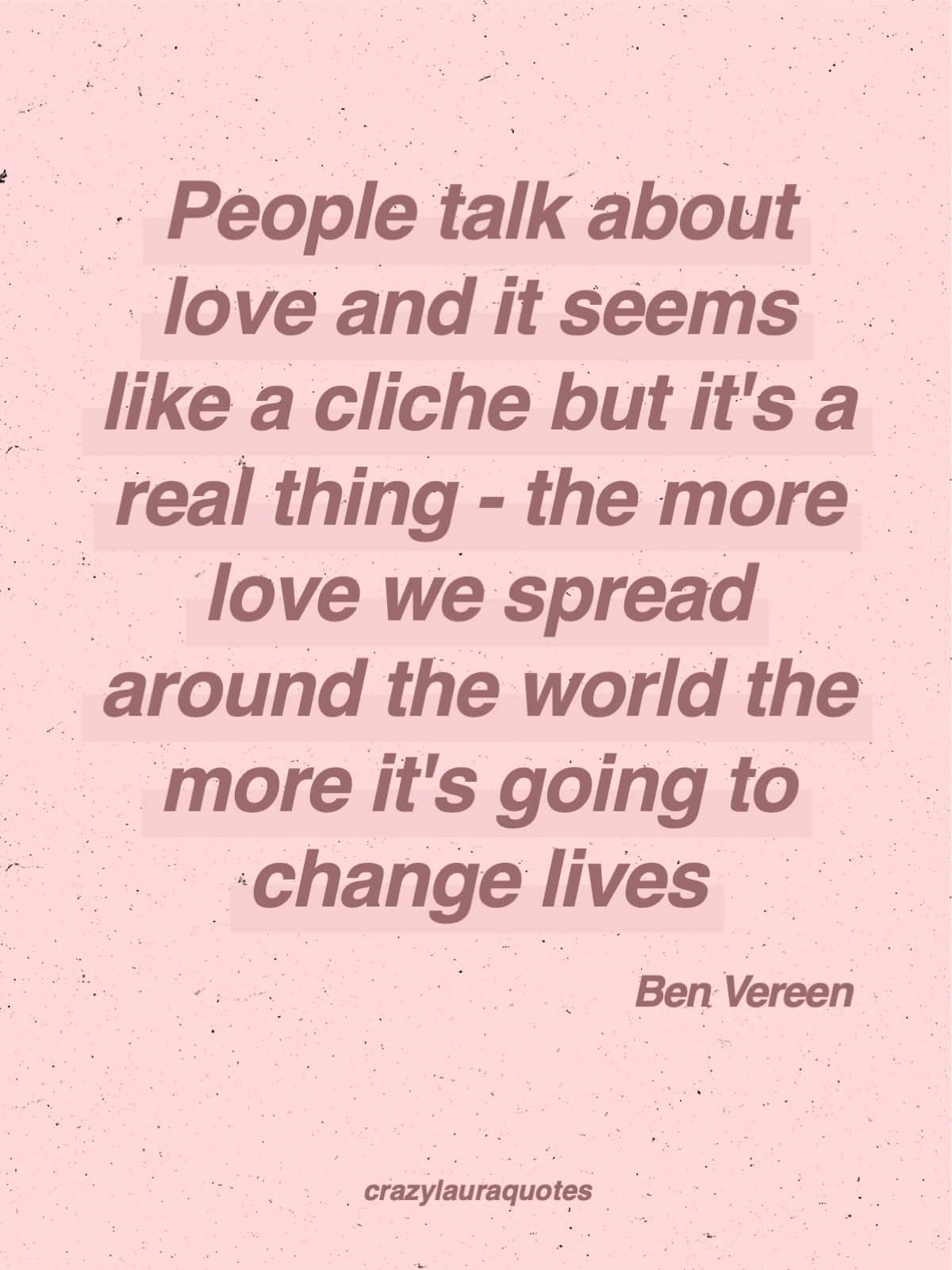 12. "People talk about love and it seems like a cliche but it's a real thing – the more love we spread around the world the more it's going to change lives." – Ben Vereen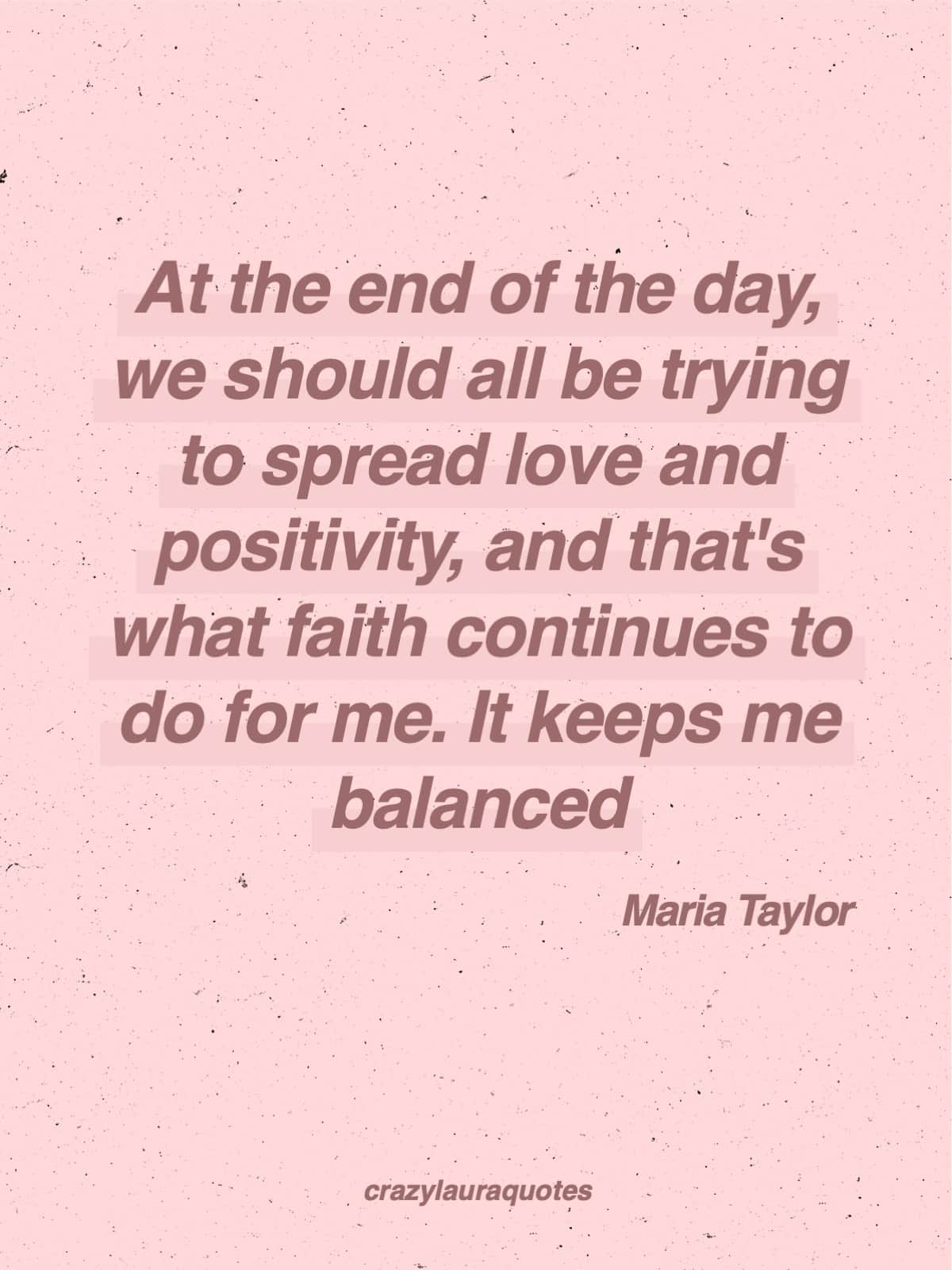 13. "At the end of the day, we should all be trying to spread love and positivity, and that's what faith continues to do for me. It keeps me balanced." – Maria Taylor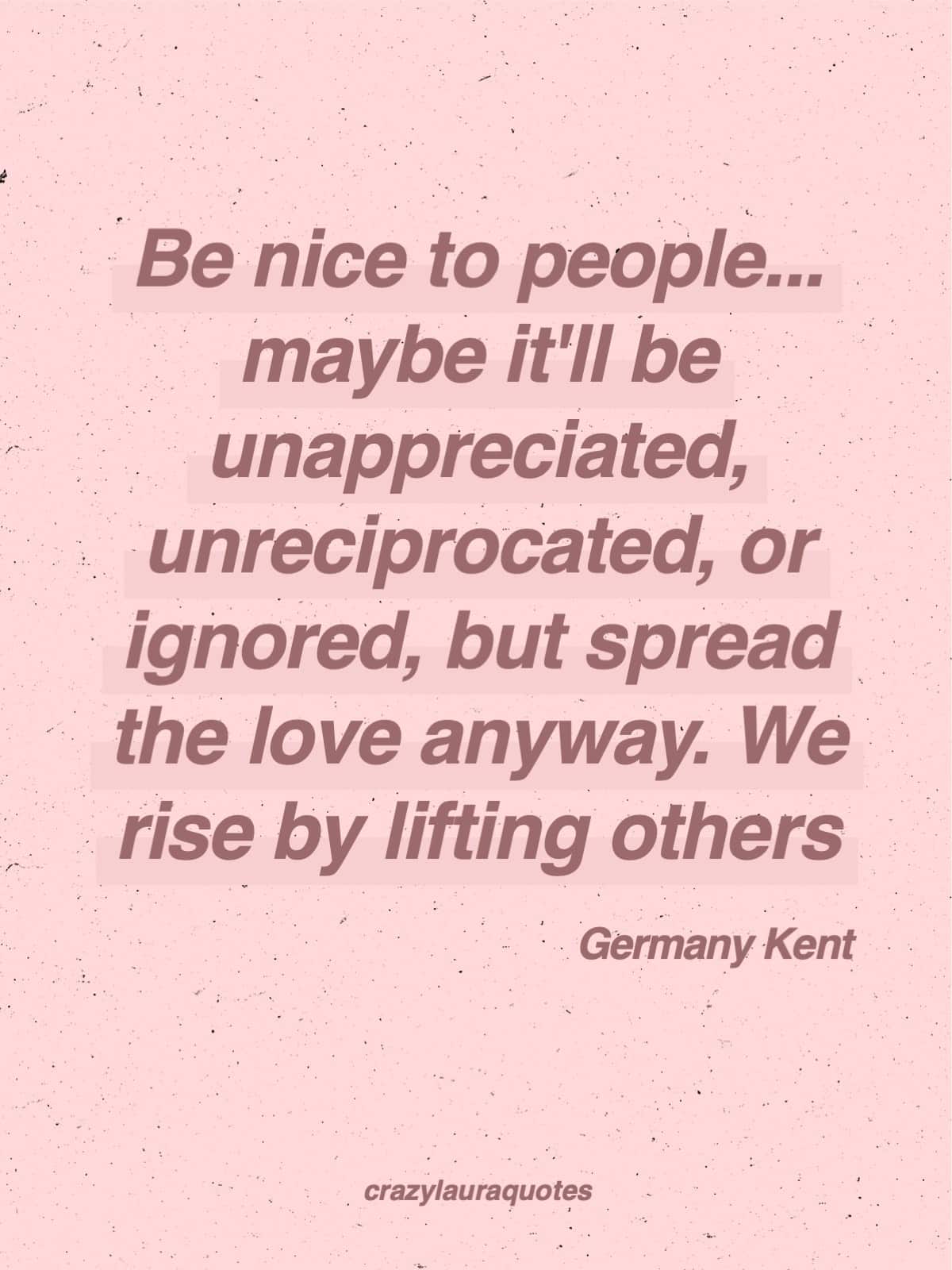 14. "Be nice to people… maybe it'll be unappreciated, unreciprocated, or ignored, but spread the love anyway. We rise by lifting others." – Germany Kent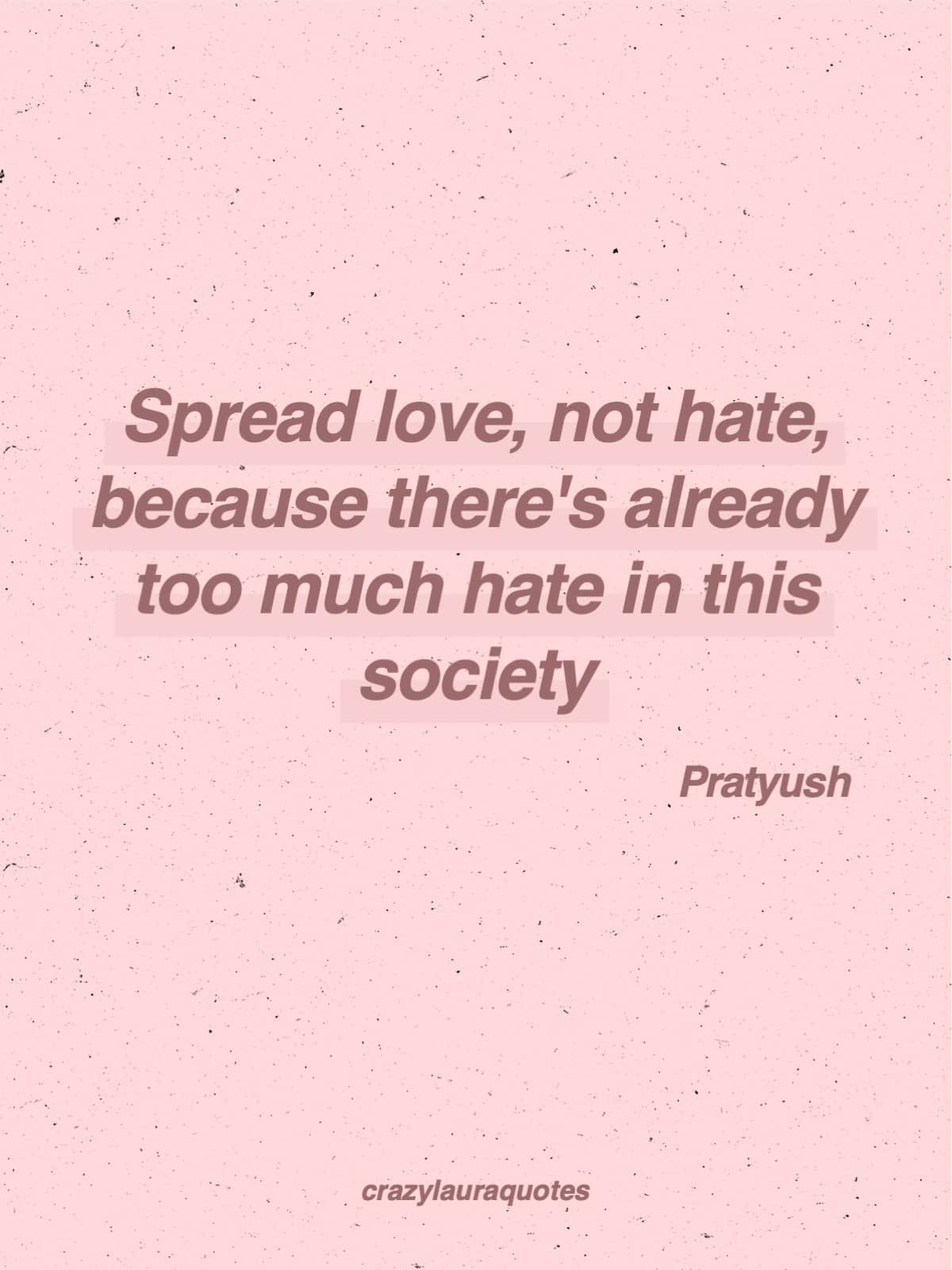 15. "Spread love, not hate, because there's already too much hate in this society." – Pratyush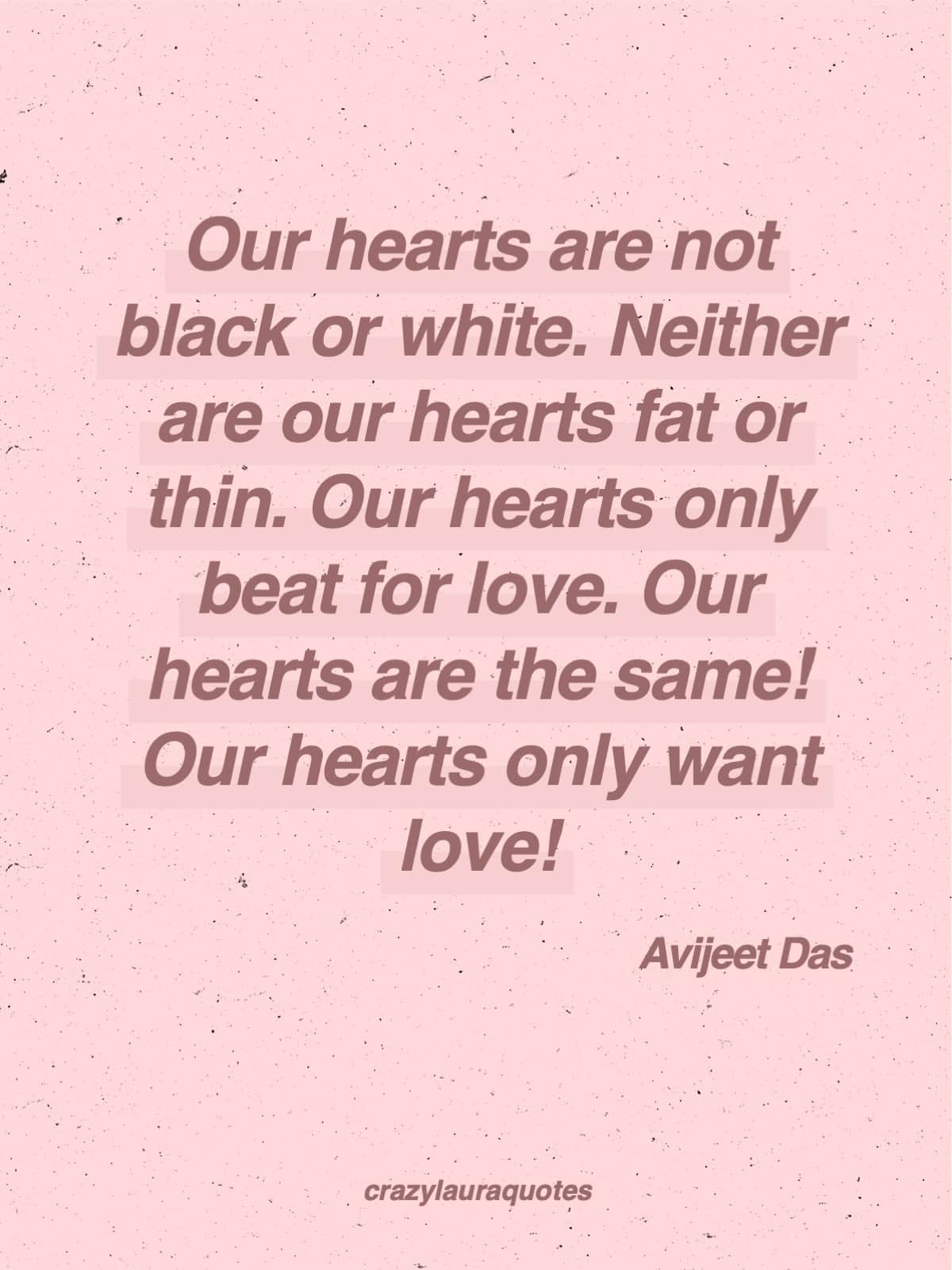 16. "Our hearts are not black or white. Neither are our hearts fat or thin. Our hearts only beat for love. Our hearts are the same! Our hearts only want love!" – Avijeet Das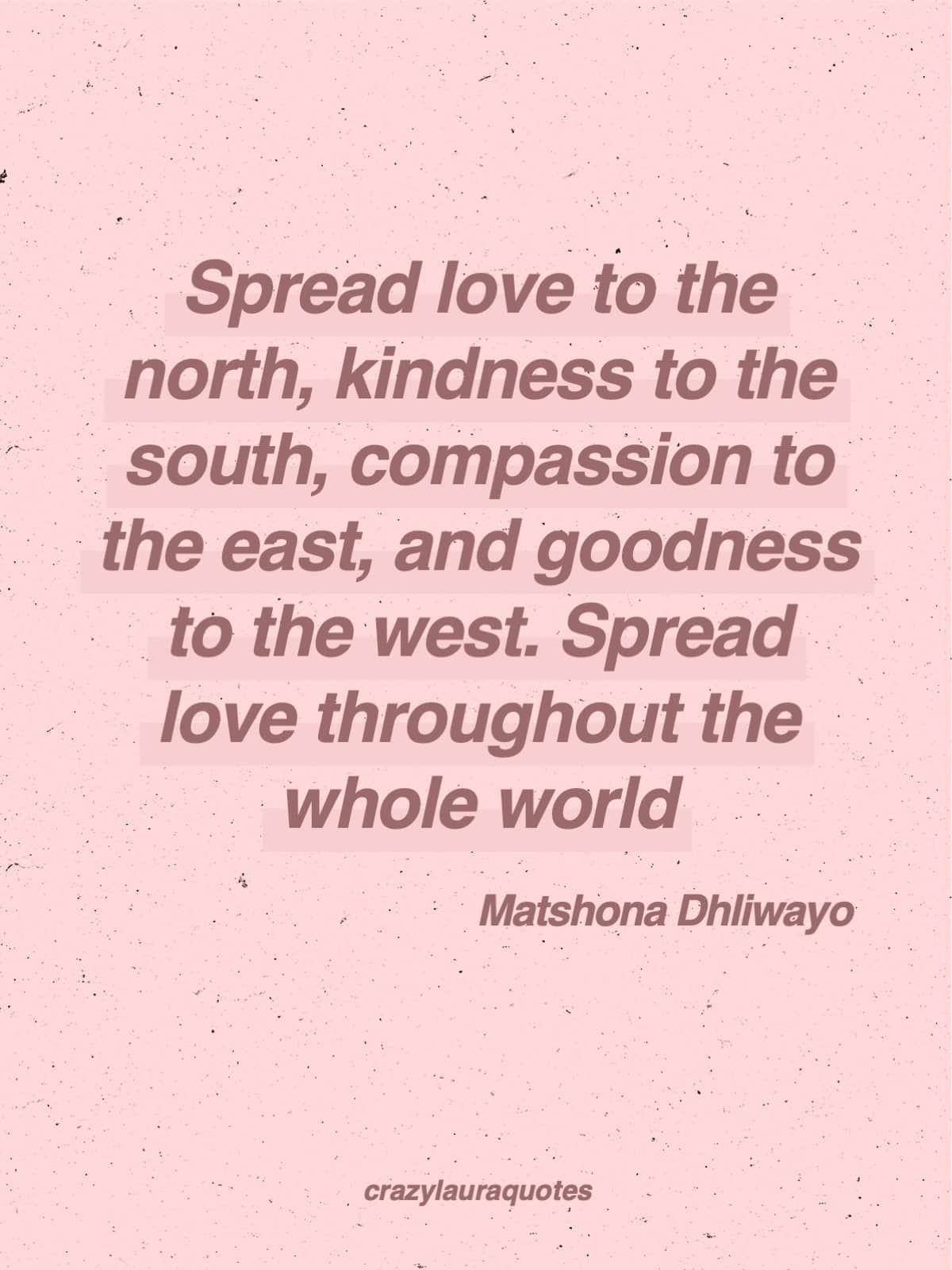 17. "Spread love to the north, kindness to the south, compassion to the east, and goodness to the west. Spread love throughout the whole world." – Matshona Dhliwayo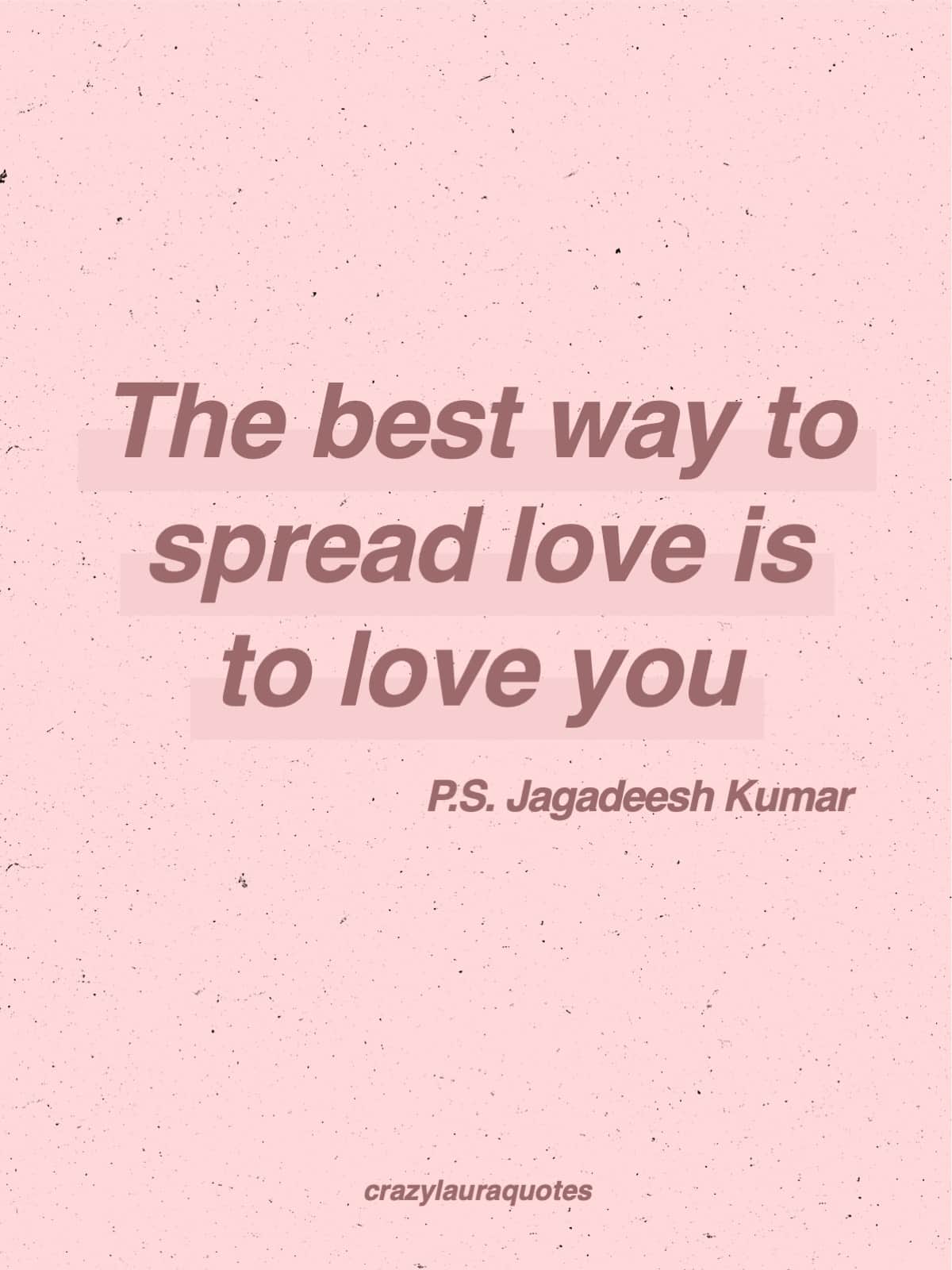 18. "The best way to spread love is to love you." – P.S. Jagadeesh Kumar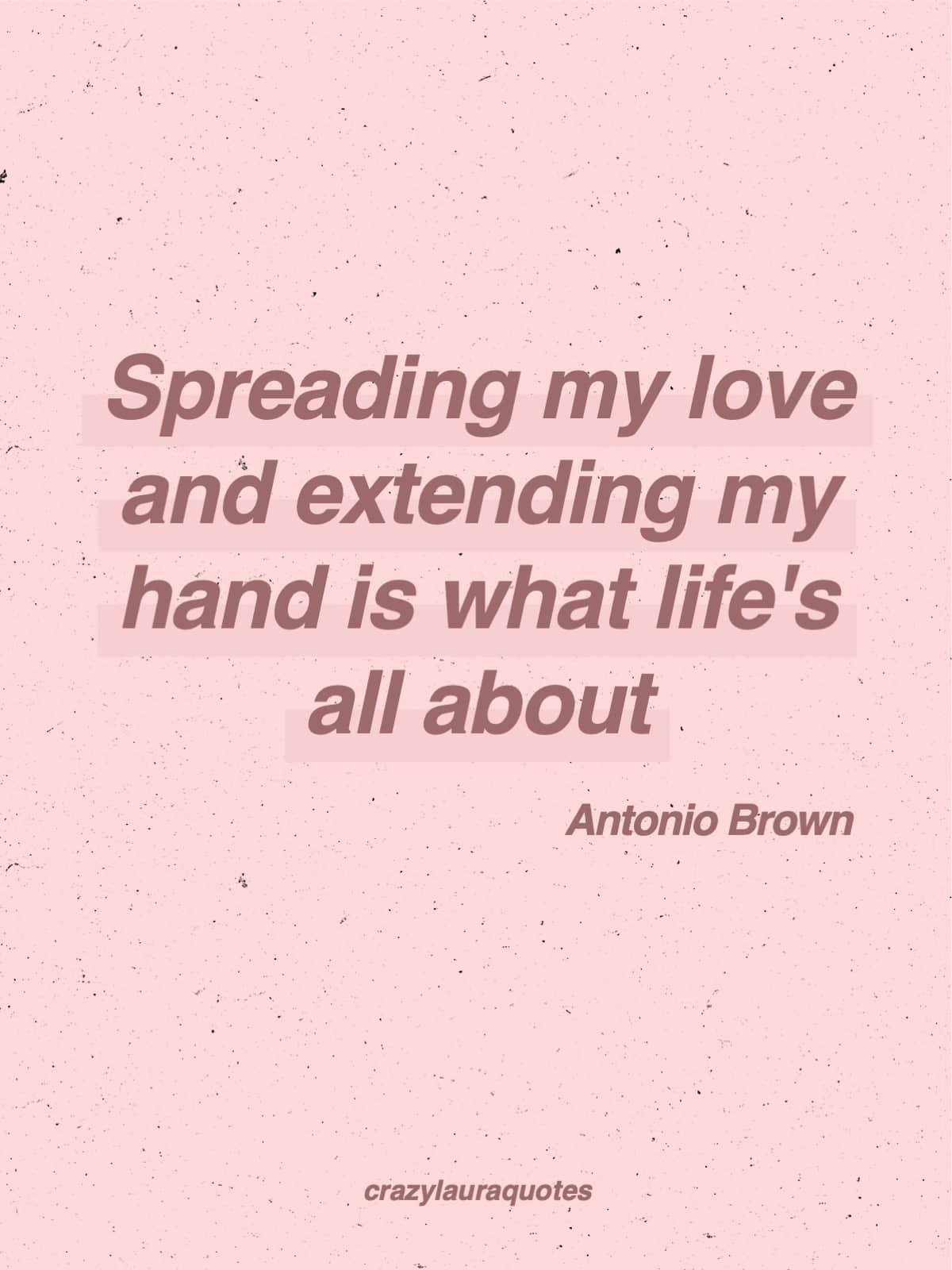 19. "Spreading my love and extending my hand is what life's all about." – Antonio Brown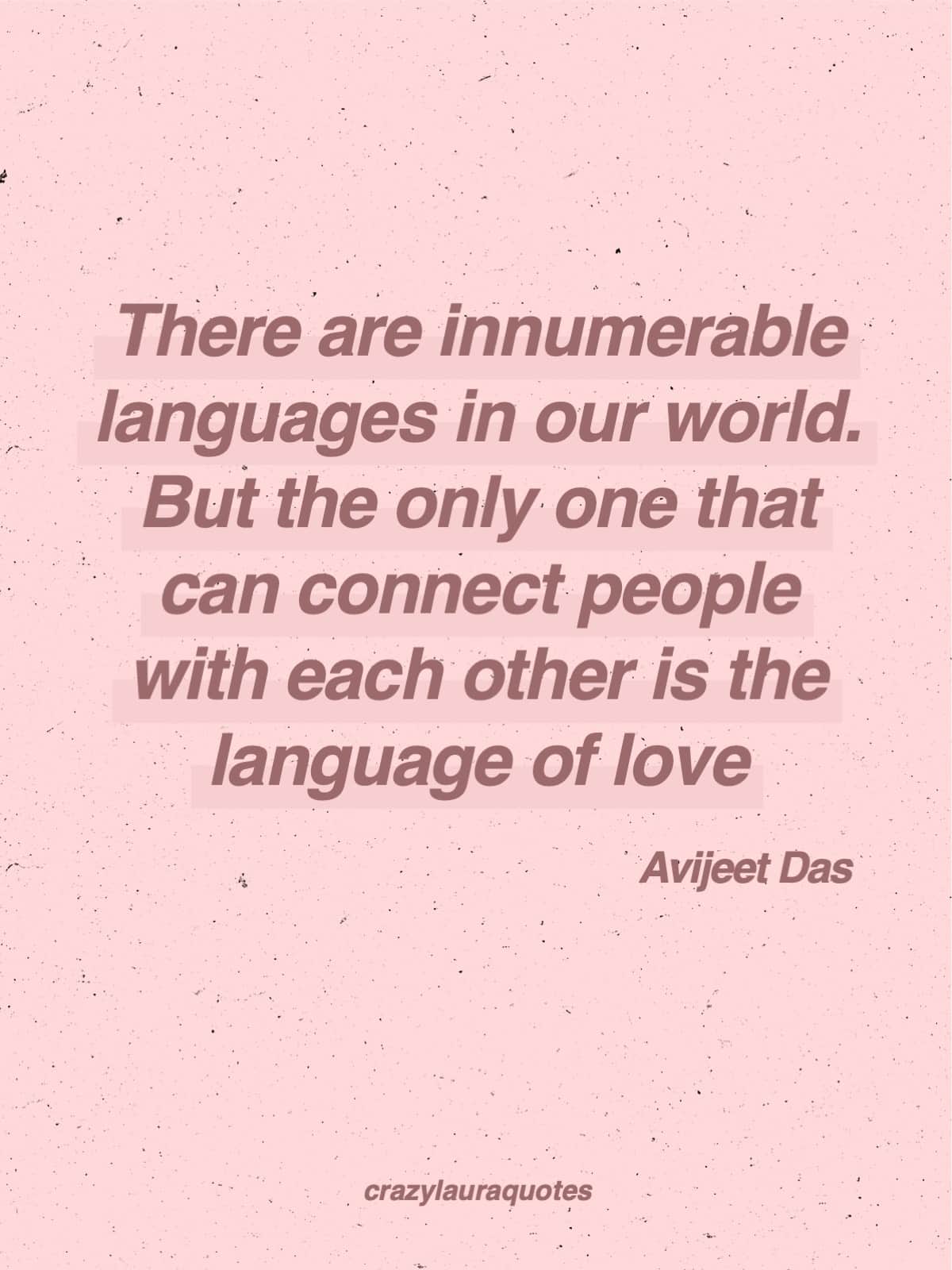 20. "There are innumerable languages in our world. But the only one that can connect people with each other is the language of love." – Avijeet Das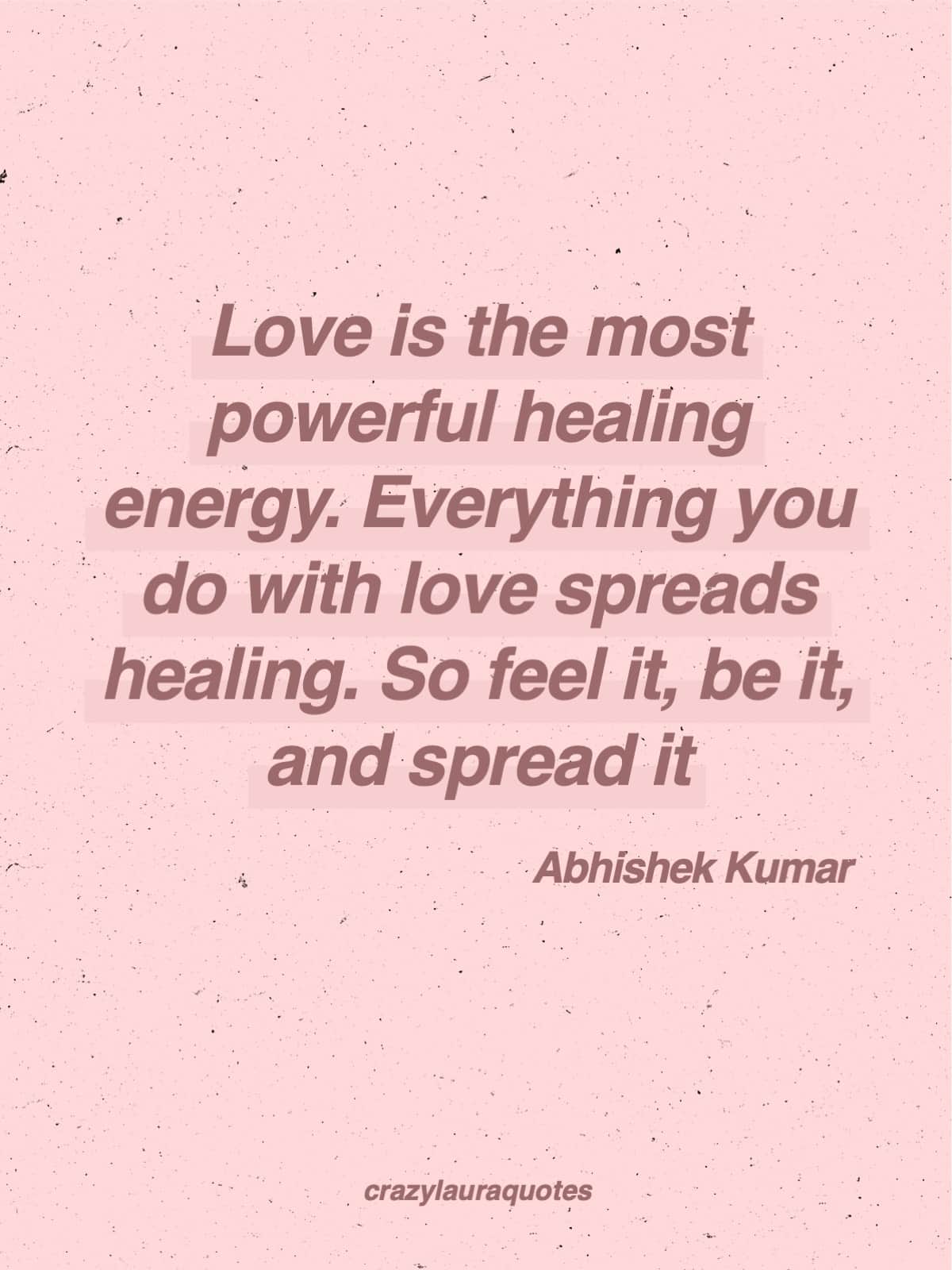 21. "Love is the most powerful healing energy. Everything you do with love spreads healing. So feel it, be it, and spread it." – Abhishek Kumar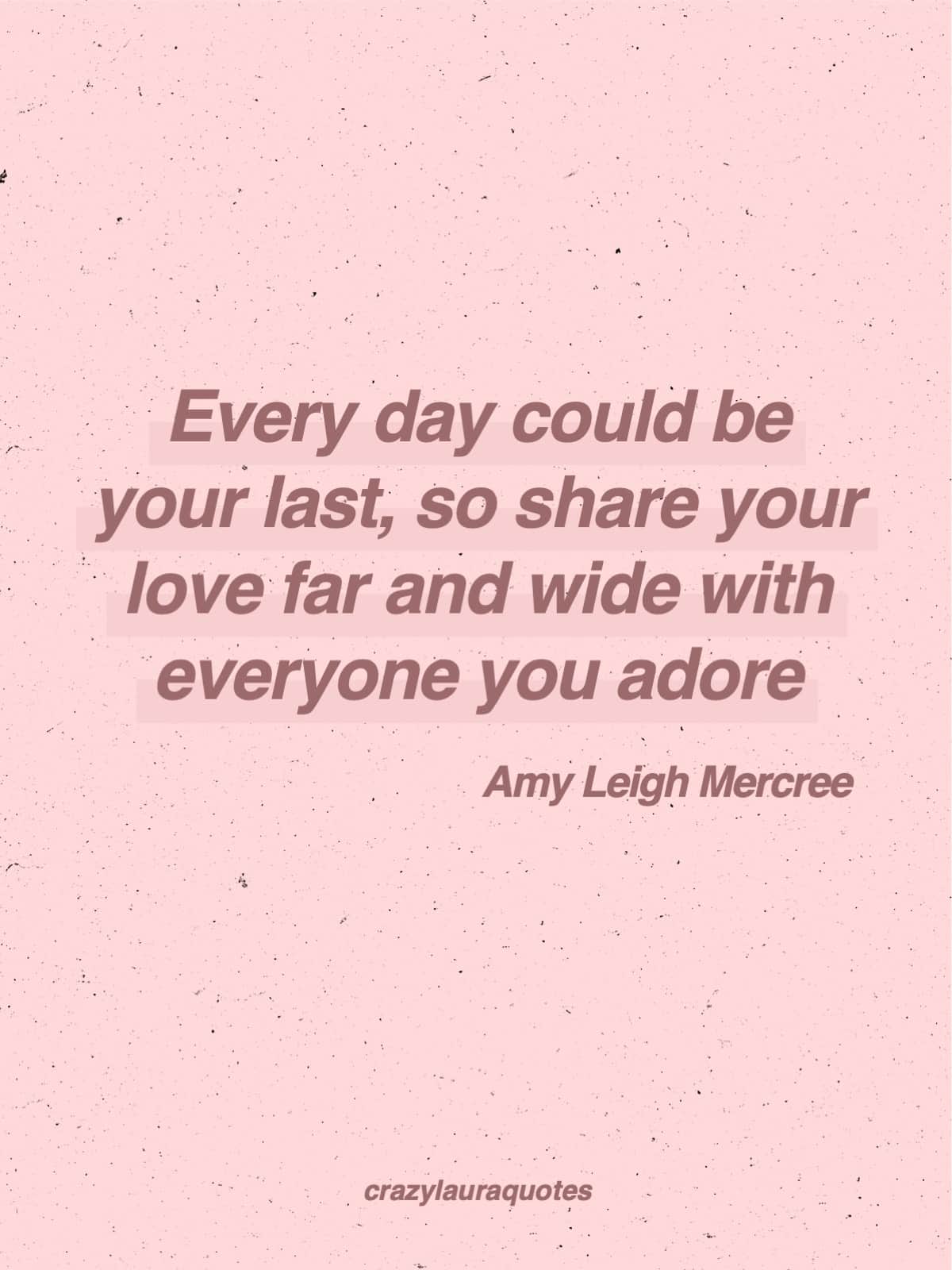 22. "Every day could be your last, so share your love far and wide with everyone you adore." – Amy Leigh Mercree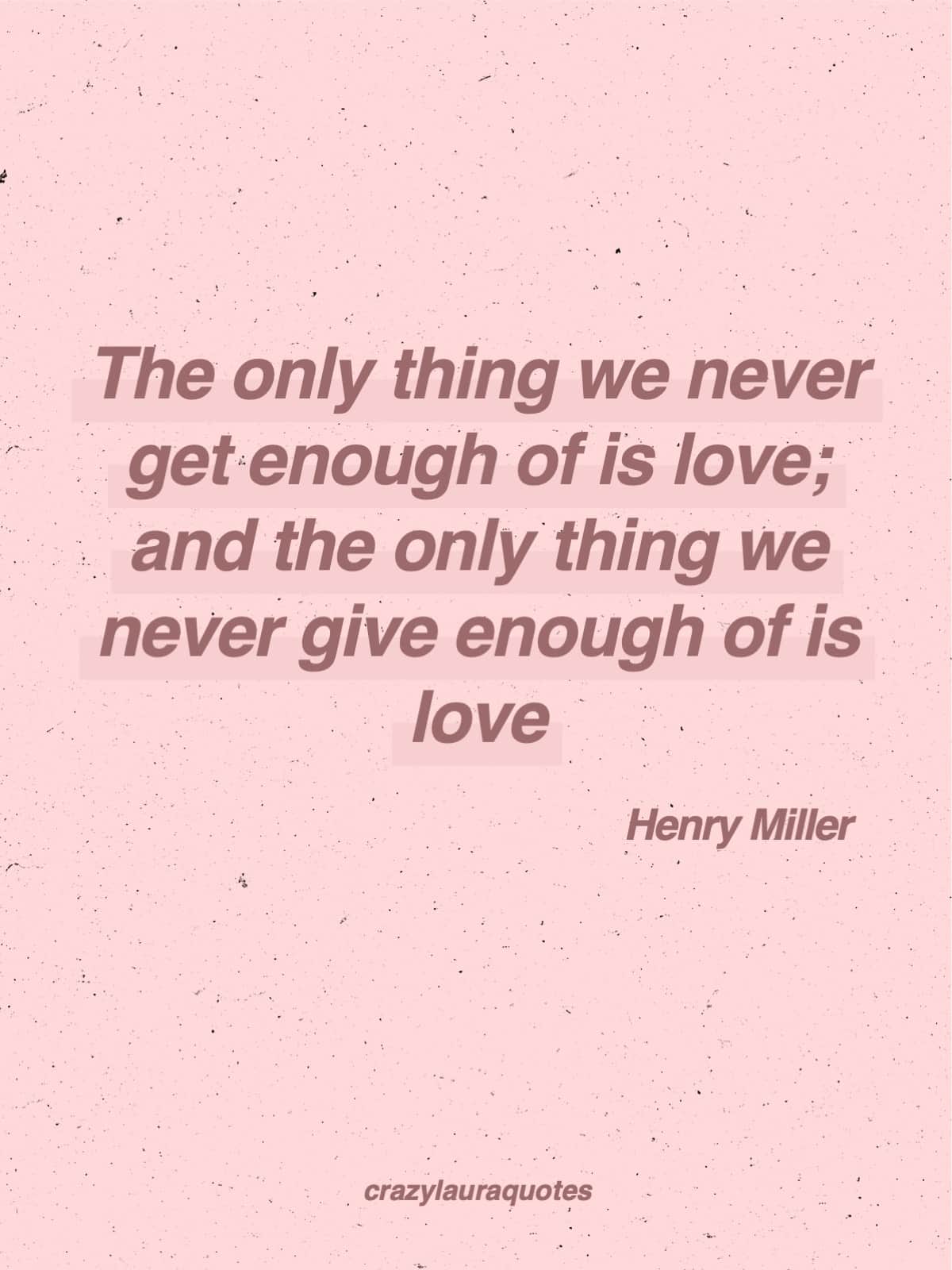 23. "The only thing we never get enough of is love; and the only thing we never give enough of is love." – Henry Miller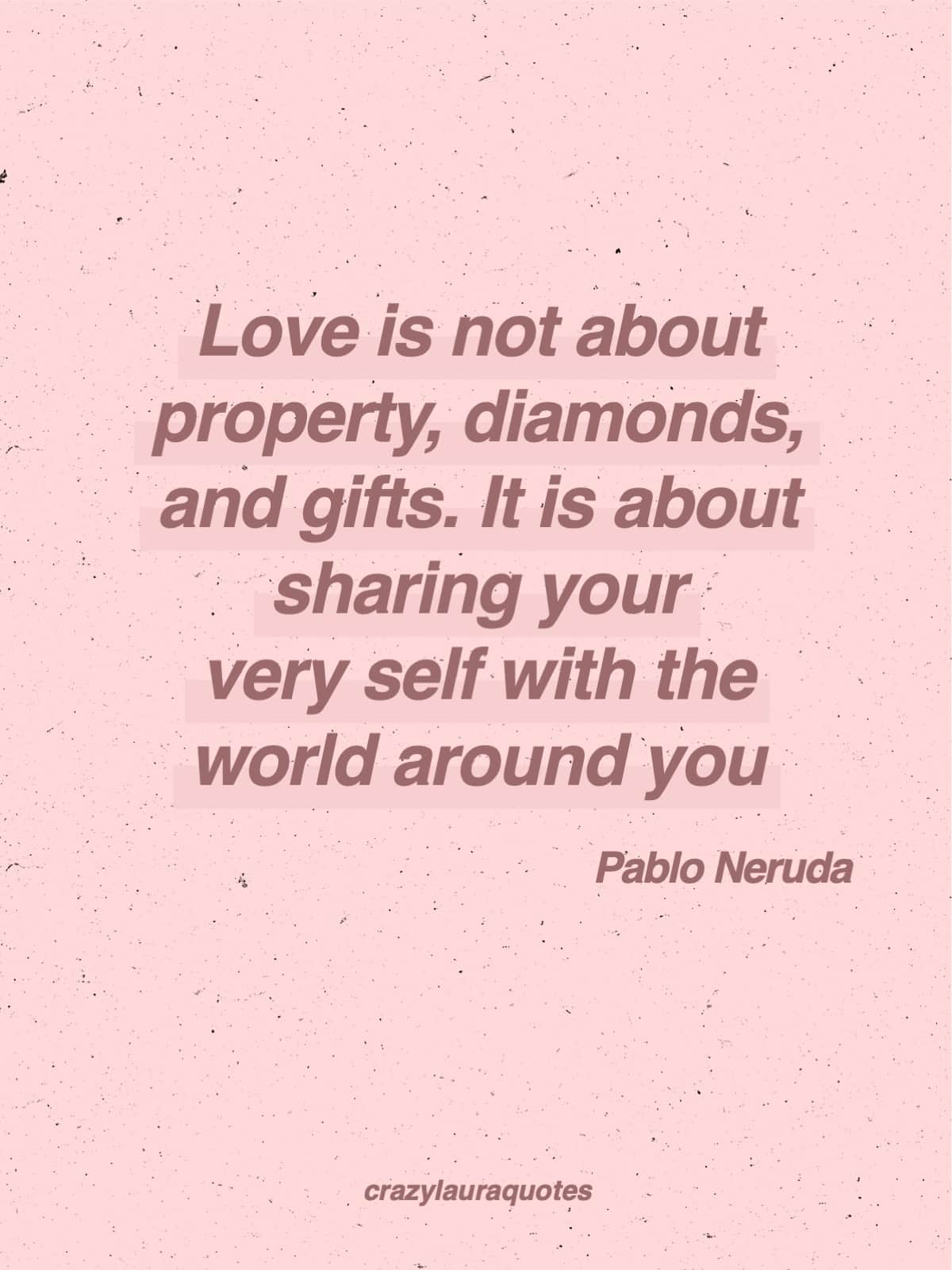 24. "Love is not about property, diamonds, and gifts. It is about sharing your very self with the world around you." – Pablo Neruda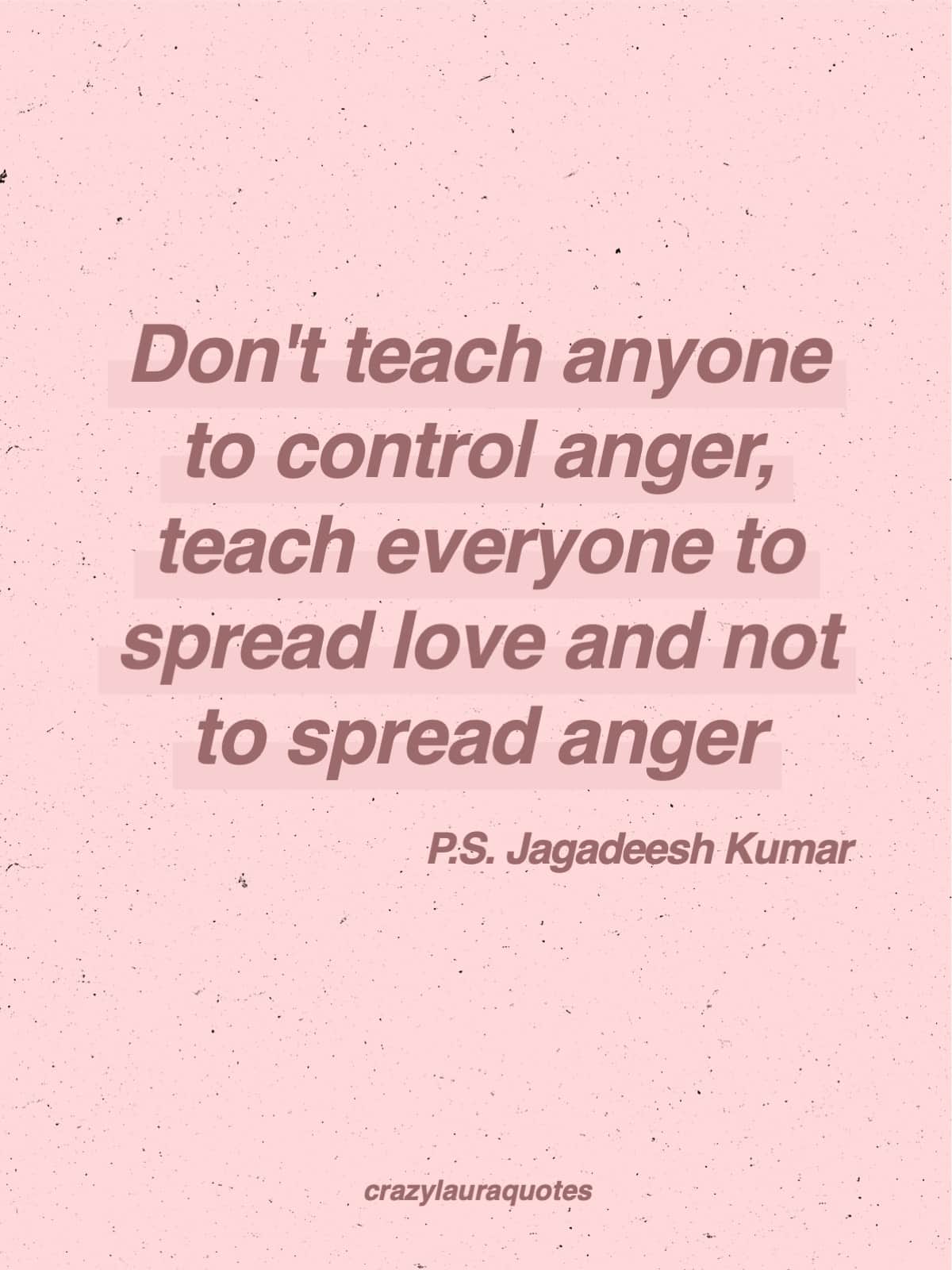 25. "Don't teach anyone to control anger, teach everyone to spread love and not to spread anger." – P.S. Jagadeesh Kumar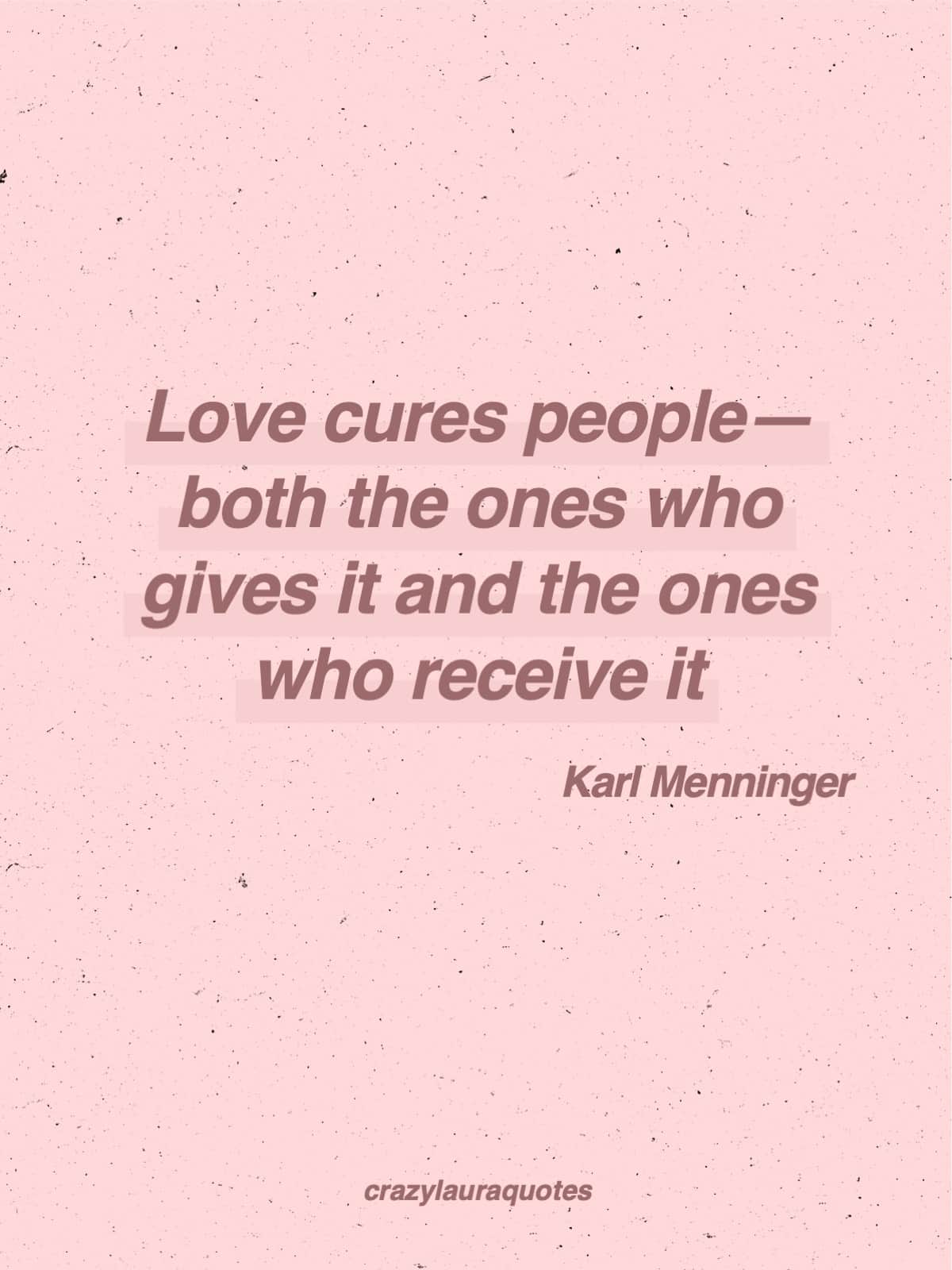 26. "Love cures people—both the ones who gives it and the ones who receive it." – Karl Menninger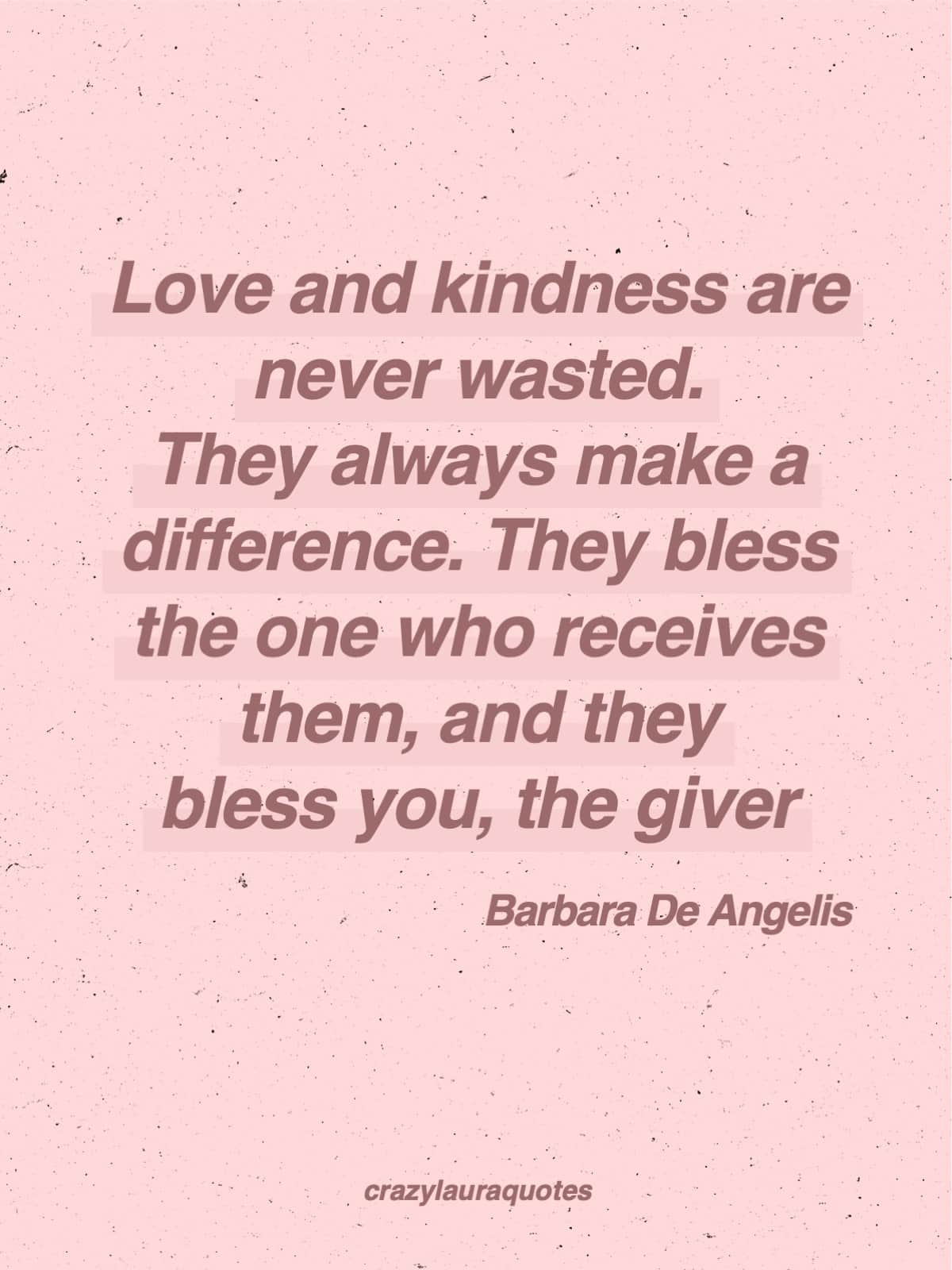 27. "Love and kindness are never wasted. They always make a difference. They bless the one who receives them, and they bless you, the giver." – Barbara De Angelis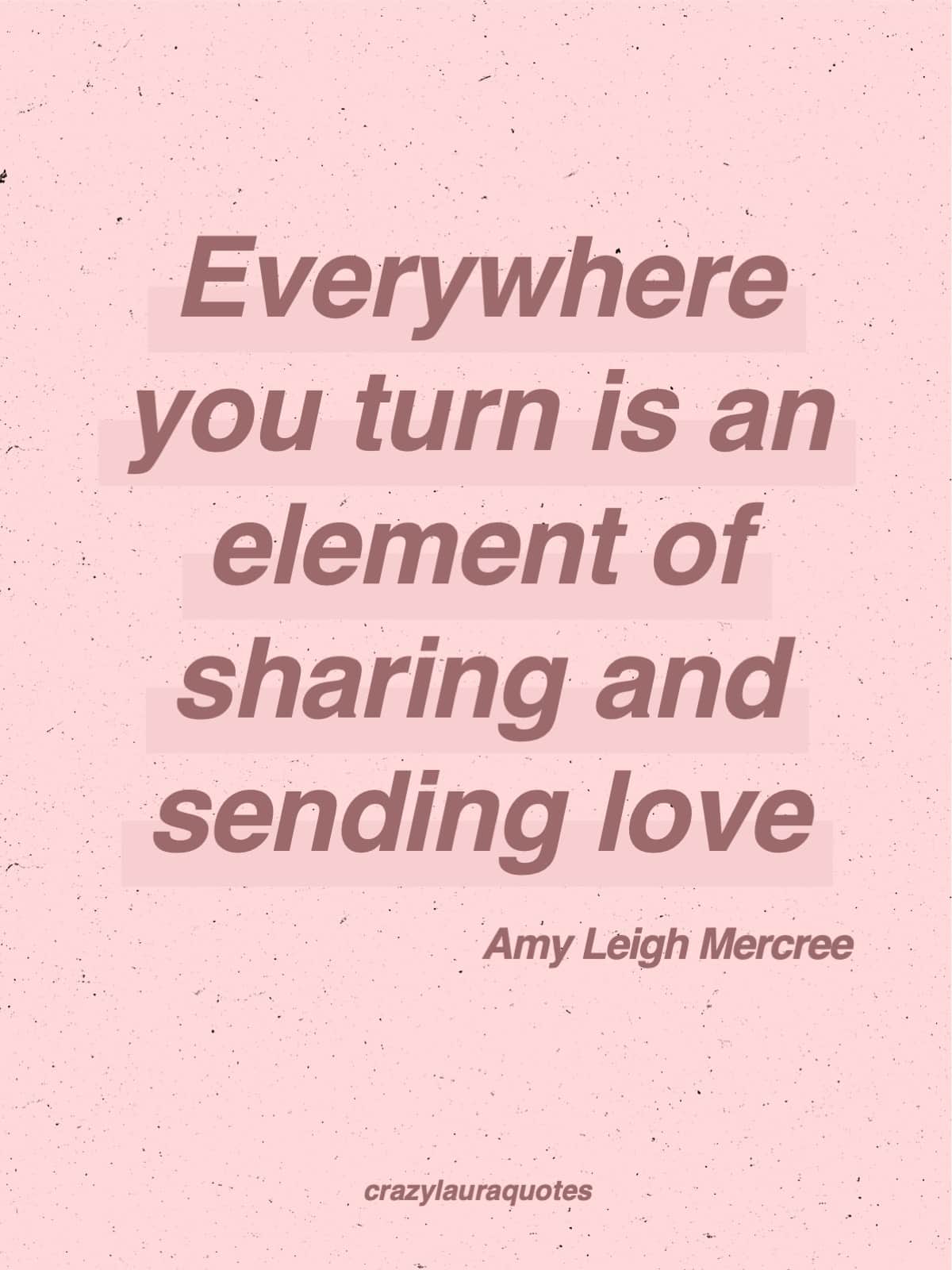 28. "Everywhere you turn is an element of sharing and sending love." – Amy Leigh Mercree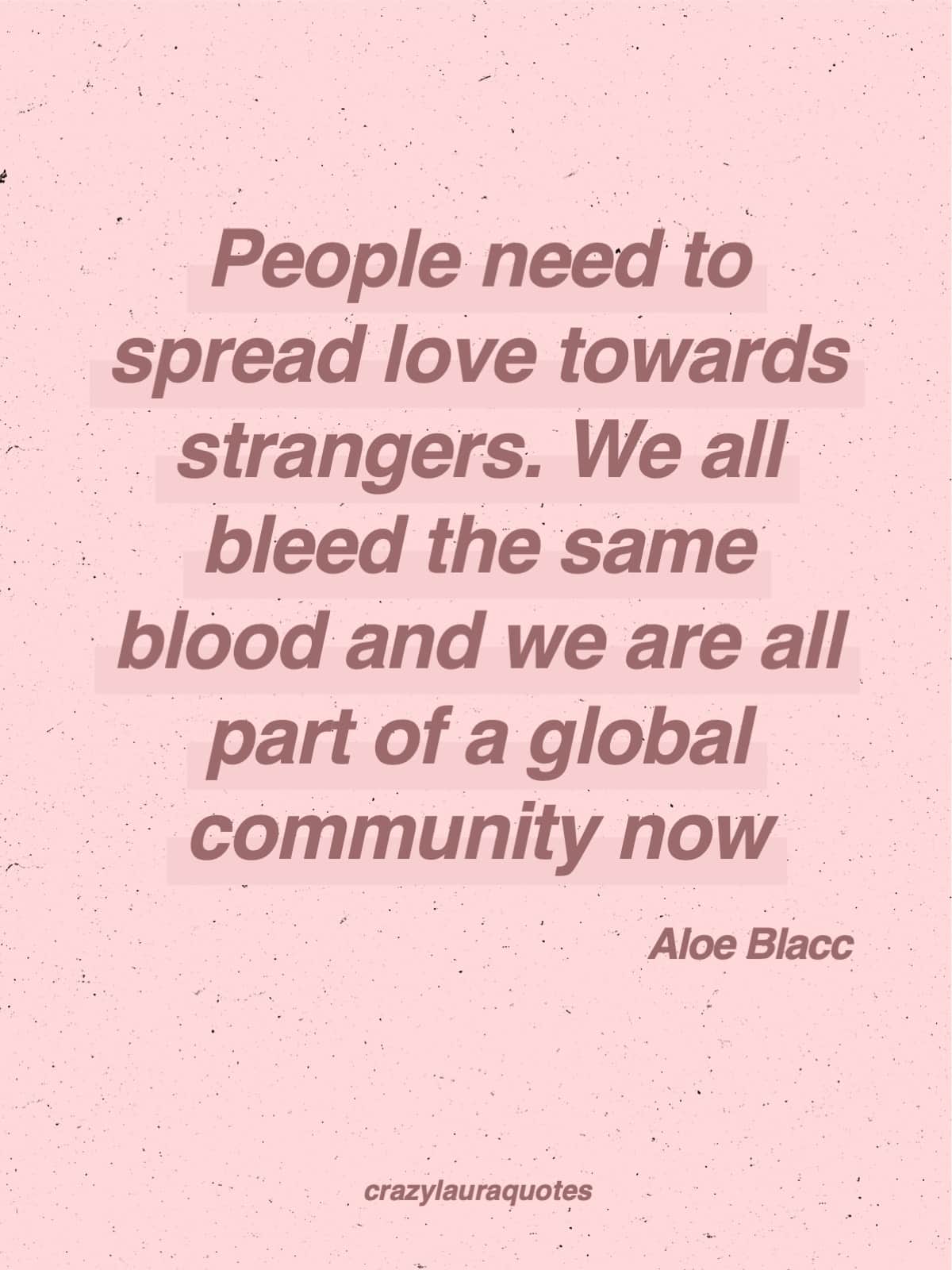 29. "People need to spread love towards strangers. We all bleed the same blood and we are all part of a global community now." – Aloe Blacc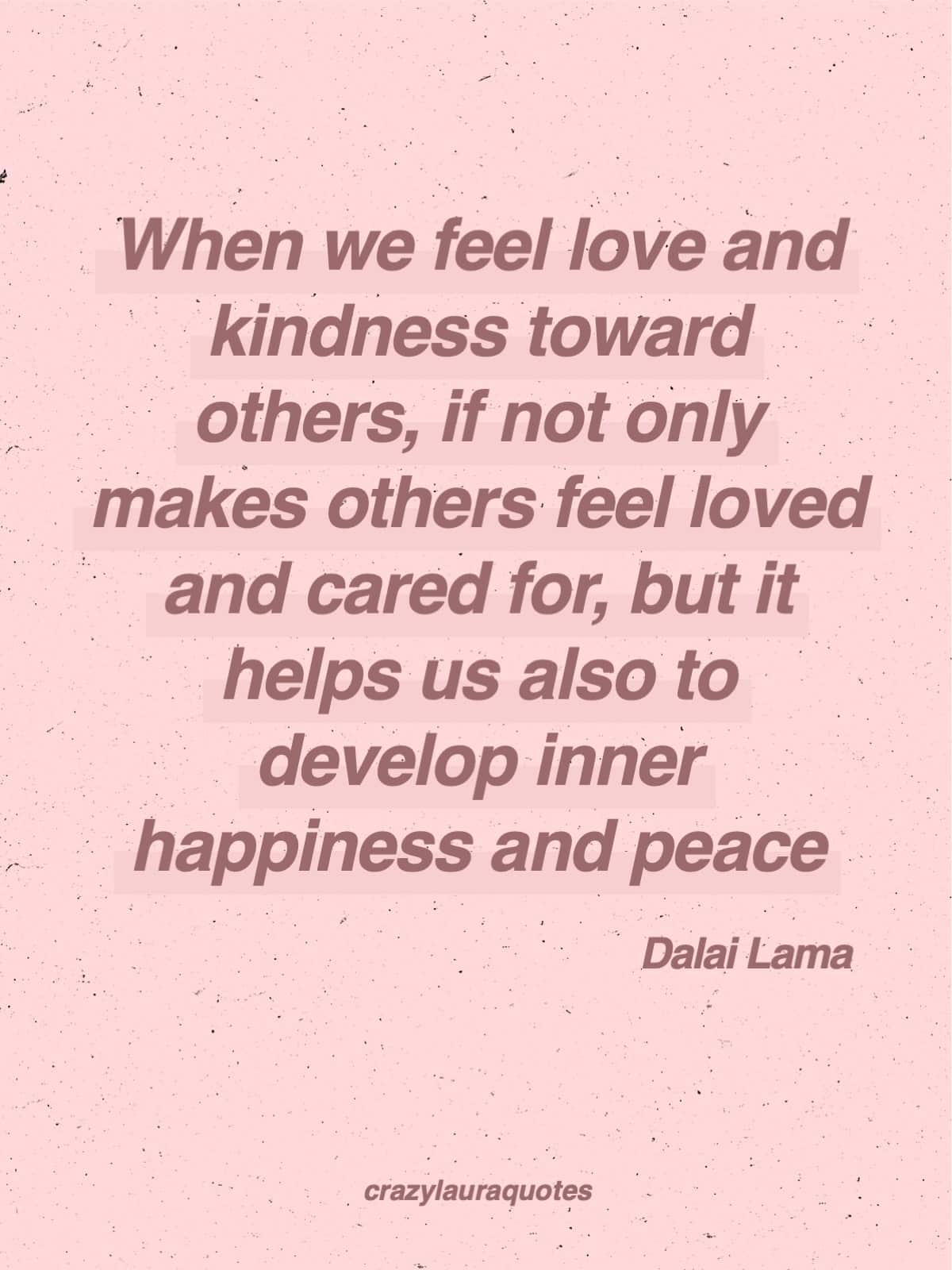 30. "When we feel love and kindness toward others, if not only makes others feel loved and cared for, but it helps us also to develop inner happiness and peace." – Dalai Lama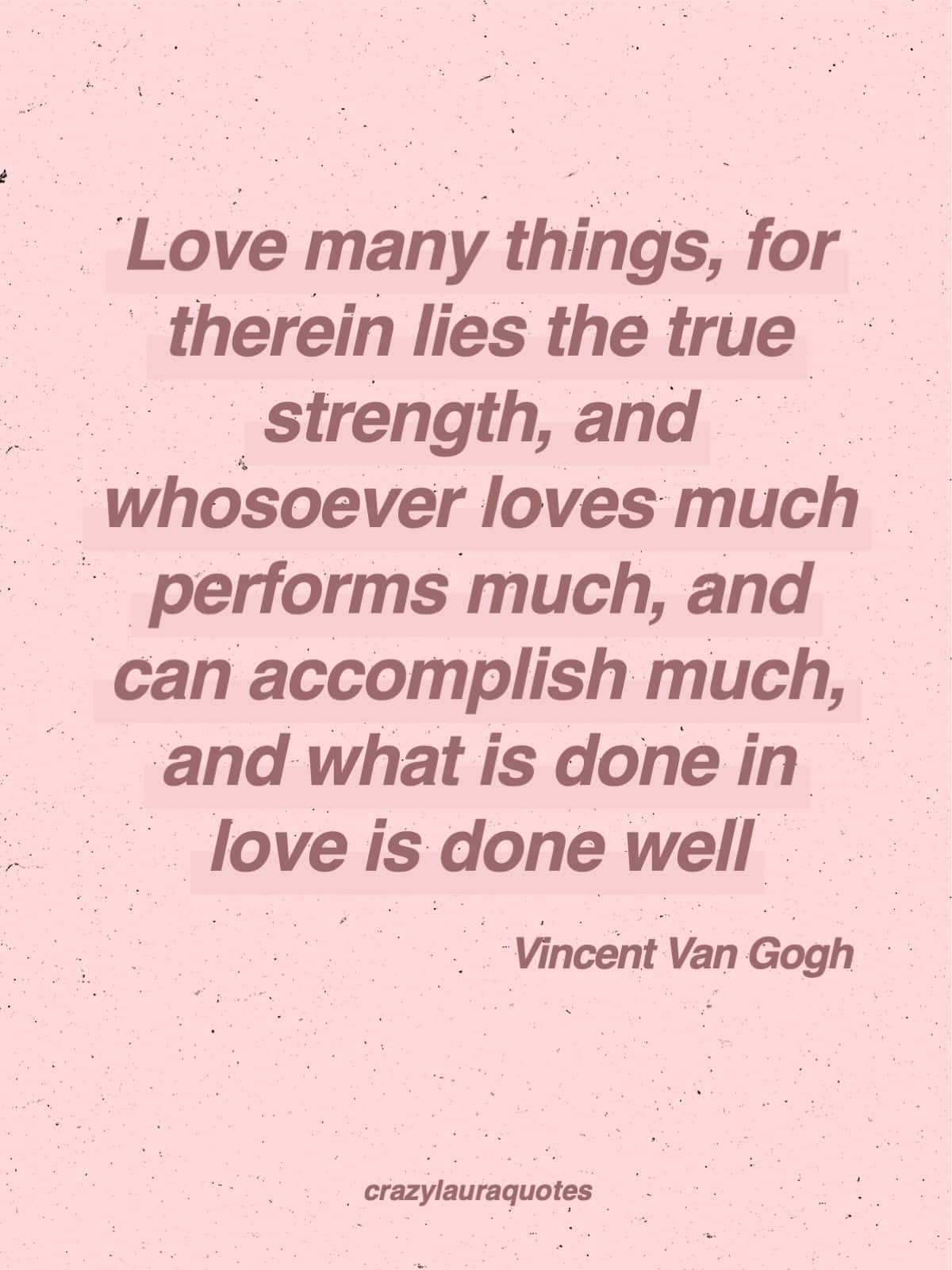 31. "Love many things, for therein lies the true strength, and whosoever loves much performs much, and can accomplish much, and what is done in love is done well." – Vincent Van Gogh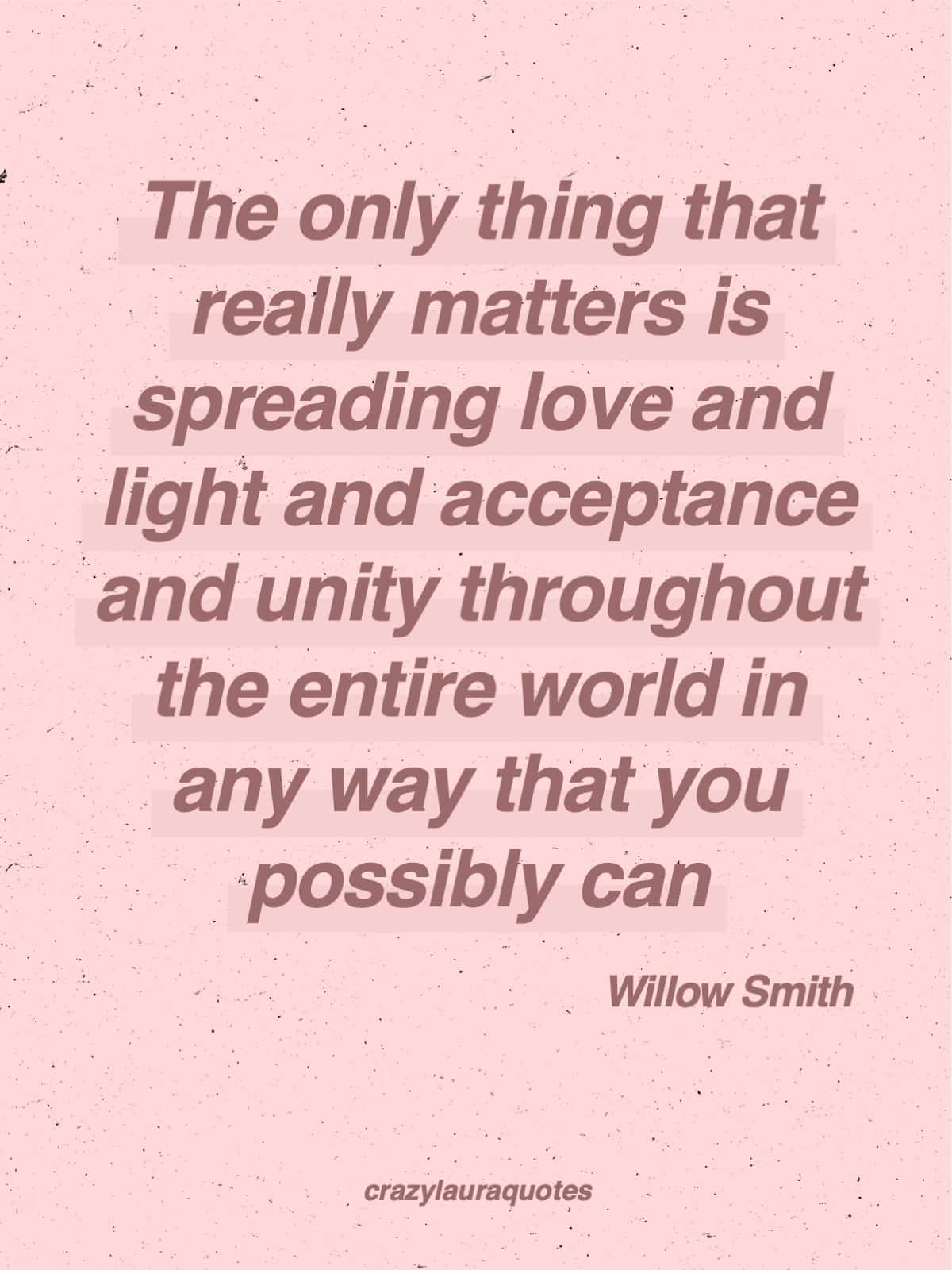 32. "The only thing that really matters is spreading love and light and acceptance and unity throughout the entire world in any way that you possibly can." – Willow Smith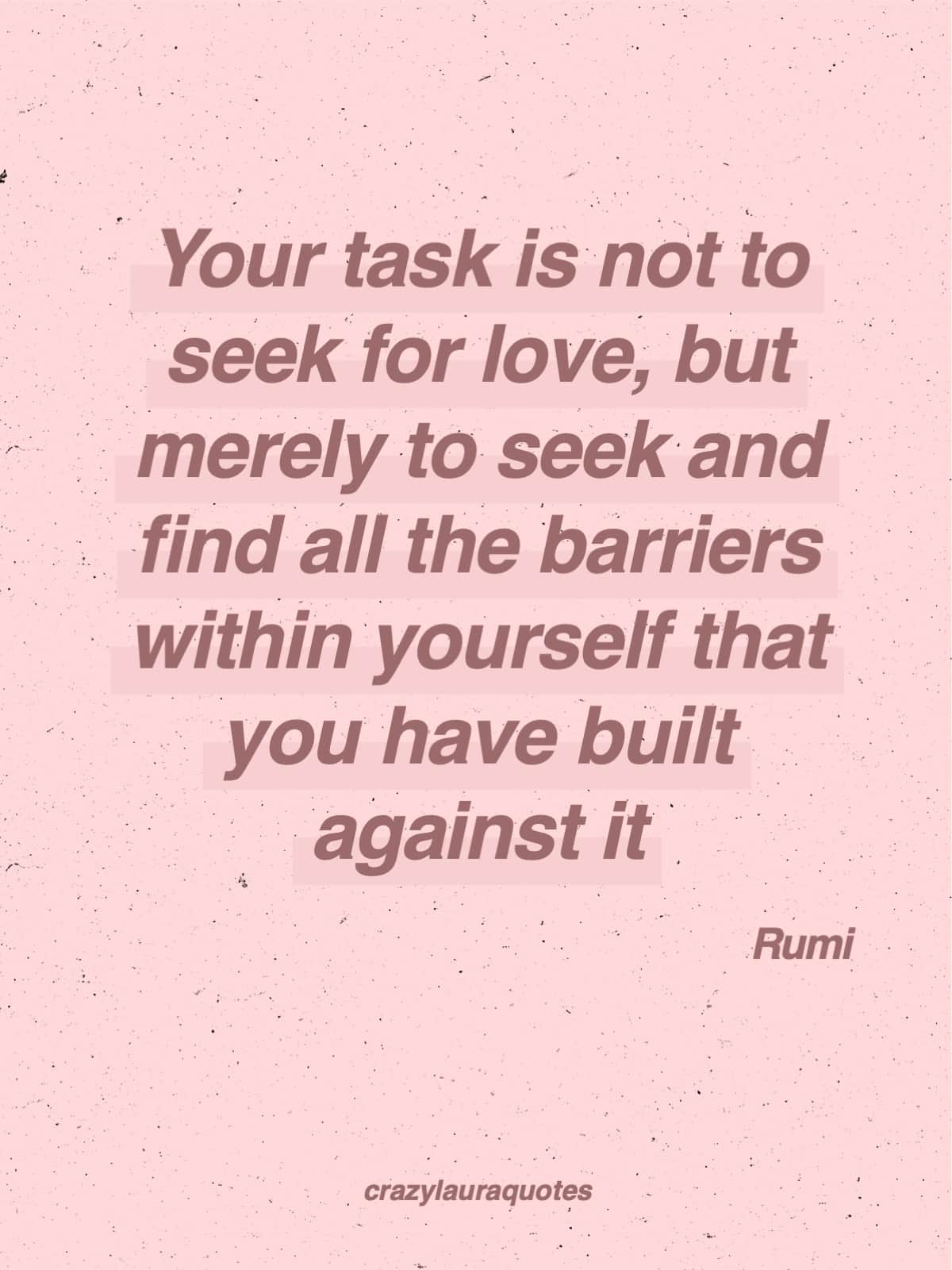 33. "Your task is not to seek for love, but merely to seek and find all the barriers within yourself that you have built against it." – Rumi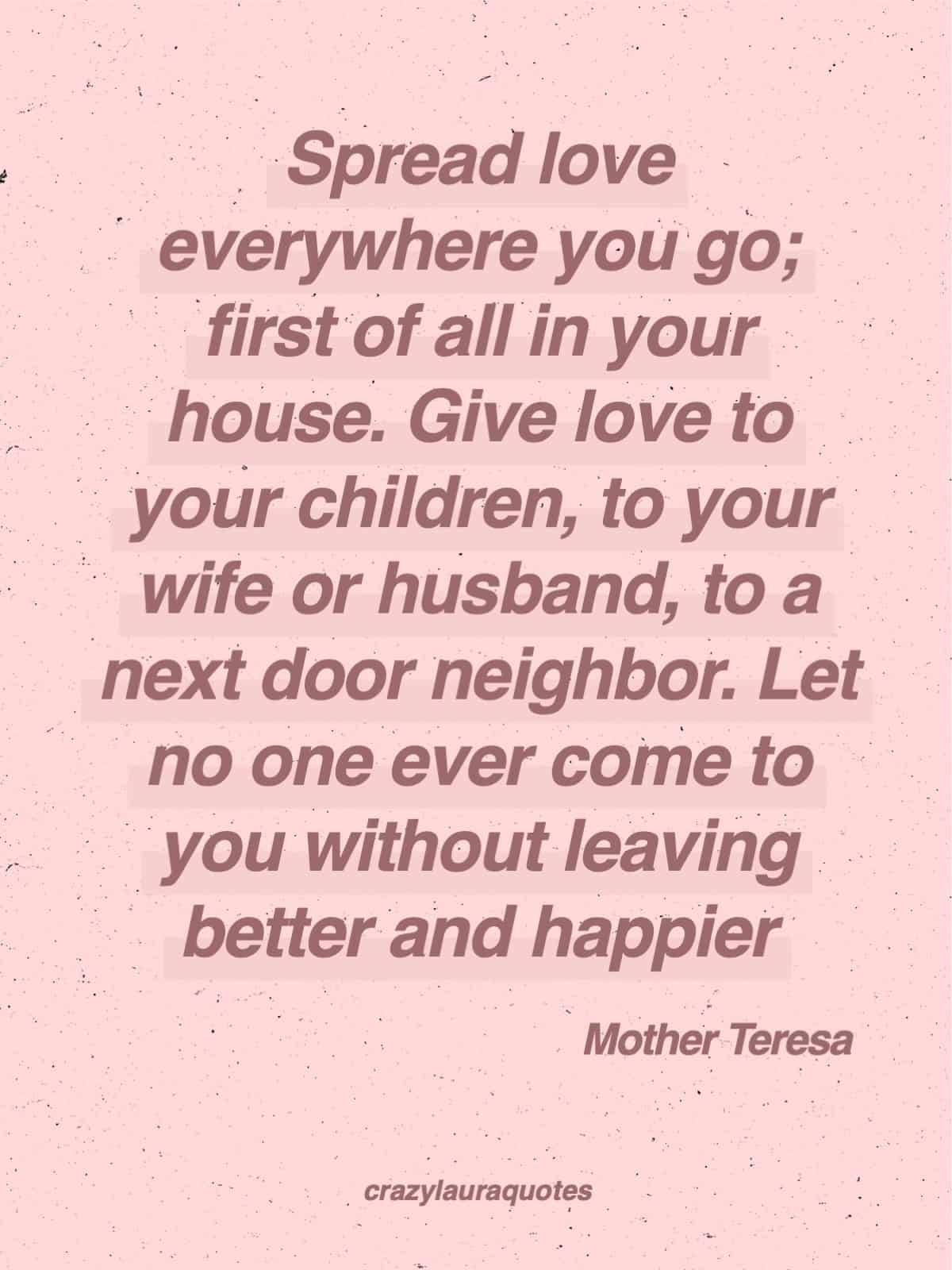 34. "Spread love everywhere you go; first of all in your house. Give love to your children, to your wife or husband, to a next door neighbor. Let no one ever come to you without leaving better and happier." – Mother Teresa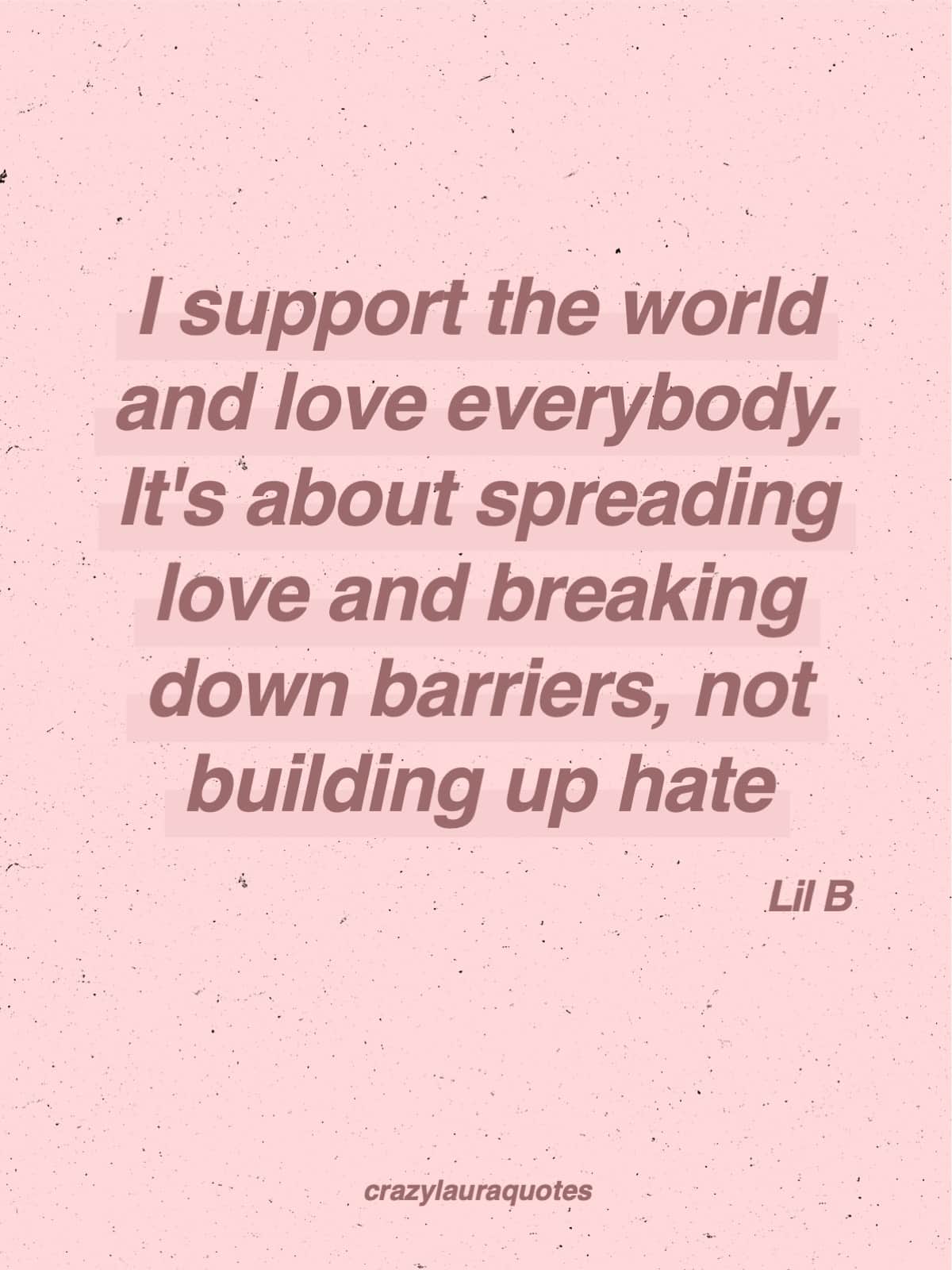 35. "I support the world and love everybody. It's about spreading love and breaking down barriers, not building up hate." – Lil B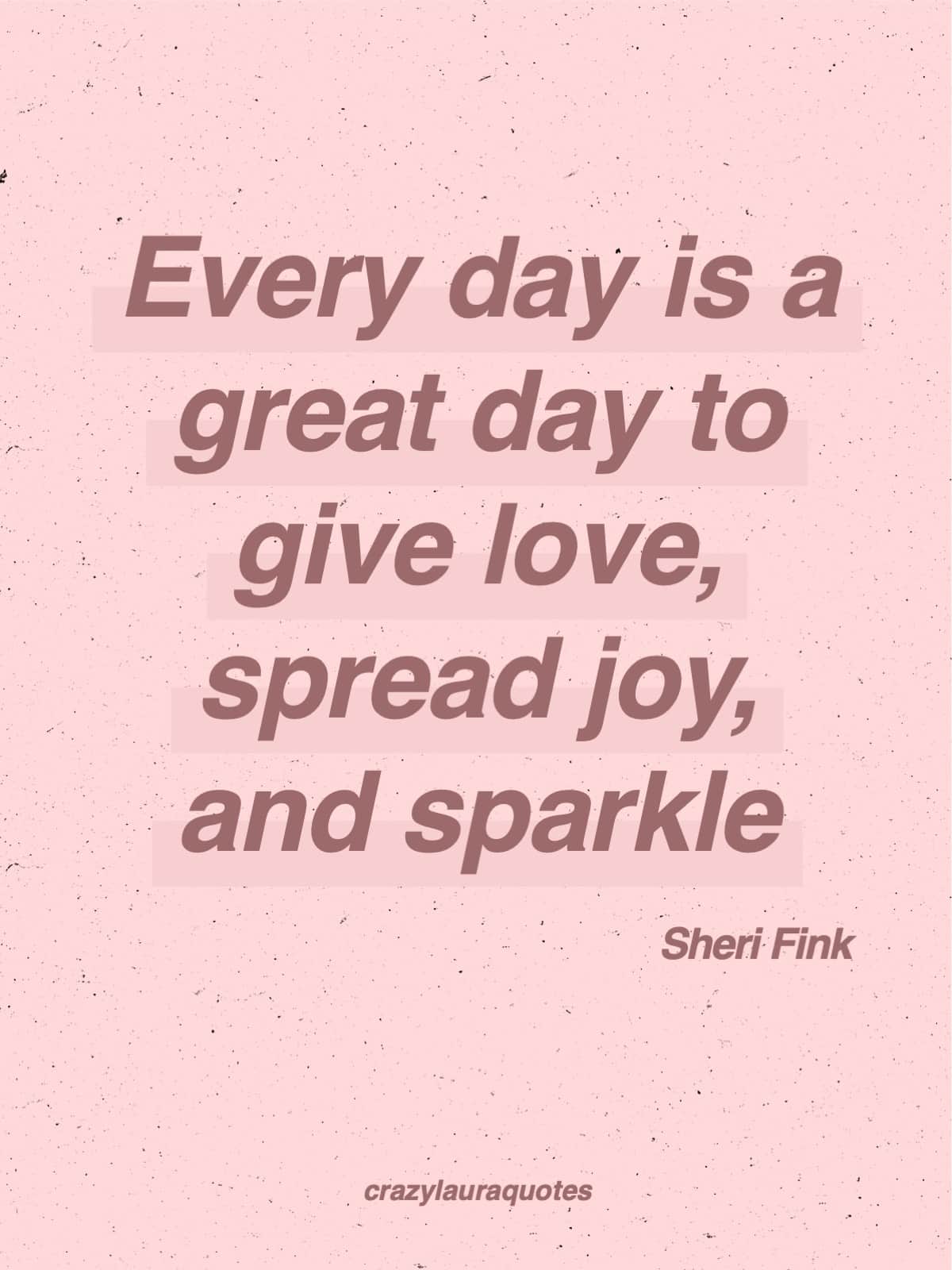 36. "Every day is a great day to give love, spread joy, and sparkle." – Sheri Fink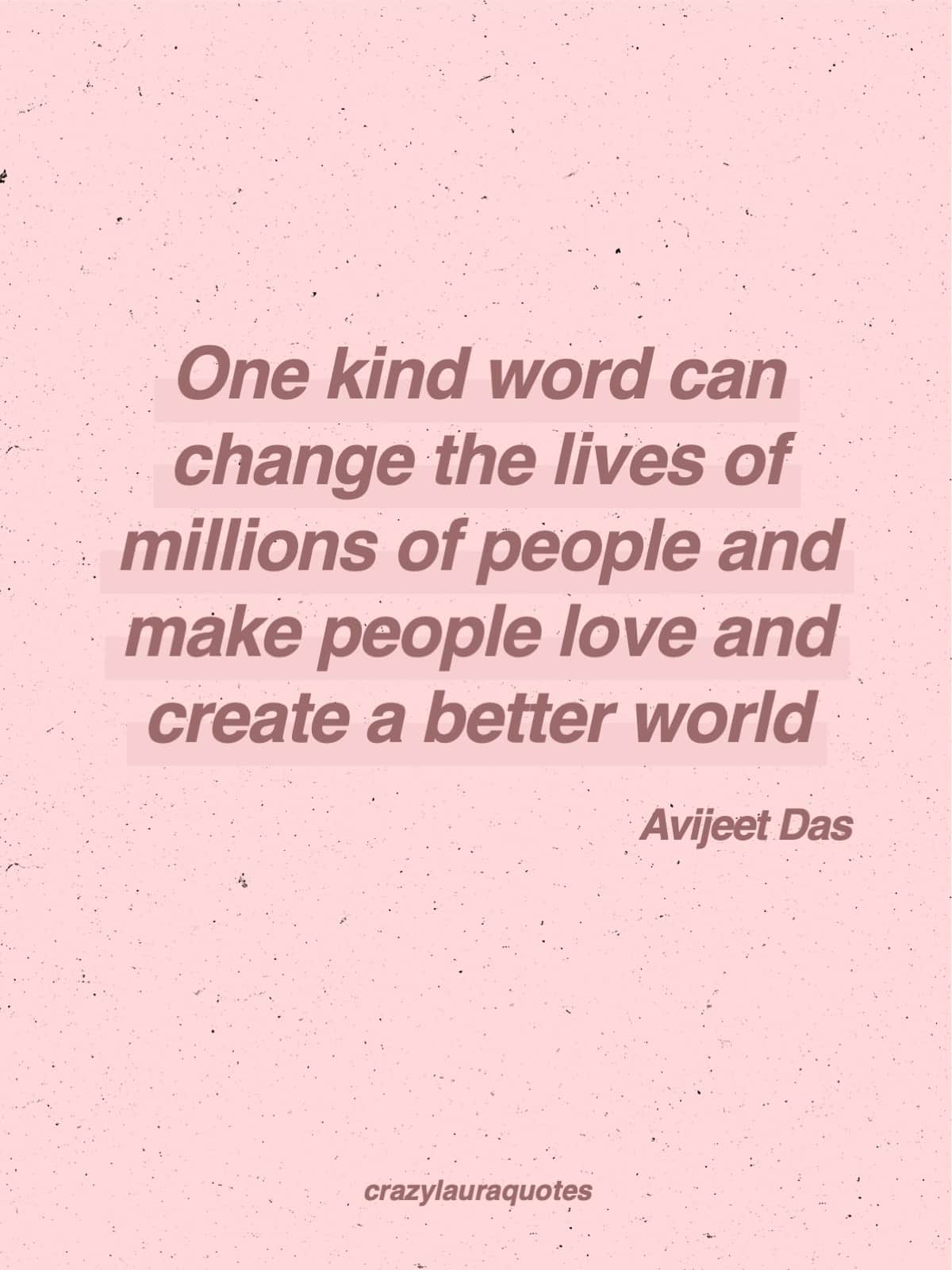 37. "One kind word can change the lives of millions of people and make people love and create a better World." – Avijeet Das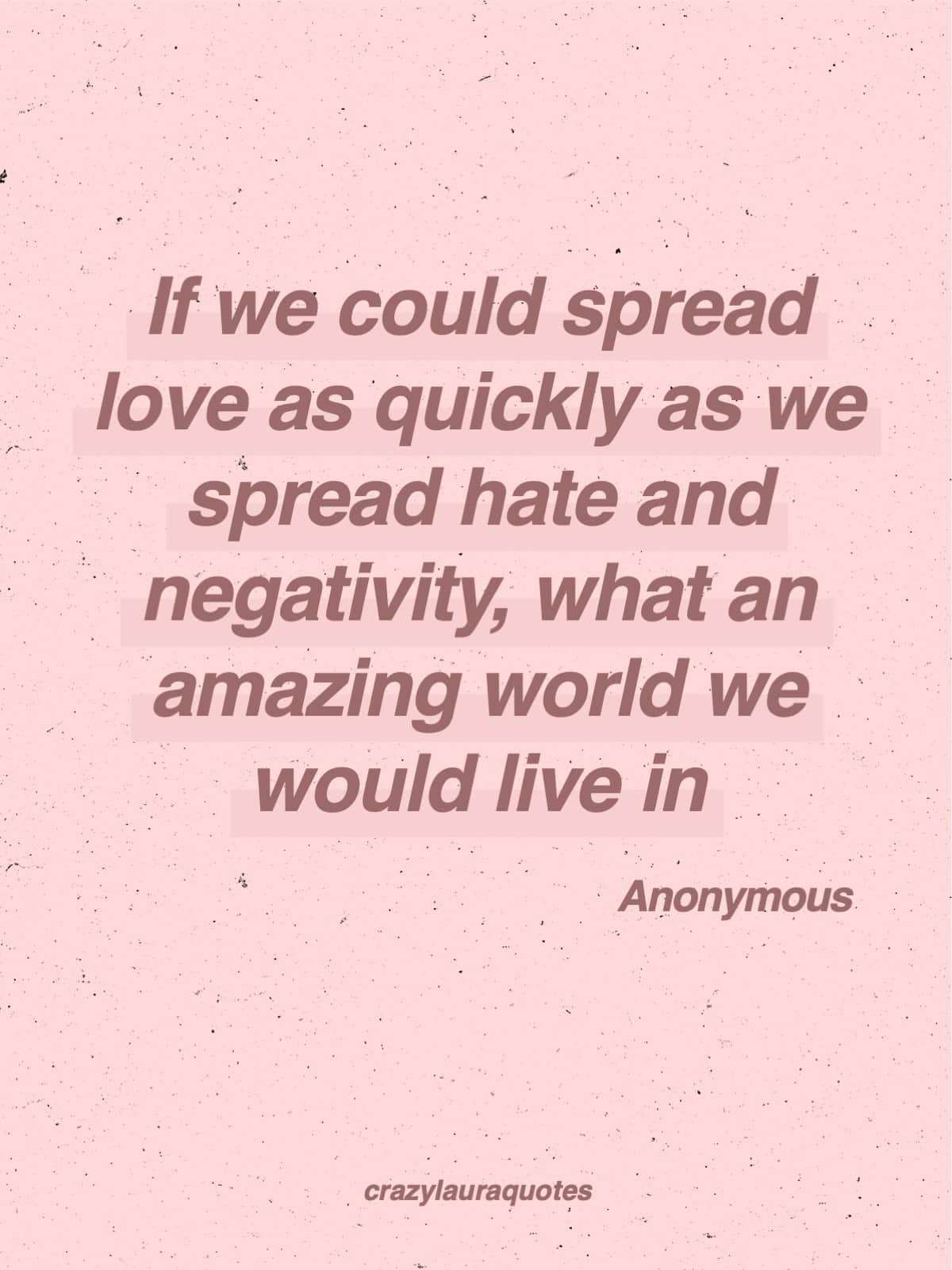 38. "If we could spread love as quickly as we spread hate and negativity, what an amazing world we would live in." – Anonymous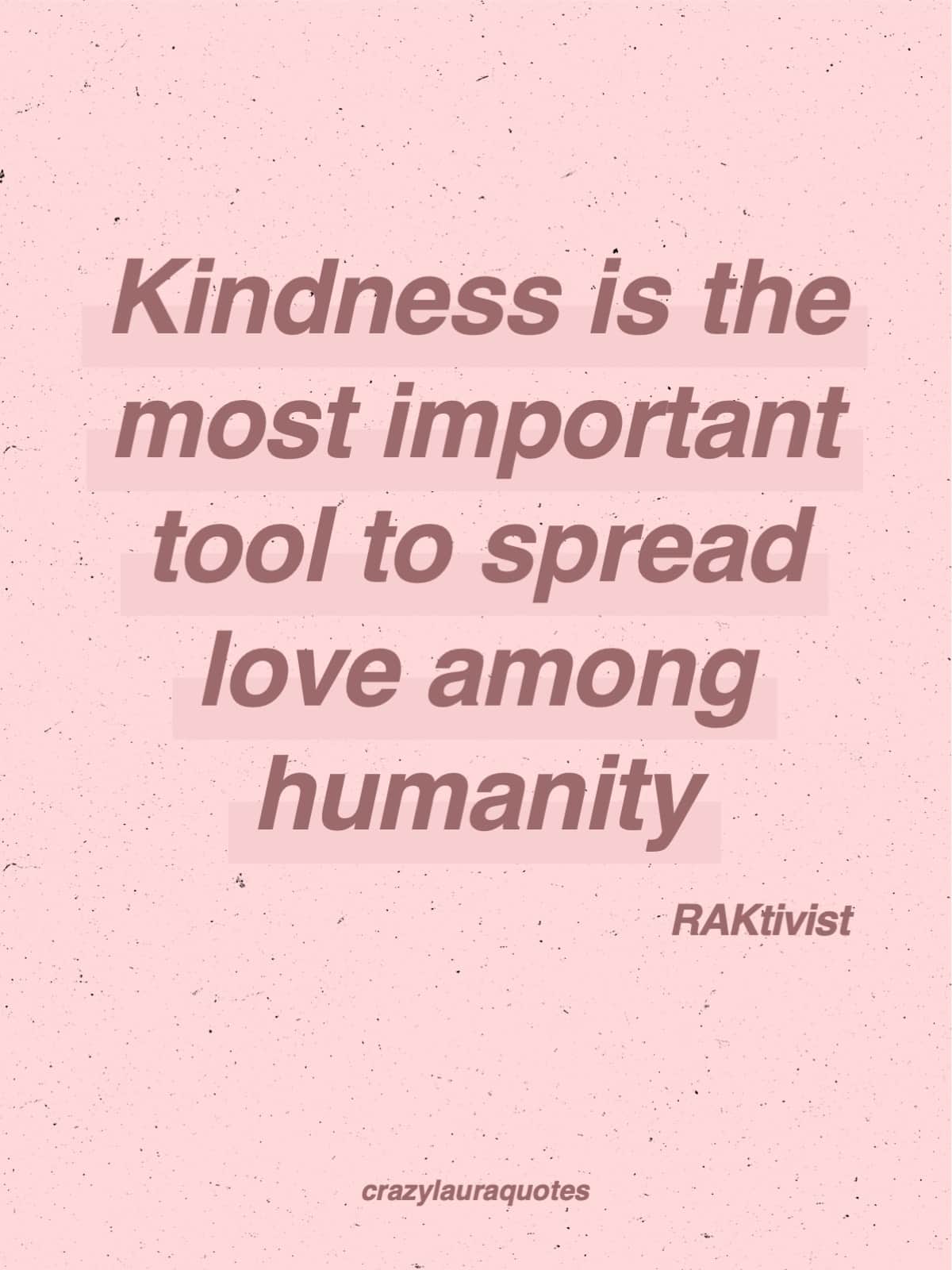 39. "Kindness is the most important tool to spread love among humanity." – RAKtivist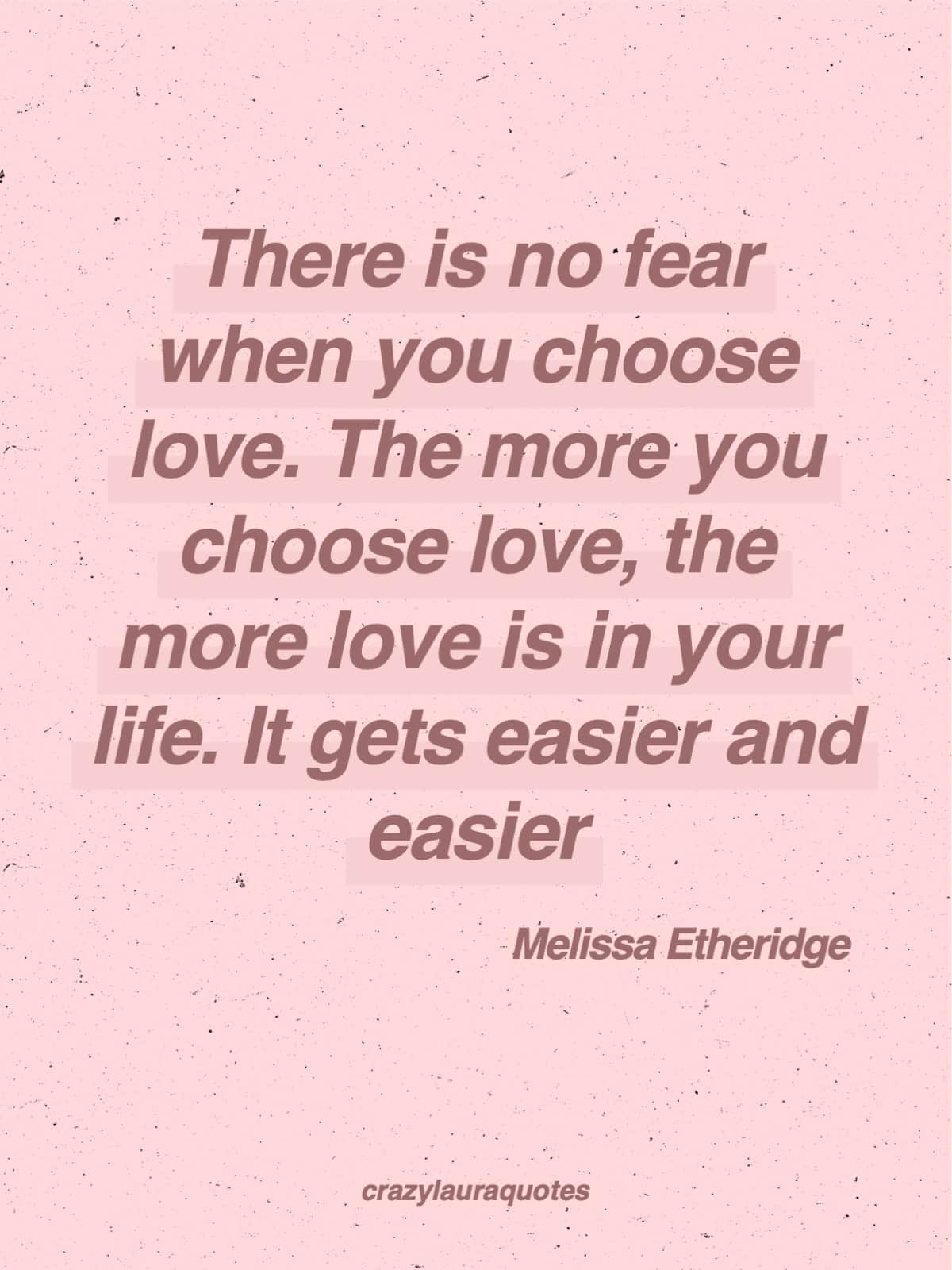 40. "There is no fear when you choose love. The more you choose love, the more love is in your life. It gets easier and easier." – Melissa Etheridge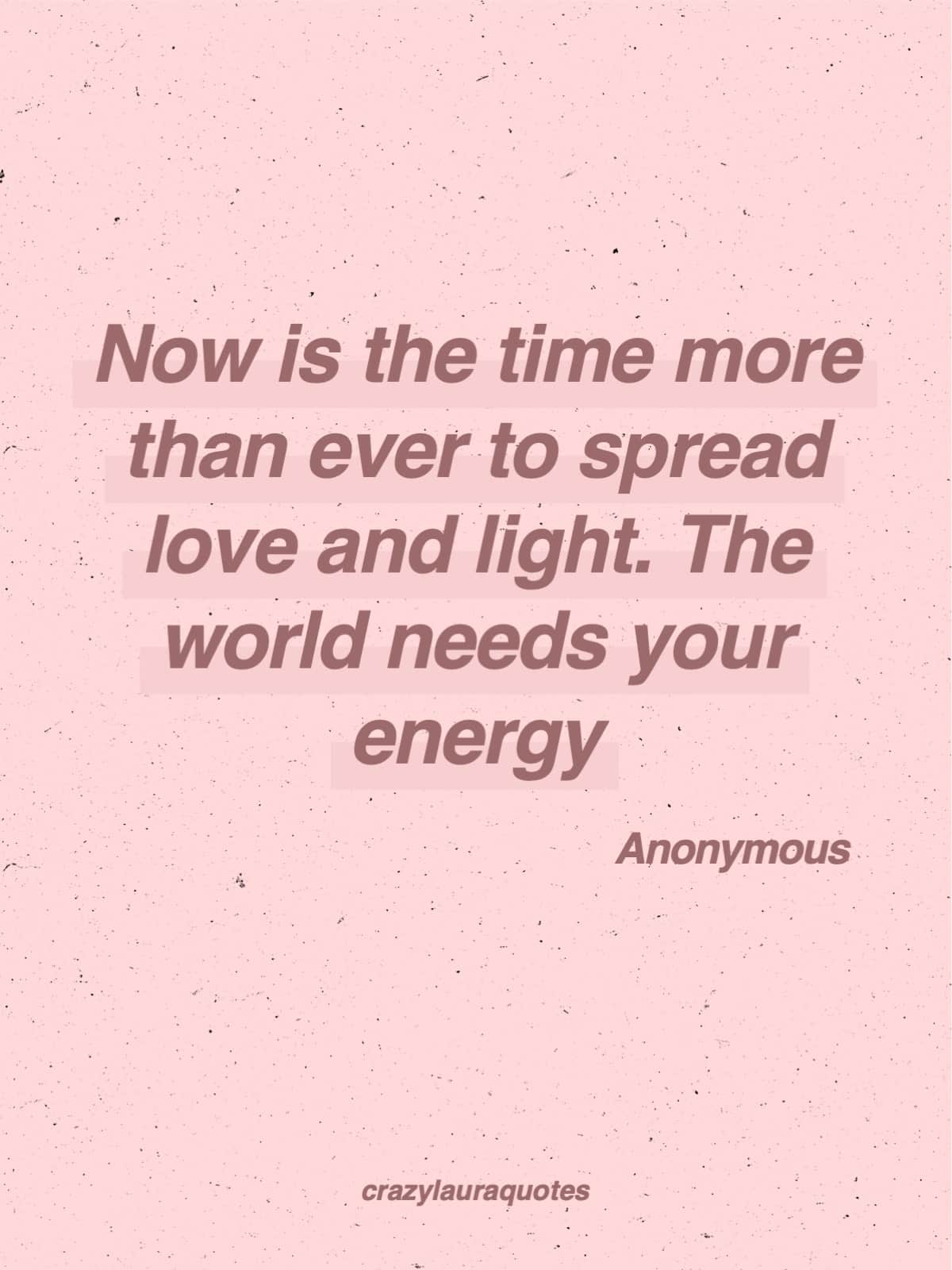 41. "Now is the time more than ever to spread love and light. The world needs your energy." – Anonymous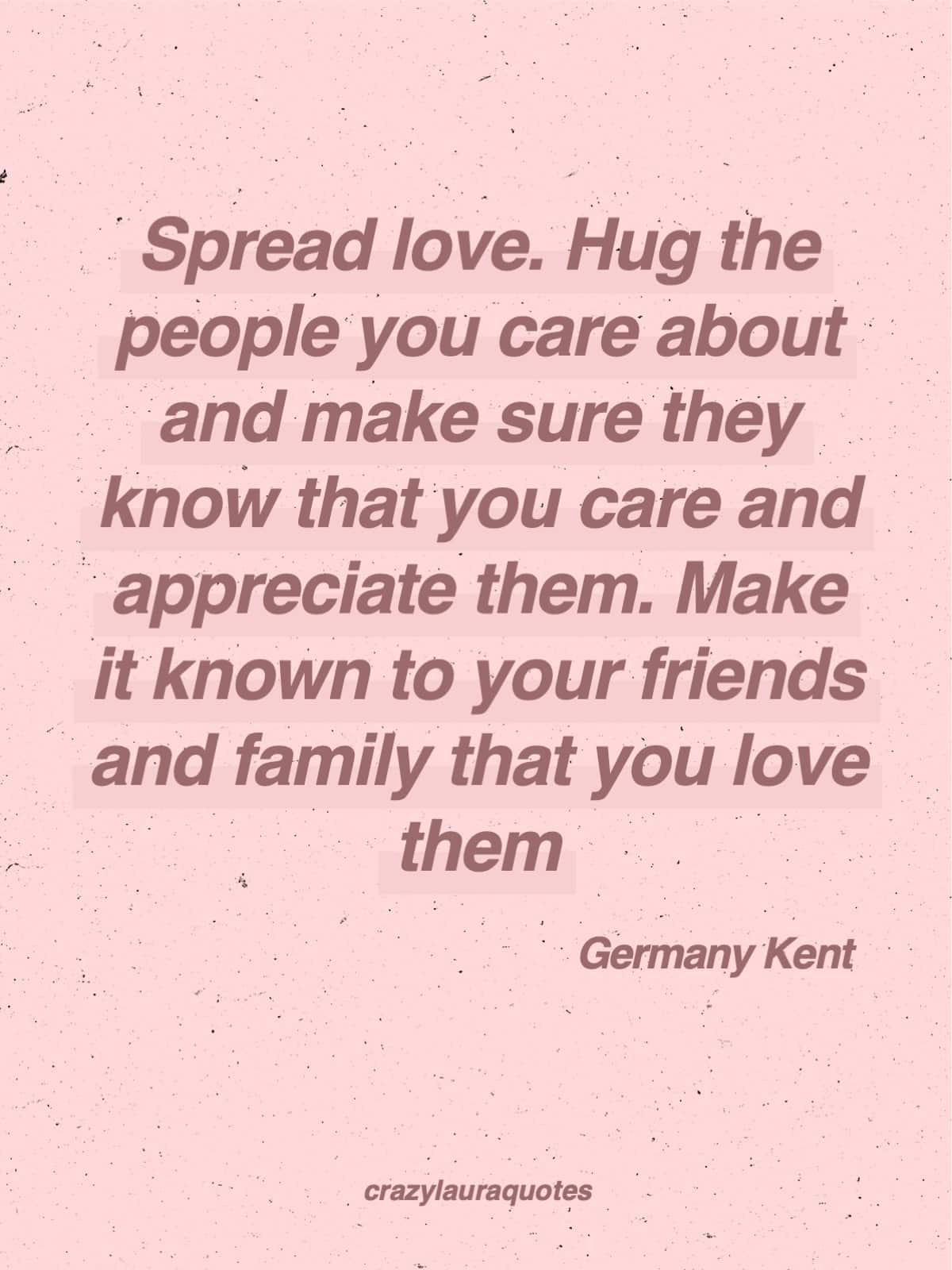 42. "Spread love. Hug the people you care about and make sure they know that you care and appreciate them. Make it known to your friends and family that you love them." – Germany Kent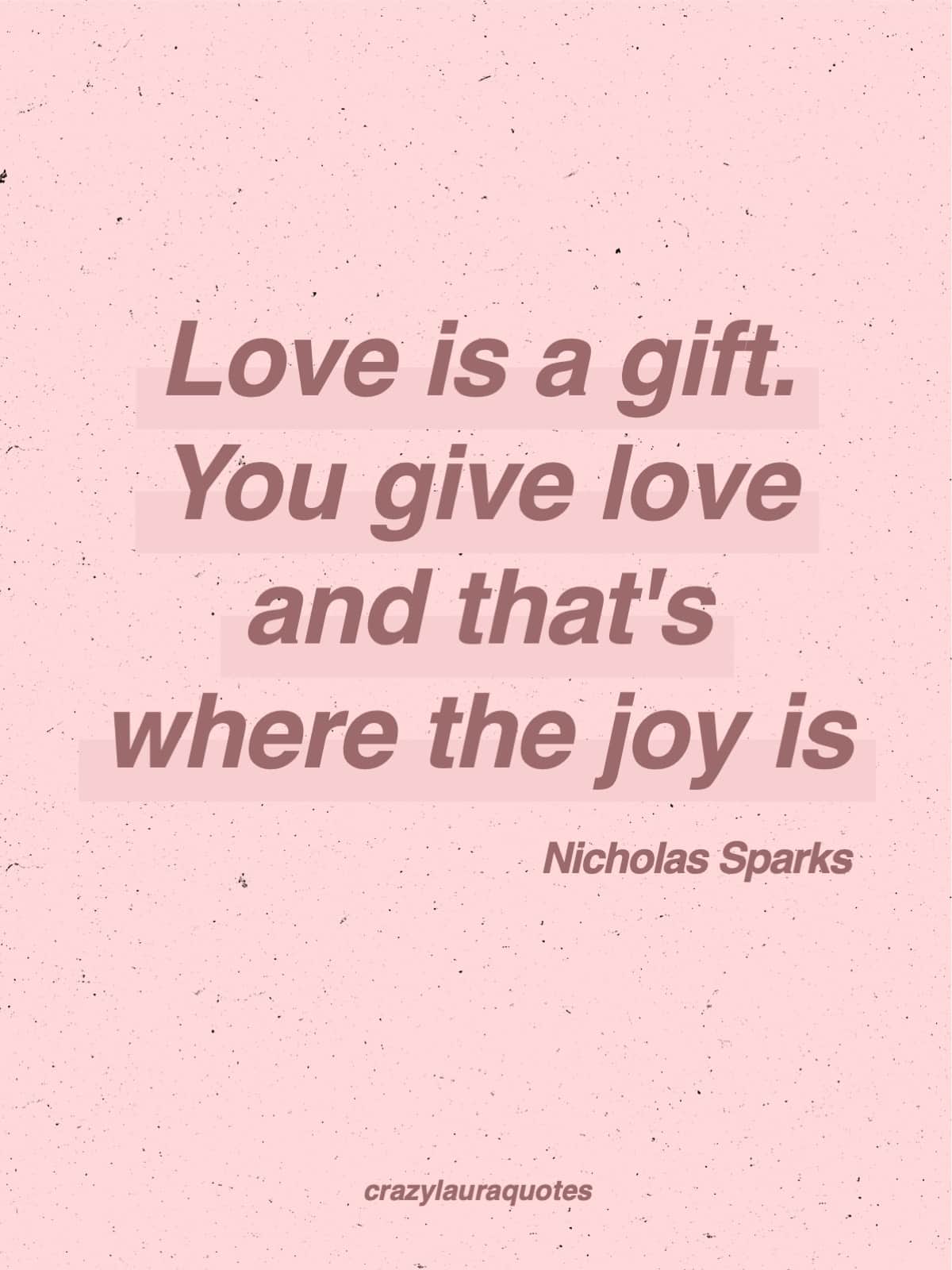 43. "Love is a gift. You give love and that's where the joy is." – Nicholas Sparks
I've been working on new printable quotes… so drop me a comment and let me know what quotes you'd like to see as a printable! Check out my Etsy shop or my own printable store to see which ones I currently have!
Related Posts: